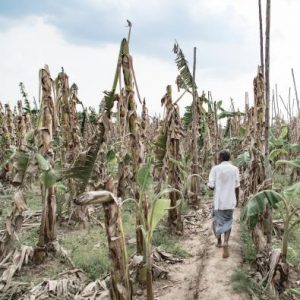 World Photography Association has announced the overall winners of the 2019 Sony World Photography Awards. The Photographer of the Year award was bagged by Italian artist Federico Borella for "Five Degrees", his series of photographs focussing on male suicides in the farming community of Tamil Nadu in India, which is facing its worst drought in 140 years. Borella was selected from the 10 winners of the Professional competition. As the winner, Borella received USD 25,000 along with photographic equipment from event sponsor Sony. Speaking about Borella's winning series, Judge Mike Trow said, "As global warming changes the face of life ever more rapidly – particularly in developing and undeveloped nations – the work of artists such as Borella becomes ever more needed" .
Nashville-based Hawaiian photographer Christy Lee Rogers was named Open Photographer of the Year for her work "Harmony", and received USD 5,000 as prize. Rogers's photograph "Harmony" is an image from her "Muses" series inspired by the beauty and vulnerability of humankind. In her winning image, Rogers used contrasting light, dark, colour, movement and cascading underwater bodies to convey a scene resembling a Baroque painting.
Atlanta-based American student Zelle Westfall won the Youth Photographer of the Year award for her image "Abuot", an image of her school friend, in response to the theme "Diversity". Valencia, Spain-based student Sergei Villanueva won the Student Photographer of the Year award for his series "La Terreta", portraying his homeland through the local orange farming and harvesting process. He won EUR 30,000 worth of Sony equipment for his institution Universidad Jaume I. London-based artist Nadav Kander was awarded the Outstanding Contribution to Photography award for his works and contributions in photography. All winning, shortlisted and commended images can be viewed at the 2019 Sony World Photography Awards Exhibition at Somerset House London from 18 April to 6 May, following which they will be displayed on a global tour.
The 2020 Sony World Photography Awards opens for entries on 1 June 2019. All entries are free at www.worldphoto.org.