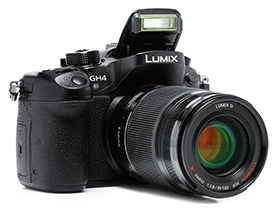 Panasonic Micro Four irds interchangeable lens cameras are known to deliver excellent performance. The 16.05 megapixel GH4 boasts 4K video recording, high quality still images and a weather sealed magnesium alloy body.
Design and Build Quality
The Panasonic GH4 is built very sturdy. The chassis is built with magnesium alloy and even the exterior feels rock solid. The rubberised exterior oers a good grip, and the hand grip is deep enough to provide a firm hold. The fully articulated LCD can be rotated and docked at the back, protecting it from scratches when not in use. Both the lens mount and the tripod receptacle are metal. Overall, the camera looks and feels like a professionally built device ready to stand the test of time.
Key Features
The Panasonic Lumix GH4 is a highly capable mirrorless interchangeable lens camera set to replace the GH3. The GH4 uses the same 16.05-megapixel Four irds (17.3 x 13mm) Live MOS sensor that was used by the GH3. But the similarities end with the sensor and a few less-thancrucial features. Let us first look at the improvements over the GH3. A major improvement is in the processing power of the camera. The GH4 uses a re ned  Venus Engine IX image processor, which is Panasonic's latest Quad- Core processor that also powers the FZ1000 camera. is processor satistics es the processing speed that 4K videos demand. The GH4 o ers an ISO sensitivity range of ISO 200 to 25,600, one stop more than the GH3. It has 49 focus points compared to 23 in the GH3. The maximum shutter speed has increased from 1/4000 to 1/8000 sec. Apart from these, there are the usual, predictable improvements such as screen and view nder resolution.
Now let us dive further into the features of the GH4. The camera's sensor uses a primary colour lter and houses a supersonic wave lter to shake o dust particles. Panasonic uses Lens-based Optical Image Stabilisation and hence the body does not feature image stabilisation. The camera uses an OLED Live View Finder with 2359k dot resolution.
The monitor is a 3.0-inch free angle OLED screen with static touch control having 1036k dot resolution. The live view provides Level Gauge, Real-time Histogram, Guide Lines (with 3 patterns), Centre marker, Highlight display, and Zebra pattern. The camera  uses an advanced type of Contrast Detection AF system with DFD (Depth from Defocus) technology. Th is precisely calculates the direction and amount of correction needed in the lens position to achieve correct focus. Th is is done by the side-byside comparison of two images with diff erent depths of fi eld. Focus modes present are AFS (Single), AFF (Flexible), AFC (Continuous), and MF (Manual). Autofocus methods are Face/Eye detection, Tracking, 49-area, Custom, Multi, 1-area, Pinpoin  (with full area touch).
The GH4 uses a 1728-zone multipattern metering system and has the usual three metering modes—Multiple, Centre-weighted, and Spot. Exposure can be compensated up to +/-5 EV in 1/3 EV steps for still images and +/-3 EV for motion pictures. AE bracketing can be done for 3, 5, or 7 frames in 1/3, 2/3, or 1EV steps. ISO sensitivity ranges from ISO 200 to 25,600 in the case of still images, which can be expanded to ISO 100. The maximum ISO sensitivity is limited to ISO 6400 in the case of motion pictures. White Balance options are Auto, Daylight, Cloudy, Shade, Incandescent, Flash, White Set (four settings) and Colour Temperature setting. White Balance can be fi netuned manually along two axes.
The GH4 uses a focal plane shutter. Apart from the usual mechanical shutter, the camera also incorporates an electronic shutter for faster and quieter shutter operation. Shutter speed ranges from 60 to 1/8000 sec, with an additional Bulb option (max. 60 minutes). Th e shutter has a life of approximately 200,000 actuations. The camera's self-timer can be set to 10 sec for 3 images, or 10 or 2 sec for single image. Th e GH4 can capture continuous frames at up to 12 frames per second (H) using the mechanical shutter or up to 40 frames per second (SH) using electronic shutter. It can maintain the 12 fps speed for approximately 40 images when there are Raw images, and about 100 images when there are no Raw files. Th is can go up to 120 images when using electronic shutter. Please note that this speed and performance depends on the type and size of the memory card, battery power etc.
The built-in flash of the GH4 has a Guide Number of 12m at ISO100 and has an angular coverage of 24mm equivalent. The flash synchronises up to 1/250 sec. Flash power can be adjusted up to +/-3 EV in 1/3-EV steps. Still images are recorded at a maximum size of 4608 x 3456 pixels in Raw or JPEG format (with options to record both simultaneously). The camera can also record 3D still images using a 3D lens in MPO format. Motion pictures are recorded in MOV (Linear PCM audio), MP4 (Linear PCM/AAC 2 channel), or AVCHD (Dolby Digital 2 channel audio) format. Motion pictures can be recorded at up to 4K (3840 x 2160) standards with various bit rate and frequency options. Continuous motion picture recording is limited to approximately 220 minutes. The camera features built-in Wi-Fi and NFC, which enable you to pair it with
Smart devices and share images or trigger the camera remotely.
The Panasonic GH4 accepts an SD/SDHC/SDXC memory card (compatible with UHS-I standard). The camera is powered by a Li-ion battery pack (7.2V, 1860mAh, 14Wh, Included). The GH4 has dimensions of 132.9 x 93.4 x 83.9mm (W x H x D, excluding protrusions) and weighs approximately 560g.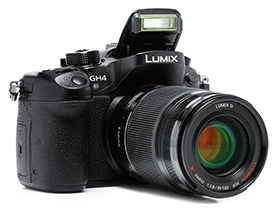 Ergonomics
The Panasonic GH4 is quite comfortable to use. Both the viewfinder and the LCD are of top quality and the images appeared crisp on both. The electronic viewfinder effectively matches the quality of optical viewfinders. It is bright and sharp, with images looking realistic. The menu and shortcut buttons are quite intuitive, and the fully articulated LCD makes the camera truly versatile. The GH4 balanced very well with the 35-100mm f/2.8 (70-200mm equivalent) lens that Panasonic provided with it.
Performance
The GH4 performed like a champion in our tests. Autofocus was very fast and precise. The system did not have any problem focussing under low light. Images were sharp out of the box. Please note that the sharpness mainly depends on the optical quality of the lens used. Metering performed well as expected. Auto White Balance performed well. The slight casts observed under certain light sources were easily removable during post-processing.
The native image size was 11.52 x 15.36 inches at 300 ppi. At 25 percent of screen size, the images were noisefree up to ISO 3200. ISO 12,800 and 25,600 were noisy. Images up to ISO 6400 were perfectly usable. At 50 percent of the screen size, slight noise was observed at ISO 6400, but it was still usable. Viewed at 100 percent, images remained absolutely noise-free up to ISO 1600. A tinge of noise could be observed at ISO 3200, though it was almost imperceptible. ISO 6400 was very noisy at this enlargement.
We used a Kingston UHS-3 (UHS-I standard, Class 3) card for testing the video and high speed shooting. The videos were perfect without any problem. The autofocus sound was not audible in any of the captured videos. The GH4 lived up to its claims of high burst speed, and the writing speed was excellent. The buffer never filled to its capacity. In burst mode, the camera captures 100 images (JPEG) with the electronic shutter enabled (SH mode). Once a batch of 100 images are captured, you only need to take the finger off the shutter release button and depress it again to  capture the next batch of 100, without any waiting period for the buffer to be cleared.
Overall, we were impressed by the performance of the GH4.
Value for Money
The GH4 retails in India at an MRP of Rs.111,990 (body only). It is available in kit form with the 12-35mm f/2.8 HD (24-70mm equivalent) lens at a price tag of Rs.172,990. We would consider this fair for a camera that can capture 4K videos and offer superlative performance.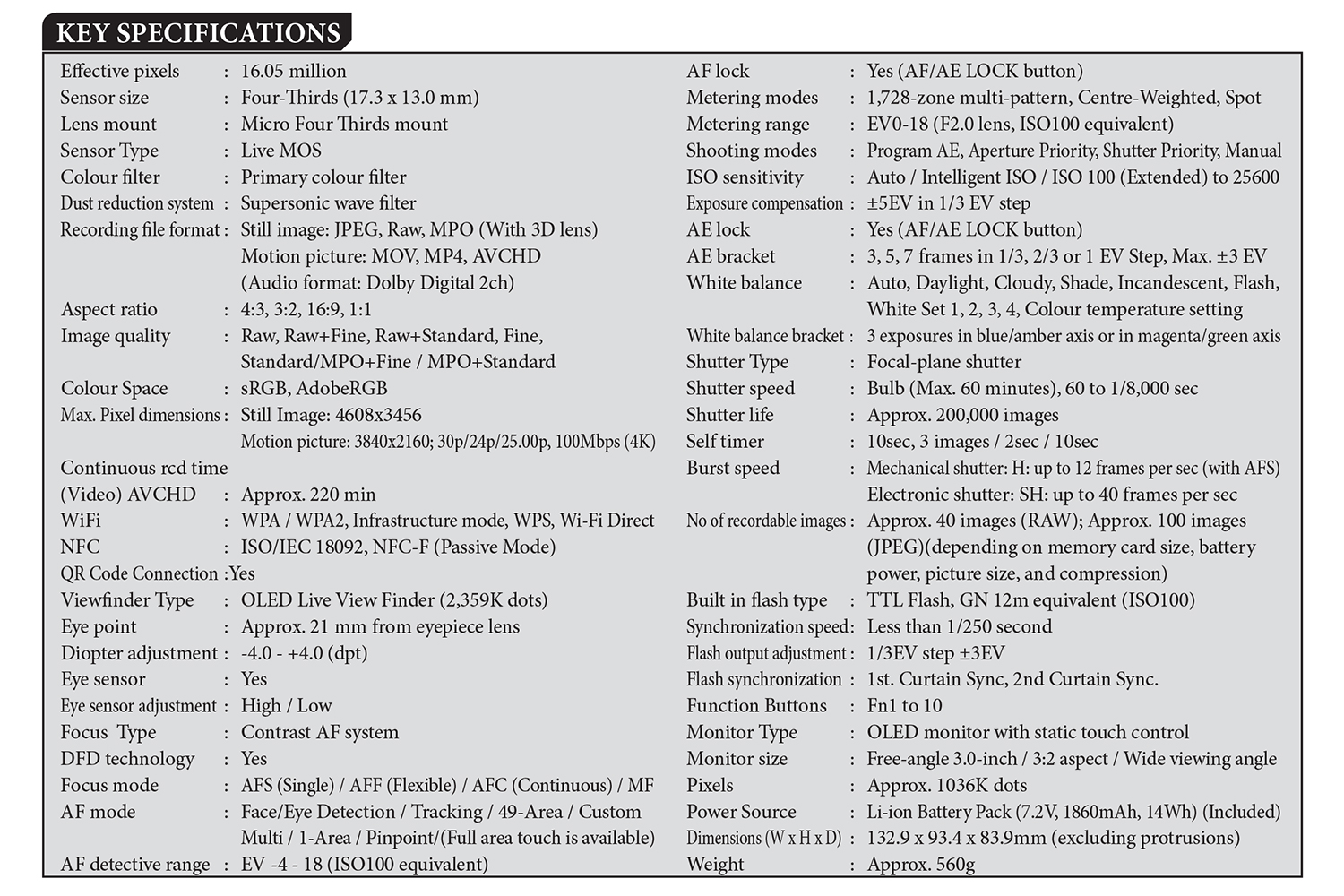 PLUS
• Excellent build quality
• Impressive features
• 4K video recording
• 40 fps burst speed
• Great performance
MINUS
• Could be beyond the budget for potential
VERDICT
The Panasonic GH4 can be considered a hybrid camera, which delivers professional quality stills and videos. The impressive features and great performance make it one of the top cameras on our list.
Sujith Gopinath