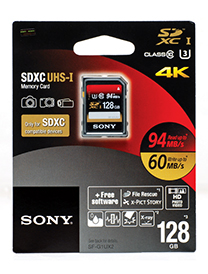 It is not too long ago that a 128GB hard disk was part of only a few high-end computers, and flash memory was limited to 2 or 4GB. The ever-increasing megapixels brought 'mega' file sizes, and HD video format brought about a demand for high-speed memory cards. Now we see many manufacturers bringing out memory cards capable of storage spaces never imaginable in those days, and blazing speeds demanded by the latest video formats. Sony has joined the race with its 128GB SDXC Class 10 UHS-I compatible cards.
The new UX series memory cards have fast data transfer speed that is compatible with 4K videos. Sony is aiming the cards at professional and semi-professional photographers and
videographers. The card has a data transfer speed up to 94MB/s (read) and up to 60MB/s (write).
In the Ultra-High Speed (UHS-I) speed class rating, the new 128GB card is rated Class 3 (Please note that UHS-I and UHSII are different standards or types of cards, and Class 3 indicates the speed). This translates to uninterrupted recording in 4K format as well as minimal buffering in the case of still image capture in Burst mode. This card is also compatible with XAVC S codec mode recording, a standard introduced by Sony in 2012.
The new memory card comes with the Sony File Rescue software, which according to Sony, is the first in the world to support 3D videos and photos. This software allows users to recover accidentally deleted photos and videos from the card.
The card also boasts high reliability along with a molded resin design that makes it extremely durable, shockproof and resilient to extreme temperatures. The card is also waterproof and X-ray proof. The UX series 128GB card is available at an MRP of Rs. 13,200 across all Sony Centres and major electronic stores across India.
Sujith Gopinath