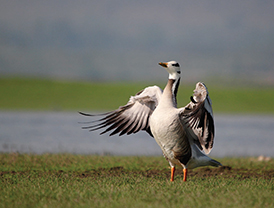 Meet Sandip Nagare, a bird guide and a nature conservationist at Bhigwan. Bhigwan is to Maharashtra what Koleodeo National Park (Bharatpur) is to Rajasthan. Bhigwan is situated in Indapur Taluka in Baramati in Pune district, about hundred-odd  kilometers from Pune on the Mumbai Sholapur Road.
Sandip Nagare is an unassuming, soft-spoken man who has done his M. A. in History. He is a real nature lover. He was instrumental in starting a nature conservation group called Spandhan. This group prevented people from cutting down trees near Bhadalwadi Lake, where painted storks had built their nests. This led to an increase in the number of painted storks in that area. Sandip also started another nature conservation group – Agnipankh – where he trained about 30 people for the cause of nature conservation. This also helped the villagers earn a livelihood.
When I mentioned to Sandip that we would feature him in Smart Photography, he was a bit hesitant because he does not want Bhigwan to become a picnic spot where picnickers create a nuisance by throwing their waste everywhere. He also did not want people to disturb the birds with their anti-nature behaviour. So where does all this fit into a photography magazine? That's the other side of Sandip Nagare; for he is an accomplished photographer!
Sandip started his photography about three years ago, using a point-and-shoot camera (which he still uses at times). He has now graduated to using a Canon EOS 60D body with a Sigma 150-500mm lens. In the first week of January 2015, he published a book – Birds of Kumbhargaon,1000 copies of which were sold within three months! We are sure that our readers will enjoy Sandip's photographs as much
as we enjoy presenting them to you.
As told to Rohinton Mehta