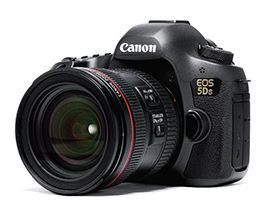 Launched in August 2005, the Canon 5D series is completing a decade in existence. It has lived on with timely upgrades to provide pathbreaking features and reliable performance in the form of the 5D, 5D Mark II and 5D Mark III. Recently, Canon introduced the 5Ds along with its non-OLPF twin 5Ds R. We are quite sure this is going to be another winner from Canon.
With a whopping 50.6 megapixel sensor, the 5Ds is currently the world's highest resolution camera in 35mm-format. The two DIGIC 6 processors are believed to produce stunning images and improve the efficiency of image processing. This high image resolution helps you to capture 30.5 and 19.6 megapixel images even when the 1.3x (APS-H) and 1.6x crop (APS-C) modes are selected respectively.
Design and Build Quality
Th e 5Ds is designed more or less identical to the 5D Mark III. Both have the same button layout, except for a couple of differences in the multiple functions available through the shortcut buttons. Canon does not mention the materials used for the construction of this camera, but we can safely assume, by the weight and other characteristics, that it has a magnesium alloy chassis. The body is not weather-sealed. Like all Canon professional D-SLRs, the body offers excellent grip that is deep and textured, though some people may find it a bit too broad. Even the thumb rest has an excellent grip.
Key Features
Both the Canon EOS 5Ds and the 5Ds R have identical specifi cations except that in 5Ds R, the effect of Optical Low-Pass Filter (OLPF) has been cancelled. At the core of the 50.6 megapixel Canon 5Ds is a Full Frame (36.0 x 24.0mm) CMOS sensor. It features a dual DIGIC 6 processor. The camera features a Canon EF lens mount and accepts all EF lenses other than EF-S (made for APS-C size camera bodies) and EF-M (made for the EOS M mirrorless system cameras) lenses. The sensor features Auto and Manual dust removal mechanism in addition to dust delete data appending. The 5Ds has two memory card slots, one for CF card and one for SD card. It supports CF cards of Type I and UDMA 7, along with SD, SDHC, or SDHC cards (UHS-I compatible).
In normal mode, the 5Ds uses TTL secondary image-registration and phasediff erence detection autofocus methods with the dedicated AF sensor, while in Live View mode, it switches to Contrast detection AF with options of Face + Tracking and FlexiZone-Single. There are 61 AF points, 41 of which are cross-type and five of the central focussing points acting as double-cross type at f/2.8. The system can focus in the brightness range of EV -2 to 18. Focus operations available are One-Shot AF, AI Servo AF, AI Focus AF, and Manual focusing (MF). AF area can be selected from Single-point Spot (manual selection), Single-point (manual selection), AF point expansion (manual selection: up, down, left , and right), AF point expansion (manual selection: surround), Zone AF (manual selection of zone) and 61-point automatic selection AF. Autofocus can be fine-tune using AF Micro adjustment. In this, you can either choose to adjust all lenses by the same amount or make fine adjustments depending on the individual lenses (if lens data is available in the database). Live View provides option of continuous focussing. In the movie mode, you get an additional option of Movie servo AF.
Manual focus can be done with the image magnified to either 6 or 16 times. Metering modes available are Evaluative, Partial (approx. 6.1% of viewfi nder at centre), Spot (approx. 1.3% of viewfi nder at centre) and Centre-weighted average. The module uses an approximately 150,000-pixel RGB+IR metering sensor and 252-zone TTL metering EOS iSA (Intelligent Subject Analysis) system. In Live View mode, the camera provides Evaluative (315 zones), Partial (approx. 6.4% of Live View screen), Spot (approx. 2.8% of Live View screen) and Centre-weighted average metering modes. In the movie mode, it provides Centre-weighted average and Evaluative metering with the image sensor.
Still images can be recorded in JPEG or Raw (14-bit Canon original) format along with an option to record both simultaneously. The maximum recorded pixels is 8688 x 5792. Videos are recorded in MOV format (MPEG-4 AVC / H.264), and sound track is recorded in Linear PCM format. The best video quality possible with the 5Ds is 1920×1080 at 29.97p, 25.00p, or 23.98p. For videos to run smoothly, the CF card should have a write/read speed of 30 MB/sec when shooting videos in ALL-I compression and 10 MB/sec. or faster in IPB format. Corresponding values for SD card are 20 MB/sec. or faster for ALL-I and 6 MB/sec. or faster for IPB compression.
Shooting modes include Program, Scene, Intelligent Auto, Shutter-priority, Aperture-priority, Manual and Bulb. The camera does not provide scene modes. In the Movie mode, it provides Program, Shutter-priority, Aperture-priority and Manual options. Equivalent sensitivity ranges from ISO 100 to 6400 in 1/3 or whole-stop increments. This can be expanded to L (ISO 50 equivalent) or H (ISO 12,800 equivalent). Exposure can be compensated up to +/-5 stops in 1/3- or 1/2-stop increments.
Auto Exposure Bracketing is available for +/-3 stops in 1/3- or 1/2-stop increments. This can also be combined with manual exposure compensation. You can shoot HDR images with dynamic range set to Auto, ±1, ±2, or ±3. You can choose between Natural, Art standard, Art vivid, Art bold and Art embossed effects. Multiple exposure can be done with 2 to 9 exposures and the combination options include Additive, Average, Bright, and Dark. The 5Ds uses an electronically-controlled, focalplane shutter providing shutter speeds from 30 to 1/8000 sec., along with Bulb option. The shutter synchronises with the flash at up to 1/200 sec. The ultra high resolution of the camera makes it one of the most unforgiving when it comes to camera shake. To reduce the shake due to mirror slap, Canon has incorporated a shock suppression mechanism in the 5Ds/5Ds R's mirror. The mirror now has a motor driven mechanism, which makes the operation smooth. Drive modes include Single, High-speed continuous, Low-speed continuous, Silent single, Silent continuous, 10-sec. Self-timer/ remote control and 2-sec. self-timer/ remote control. The camera provides a maximum continuous shooting speed of approximately 5.0 frames per sec. Maximum burst possible is approximately 31 JPEG Large and Fine or 12 Raw or Raw+JPG Large, while using a CF card.
Data writing options include Standard, Auto switch card, Record separately, and Record to multiple. Picture styles include Auto, Standard, Portrait, Landscape, Fine Detail, Neutral, Faithful, Monochrome, and User Defined (3 settings). White Balance options available are Auto (Ambience priority), Auto (White priority), Daylight, Shade, Cloudy, Tungsten, White fluorescent, Flash, Custom, and Colour temperature setting  (approx. 2500–10000 K). The camera provides White Balance correction and White Balance bracketing options, along with Auto Lighting Optimizer and Highlight tone priority. Peripheral illumination and Chromatic aberration can be corrected automatically.
The camera uses an eye-level pentaprism viewfinder with approximately 100% coverage. The camera provides electronic level display and depth-of-field preview. The 5Ds uses a wide 3.2-inch colour TFT LCD with approx. 1.04 million dots. The camera does not have a built-in flash. The standard accessory shoe provides E-TTL II auto flash, and is compatible with EX-series Speedlites. Flash exposure can be compensated up to ±3 stops in 1/3 or 1/2-stop increments. The device has a PC terminal along with a builtin monaural microphone and external stereo microphone terminal. Sound recording level can be adjusted. Time lapse movie option lets you set shooting interval and number of shots. Digital interface is a SuperSpeed USB 3.0. Other interfaces include HDMI mini OUT terminal Type C, 3.5mm external microphone IN terminal and remote control terminal for N3-type remote control units. The unit is compatible with wireless remote controller RC-6 and also Eye-Fi cards. The 5Ds is powered by an LP-E6N / LP-E6 battery pack. The camera has dimensions of 152.0 x 116.4 x 76.4mm and weighs approximately 845g (Body only).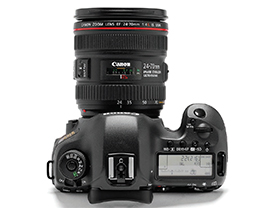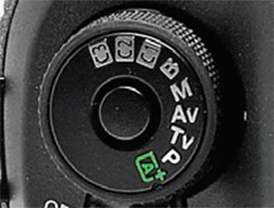 Ergonomics
The 5Ds has a broad grip, which people with small hands would find a little uncomfortable to hold. However, the excellent overall grip more than makes up for this. The power switch is on the left hand side, at the usual position. The mode dial has a lock to keep it from accidentally turning. The viewfinder is bright and display legible. Focus point illuminates momentarily when the focus is achieved and this is so bright that you cannot miss the red flash. Please note that if you have a predominantly light background, it does not blink. The LCD displays bright and crisp. All controls are within reach. We do miss a fully articulated LCD, which Canon might have left out for want of longevity.
Performance
Since professional D-SLRs are not marketed in kit form, we usually pair them with 50mm equivalent lenses. However, this time, Canon instructed us to pair the 5Ds with one of the L-series lenses because of the high-resolution sensor. So we performed all our tests, pairing the camera with a Canon EF 24- 70mm f/4L IS USM lens.
Metering modes worked perfectly well as expected. JPEG images appeared tack sharp out of the box. Please note that image sharpness also depends on the lens used.
The camera lived up to the claims in the case of high-speed burst shooting, both in JPEG as well as Raw. We tested the camera with a CF card with 30MB per second data rate. While the JPEG images were written to the card in no time and thus cleared the buffer for further shooting, Raw images took a while to write to the card. A 12-frame burst of Raw + JPEG Large/Fine images took about 23 seconds to write, which is good, considering the amount of data from a 50-megapixel sensor. Autofocus was fast and locked on to the subject without any problem.
Auto White Balance performed as expected. Colours were true to the original and we did not observe any cast in the images. Native print size was 19.31 x 28.96 inches at 300 ppi. At 25 percent of screen size, images were noise-free up to ISO 3200. We could see noise at ISO 6400 and 12,800, when we looked closely at certain areas. The images were perfectly usable throughout the ISO range. At 50 percent view, the images revealed noise from ISO 3200 onwards, yet all images remained usable. Observed at 100 percent, slight noise became apparent from ISO 800 onwards. Images were usable up to ISO 3200.
Since the camera does not come combined with a kit lens, we have not included any test that depends solely on the characteristics of the lens such as darkening of corners, flare, chromatic aberration, and distortion.
Value for Money
The Canon 5Ds retails at an MRP of Rs.252,995 (Body Only), while the 5Ds R retails at Rs.265,995(Body only). We feel this price is quite high (going by Canon's statement that the 5Ds R is essentially the same camera with the OLPF effect cancelled). By comparison, the Nikon D810 retails at Rs.199,950. However, the Canon has a 50.6 megapixel sensor against 36.3 megapixels on the Nikon. If this difference is really crucial for you, this price difference might still be acceptable. |SP

FINAL SCORE                                                  84%
Design and Build Quality                                  18/20
Key Features                                                      17/20
Ergonomics                                                          17/20
Performance
Autofocus                                                                 5/5
Metering                                                                   5/5
Noise Control                                                            4/5
Sharpness                                                               4.5/5
LCD/VF                                                                      4/5
Auto WB                                                                  4.5/5
Sub-Total                                                          27/30
Value for Money                                               5/10
PLUS
• 50.6 megapixel
• Motor-driven mirror system
• Dual DIGIC 6 Processor
• New crop modes
• 'Fine Detail' Picture Style
MINUS
• Narrow sensitivity range
• No built-in flash
• No weathersealing
• Price
VERDICT
The Canon 5Ds is, without doubts, one of the top D-SLRs in the market, and we presume that this will remain so for a long time. If you have a Canon system and want to upgrade, this is the ultimate camera for you. However, if you are looking to change over from another brand, the 5Ds might not credibly entice you at this price. We would advise you to watch out for pricedrops in the near future.
Sujith Gopinath