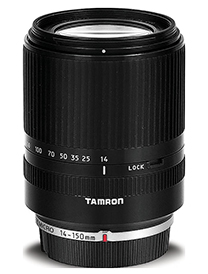 Ergonomics
This lens was tested on the popular Olympus OM-D E-M5 MFT body. The lens/body combination balances well as  both are light and compact.
This combination is ideal for travel, street, candid and general purpose photography. The AF/ MF switching is only through the camera menu which is time consuming. The focusing ring is smooth but a bit under-damped and also narrow. The zoom ring is wide, comfortable to grasp and is smooth to operate while being taut. The supplied lens hood is compact, snaps on positively and can be fitted in the reverse position for storing.
Performance
Super zoom lenses imply poor performance in the minds of many and that was indeed the case years back. Remember that technology has since moved on. Latest computerized designs, new optical materials and elements like aspherical lenses allow designers  to get a whole lot of better performance these days. This lens is of a very modern design specifically designed for MFT format and this results in very good optical performance.
We were convinced that this lens is definitely optically superior to the kit lenses that are supplied (which are quite good in their own right) while offering a vastly greater zoom range. At 14mm the lens was quite sharp at center even wide open. Stopping down by a stop increases the sharpness considerably even to the corners. Similar characteristics are shown at 25mm too. The lens did show some distortion. This is within the limits of a typical lens like this and would be automatically corrected in post-processing by software to a great extent. Vignetting can be considered to be negligible after stopping down by two stops. There is no visible chromatic aberration too but we suspect that software was doing the trick here. As with all consumer zooms, the performance drops towards long end (150mm) but still the images are sharp, good enough for large prints of 20 X 24 inch size. At this focal length the peak performance is about two stops down from fully open.
Autofocus is dead silent and unbelievably fast, faster than some of the prime lenses with which we compared.
Value For Money
This lens is priced at Rs. 48,000/- in India which is a bit on the higher side compared to Tamron's own offerings of similar lenses for D-SLRs. The premium is perhaps attributable to the lower volume of sales and superior build. However, MFT lenses from competitors (including OEMs) seem to be priced roughly the same at the retail level.



PLUS
• Very good optical performance
• Very compact
• Metal body with excellent finish
• All in one lens covers most frequently used focal lengths
• Excellent lens for travel/street and candid photography

MINUS
• Price slightly on the higher side.
• No image stabilization
FINAL SCORE                                             79%
Design and Build Quality                             17/20
Key Features                                             16/20
Ergonomics                                                16/20
Performance
Autofocus                                                        5/5
Sharpness                                                       4/5
Distortion Control                                              3/5
Aberrations                                                       4/5
Darkening
of corners                                                              4/5
Extra Features                                                       3/5
Sub-Total                                                              23/30
Value for Money                                                      7/10
VERDICT
One of the many positive attributes of MFT format is the very compact overall size. A lens like this would take this aspect a step further, because for 95% of the needs of majority of amateur photographers, can be well served by this one lens alone. Plus, it gives better than adequate performance (both mechanical  and optical) at a competitive if not low price. It is the lens for travel/street and candid photography.
Ashok Kandimalla