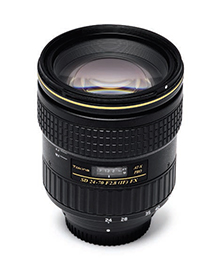 Tokina has been known to produce lenses with superior optics and sturdy build quality for a very long time. These lenses have their signature style with focus clutch mechanism for focussing and excellent overall grip. The Tokina AT-X 24-70mm f/2.8 PRO FX lens joins the premium models in the most sought after category of lenses.
Design and Build Quality
The Tokina 24-70mm f/2.8 carries the sturdy build quality typical of Tokina lenses. The outer barrel of the lens is made of tough engineering plastic, while the inner barrel is metal. Both the zoom and focussing rings have textured rubber grips. There is a focus distance window, and focal lengths are marked legibly in white and luorescent yellow letterings. The lens has a metal mount. A rubber ring near the mount helps to seal it from water and dust particles. The 24-70mm accepts an 82mm threaded ilter. Thelens has a maximum outer diameter of 89.6mm and length of 107.5mm.
Key Features
The Tokina AT-X 24-70mm f/2.8 PRO FX lens is primarily designed for Full-Frame cameras, but can also be used with APS-C Type cameras. On Nikon DX bodies, this lens will provide a focal length of 36 – 105mm, while on Canon APS-C bodies, it provides 38 – 112mm focal length. The lens is constructed with 15 elements in 11 groups including three SD (Super-low Dispersion) and three precision molded all-glass aspherical elements. Of these, one is a large sized aspherical element made of SD glass element (included under both SD and aspherical listings). The aspherical elements are believed to provide excellent contrast and sharpness while also correcting spherical aberration. The SD elements are incorporated to control chromatic aberration. Together with multi-layer coatings, the lens is designed to produce even illumination across the imaging area.
The Tokina 24-70mm lens has a maximum aperture of f/2.8 and a minimum aperture of f/22. The lens has a minimum focus distance of 0.38m and maximum magnification ratio of 1:4.73. It features internal focussing and hence the dimensions remain the same while focussing. Zoom is rotary type and the front barrel extends during zooming. The lens features a 9-bladed circular aperture producing pleasing bokehs.
Tokina claims that the lens can produce resolutions that match even the 50 megapixel cameras currently in market. The lens incorporates a fast SDM (Silent Drive-Module) motor that provides near-silent autofocus. Similar to all Tokina lenses, this lens also features One-touch Focus Clutch mechanism, which allows you to switch between AF and MF by pushing the focus ring forward or pulling it backward. It does not allow manual override in autofocus mode.
Ergonomics
The Tokina 24-70mm is almost as heavy as other similar f/2.8 lenses. But the Tokina earns full marks for the comfort of use. The rubber grips makes zooming and manual focussing very comfortable, along with the focus clutch system that makes switching between focus modes a snap. Though the lens does not feature manual focus override, it is really not required since you can easily switch to manual mode using the same focus ring that you use for manual focussing.