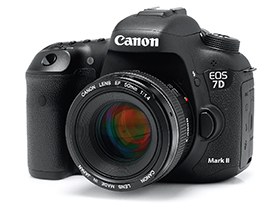 The Canon EOS 7D was the APS-C size sensor camera that wildlife photographers (Canon users) loved. But as good as the 7D was (it still is), there were some issues relating to digital noise. Canon users were eagerly awaiting a replacement that could address this issue. Finally, after almost fi ve years, the replacement for the 7D has arrived! Read on to know our views on the muchawaited, low-light-optimised 7D Mark II.
Design & Build Quality
Th e 7D Mark II is a D-SLR camera. Th e body is made with tough but lightweight magnesium alloy and engineering plastic. Build quality is  very good. Th e grip depth is a tad shallower than in the 7D. Like the 7D, the Mark II is also water and dust resistant. In looks and feel, it is very similar to the 7D which it replaces.
Key Features
Let's fi rst see the similarities and diff erences between the 7D and 7D Mark II. Highlighting denotes advantage.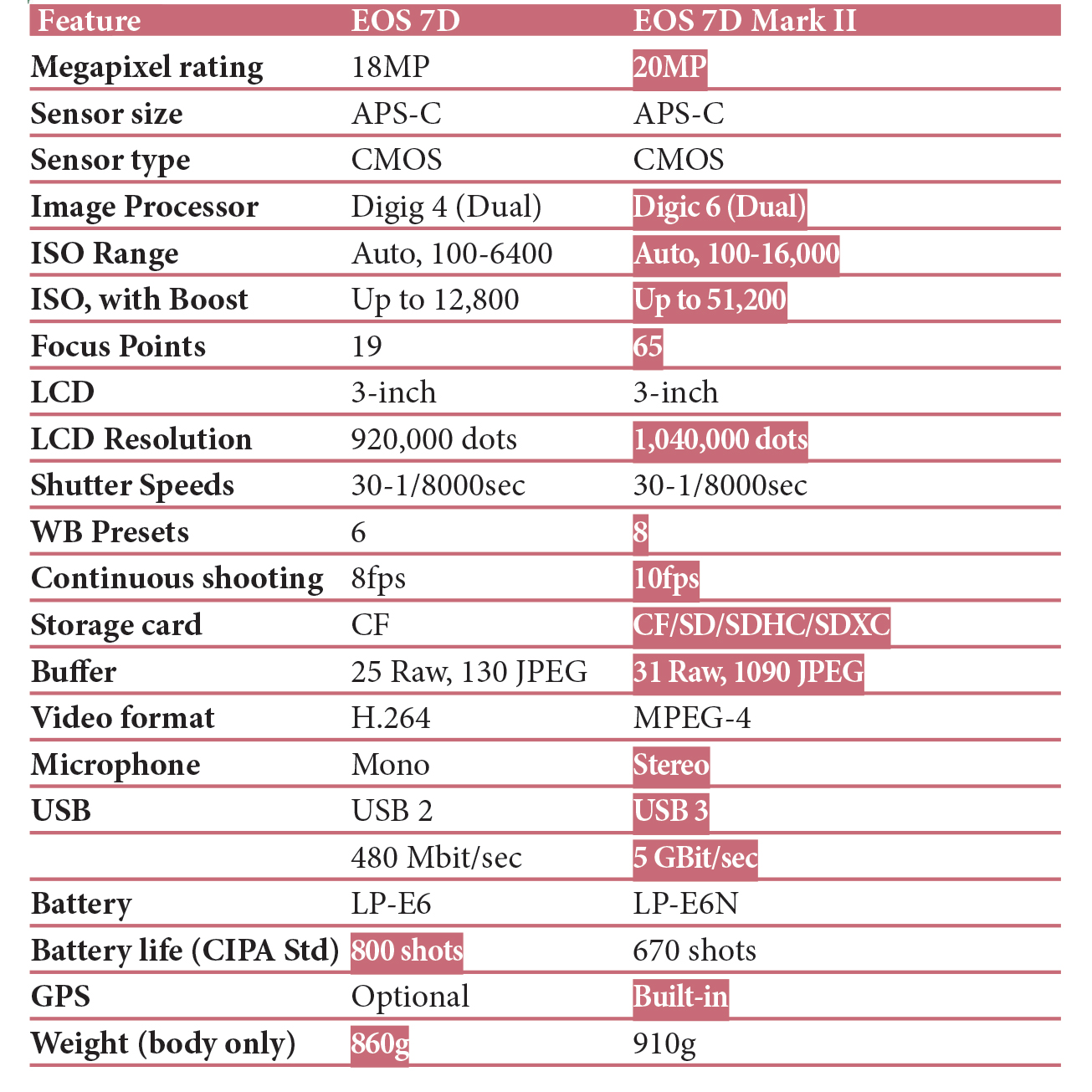 As we can see from the above, Canon has improved on most of the features that the 7D provided. The Mark II lets you select the aspect ratio between 3:2, 4:3. 16:9 and 1:1, which the 7D did not permit – it only has 3:2. The shutter is improved, tested for 200,000 actuations. Buff er size is improved; and now there's a choice of memory cards(CF or SD variations). There is a drop in the number of frames that can be shot using a single charge of the battery but according to me, that's a small price to pay when you consider the added advantages. To me, the change from dual Digic 4 to dual Digic 6 image processor and the focus points going from 19 to 65 (all cross-type, and with the centre point Double Cross type) appear to be the most important. What about the maximum of 10 frames per second burst rate? Though usefu in certain situations, this obviously will increase the number of 'sprayand-pray' photographers! As soon as you turn 'on' (or 'off ') the power, the automatic sensor cleaning operation starts depending on how you have set this feature.
The 7D Mark II off ers the usual shooting modes: Program (P), Shutter Priority AE (Tv), Aperture Priority AE (Av), Manual (M), Bulb (B), three Custom shooting modes and Scene Intelligent Auto (A+) mode. The A+ mode analyses the scene and automatically sets the optimum settings for well exposed pictures. It also adjusts the focus should the subject move (but you need to keep the AF bracket positioned over the subject while half-pressing the shutter release button). In other words, it turns your Mark II to an expensive point-and-shoot camera (and I see nothing wrong in that). Also, in the A+ mode, a feature known as Auto Lighting Optimizer (ALO) automatically adjusts the image for brightness and contrast. ALO is enabled by default in P, Tv and Av mode.
You can select your autofocussing method – either ONE SHOT (best suited for still subjects), AI SERVO (for moving subjects) or AI FOCUS (AF operation switches from ONE SHOT to AI SERVO depending on whether the subject stays still or starts moving). The 7D Mark II has 65 AF points and off ers seven AF area selection modes: Single-point Spot AF (manual selection, for pin-point focussing), Single-point AF (manual selection, select any one AF point), AF point expansion (manual selection), AF point expansion (manual selection, surrounding points), Zone AF (manual selection of zone), Large Zone AF (manual selection of zone), and 65-point automatic selection AF. The illustration below shows the AF sensor pattern corresponding to each AF point (Pl. scan the sketch on page 82, Basic Inst. Manual)
Note: Although the 7D Mark II has 65 AF points, the number of usable AF points and focussing patterns will diff er depending on the lens used. It is beyond the purview of this review to explain each and every situation. Please refer to your user manual for details.
Movies
The camera features a dedicated switch for movies. The camera uses Canon's Dual Pixel CMOS Autofocus technology which performs two tasks – they carry out imaging as well as phase-detection focus measurement at the same time, resulting in superior autofocus performance during video as well as still images using Live View. The 7D Mark II supports STM (Stepping Motor) lenses which help to reduce the noise picked up from the autofocussing motor during movies. Movies can be recorded in Full HD (1920×1080), HD (1280×720), VGA (640×480) at 60p, 30p (NTSC), 50p, 25p (PAL), and 24p. Movies can be recorded in MOV or MP4 format.
The 7D Mark II's focussing screen is interchangeable but Canon does not mention whether this is user changeable. The camera off ers a built-in flash (GN 12 m/39 feet at ISO 100) and an accessory shoe for external fl ashguns. X-sync is up to 1/250 sec. A PC-sync connector is available to connect studio-type flashguns. A few other useful features on the 7D Mark II are built-in GPS, multiple exposure, dual card slots (CF and SD), and built-in HDR
Ergonomics
The Canon EOS 7D Mark II was a pleasure (and fun) to use. The user interface is easy and the button positions mostly seem to be in the right places. However, the Multi-Controller at the back is rather too small and somewhat diffi cult to operate. The 'on/off ' switch is a twohanded operation – you have to hold the camera in one hand and operate the switch with the other – unlike in Nikons where you can operate the on/off switch with the index finger of your right hand that is holding the camera. For most users, the continuous fi ring rate of 10 fps may be an overkill.
Like most advanced cameras today, the 7D Mark II is a complex device, especially when it comes to understanding the sophisticated autofocus system. To take full advantage of this advancement, and to use the camera to its full capability, it is imperative that the user study (not just read like a novel) the user manual thoroughly. It is a pity that Canon does not provide the detailed user manual in print (though they do offer it on CD).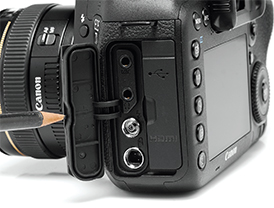 Performance
Our outdoor tests were conducted with the following parameters set on the camera:
Image Quality: Raw + JPEG Large/Fine
Peripheral illumination correction: Enabled
Chromatic Aberration correction: Enabled
Distortion correction: Disabled
White Balance: Auto White Balance
Colour Space: Adobe RGB
High ISO Noise Reduction: Standard
Highlight Tone Priority: D+
AF Method: Face Detection + Tracking
Continuous AF: Enabled
Picture Style: Landscape
Note: When Picture Style is set to 'Landscape', the sharpness level is automatically set to 4 (default setting); with all other Picture Styles, the sharpness level is automatically  set to 3 by default.
The firmware version was 1.0.2 Note: When using Highlight Tone priority, ISO 100 is not available.
The very first thing that you'll notice is that the 7D Mark II's shutter is quiet – actually, very quiet! And if like me you always set the firing mode to Continuous High, here's a warning for you, especially if you have a itchy trigger finger – Go easy, because the Mark II can fire at a maximum rate of 10 frames per second and you are likely to fill up your memory card faster than you may realize. But let me tell you this, it's great fun nonetheless! Our outdoor tests were conducted mainly using a borrowed Canon 100-400mm f/4-5.6 lens (not the new version) and most of the shots were at or near the 400mm end. This means the widest lens opening was f/5.6. Even then, autofocus was quite fast (in good light) and accurate. Using a faster lens (50mm f/1.4), AF was definitely much faster, even in not-so-good light. On the whole, compared to the 7D, I felt that autofocussing with the 7D Mark II was definitely faster, But note that the 7D Mark II offers various ways to use AF, which can be intimidating and confusing to some users. I on my part always prefer to autofocus using the AF-ON button at the back (disengaging AF through the shutter release button) and use the central AF point (which is doublecross-type and most accurate of all AF points) and re-frame the shot if necessary. Using this method I was able to keep up with a reasonably fast-moving water hen at the local zoo (but this, like everything else, needs good practice). The quiet shutter operation also helped in not disturbing the bird.
I can almost feel the anxiety on the reader's face, wanting to know how the 7D Mark II compared with the 7D in terms of digital noise. To settle the issue once and for all, we photographed the same subject using the same 18-135mm kit lens and the same 50mm f/1.4 lens under identical test conditions. Here is what we found:
The 7D Mark II outperformed the 7D at each and every ISO setting. Though the diff erence wasn't much at lower ISO settings, once we crossed ISO 800, the diff erence was very clearly visible. Canon seems to have tweaked the processing algorithms to suit the higher ISOs in the Mark II. Compared to the 7D, the 7D Mark II seems to be 1-1.5 stops better in control over digital noise.
Th e following table shows our impression of digital noise levels between the 7D and the 7D Mark II, when enlarged to 100% screen size. Obviously, at lower enlargements, the noise performance would be better:
Th e slightly soft er images (JPEGs) could be due to an over-active internal noise reduction on the Mark II.
Th is next table shows the digital noise levels at various enlargement sizes using Raw captures with the EOS 7D Mark II:
Movie quality was good too, though we couldn't do a sideby-side comparison with the
7D.

Vaue for Money
Th e Canon EOS 7D Mark II body retails at an MRP of Rs.1,28,795; Rs.1,50,795 with the 18-135mm f3.5-5,6 IS STM lens. We think this is a fair price for this highperformance equipment.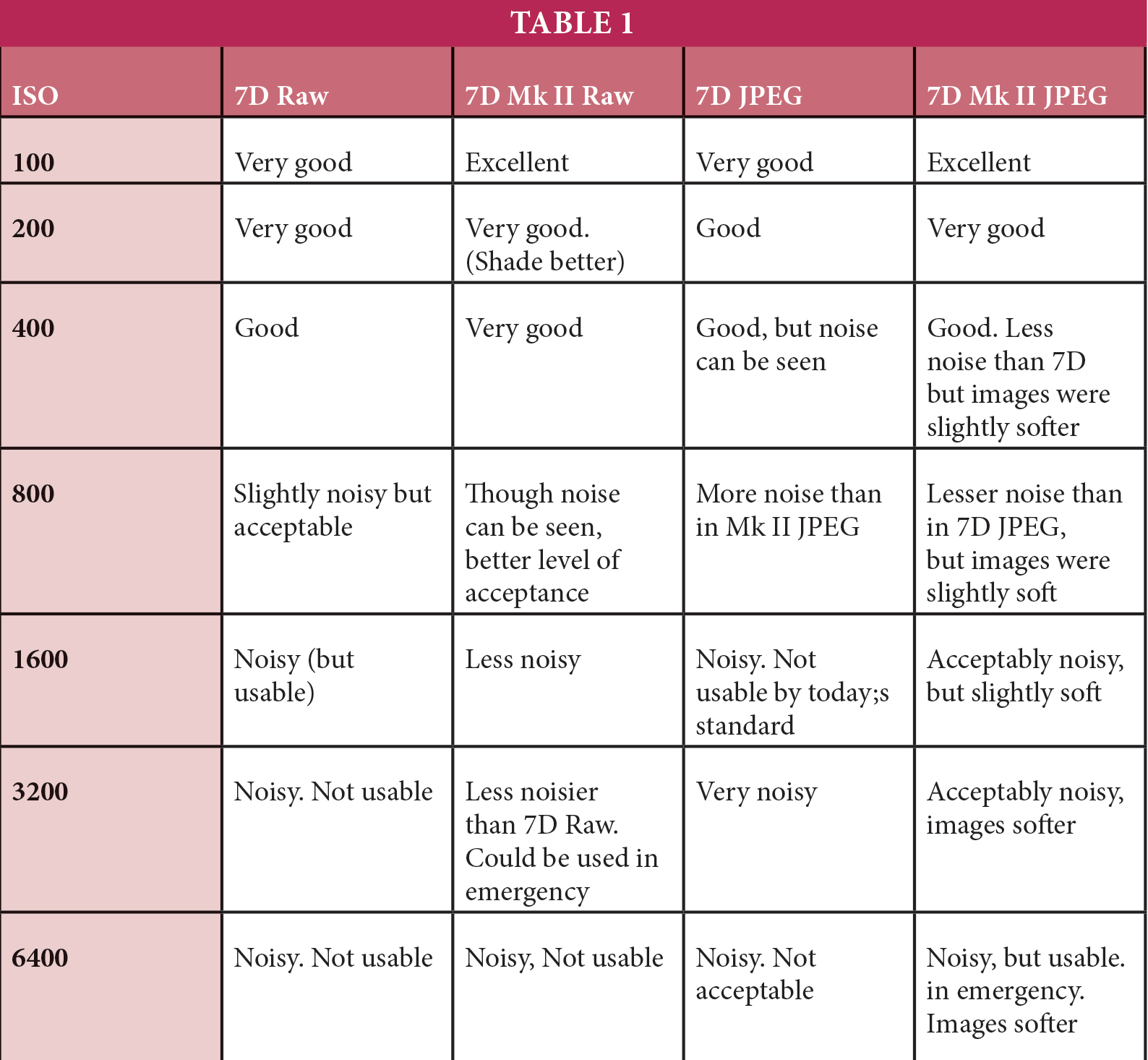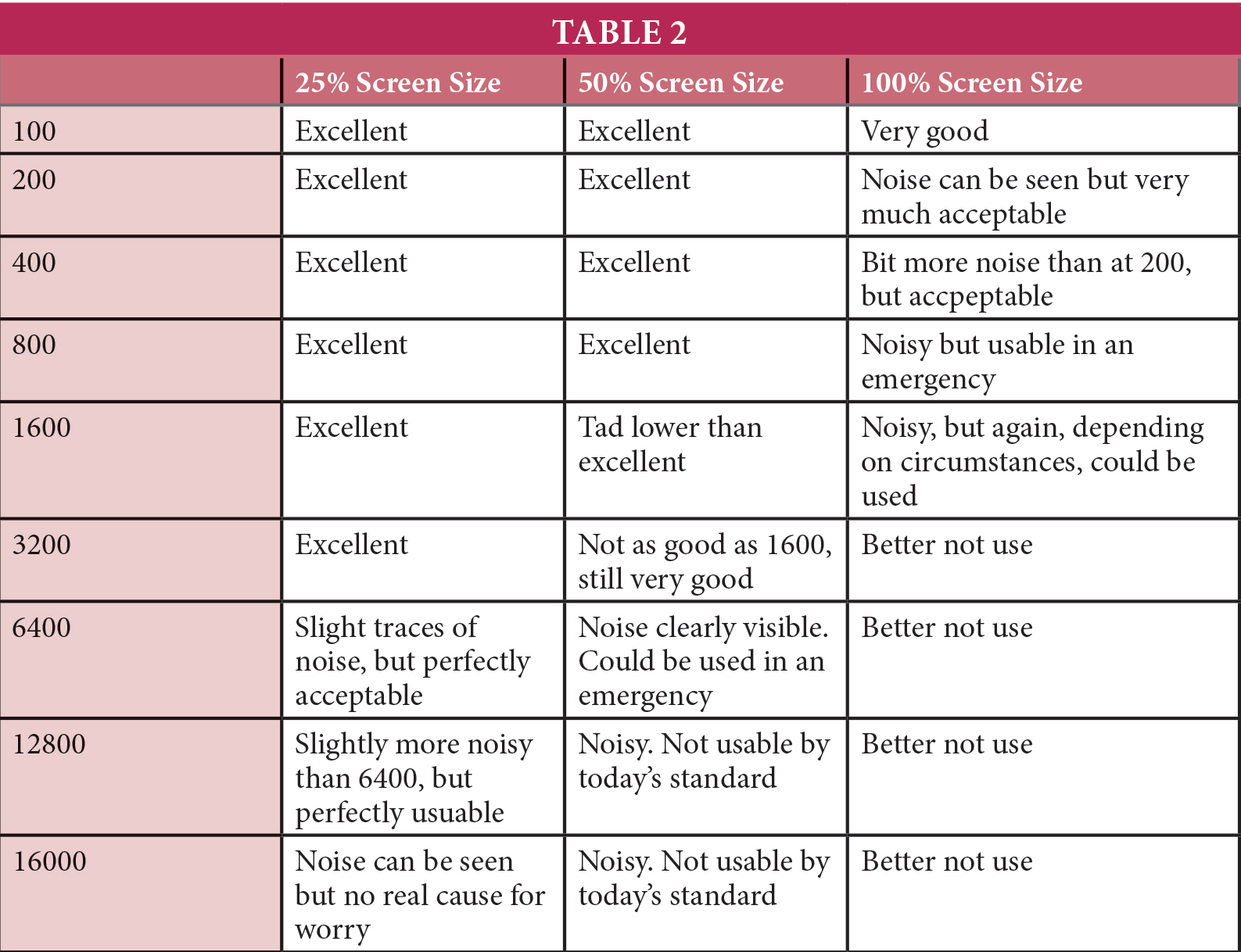 PLUS
• Strong, durable body
• Very good control over digital noise
• Fast and accurate autofocus
MINUS
• No built-in Wi-Fi
• 'On/Off' switch requires use of both hands
• Detailed user manual only on CD
FINAL SCORE                                            84%
Design and Build Quality                           18/20
Key Features                                            17/20
Ergonomics                                               17/20
Performance
Autofocus                                                    4/5
Metering                                                       4/5
Noise Control                                                4/5
Sharpness                                                    4/5
LCD/EVF                                                      4/5
Auto W/B                                                     4/5
Sub-Total                                                    24/30
Value for Money                                            8/10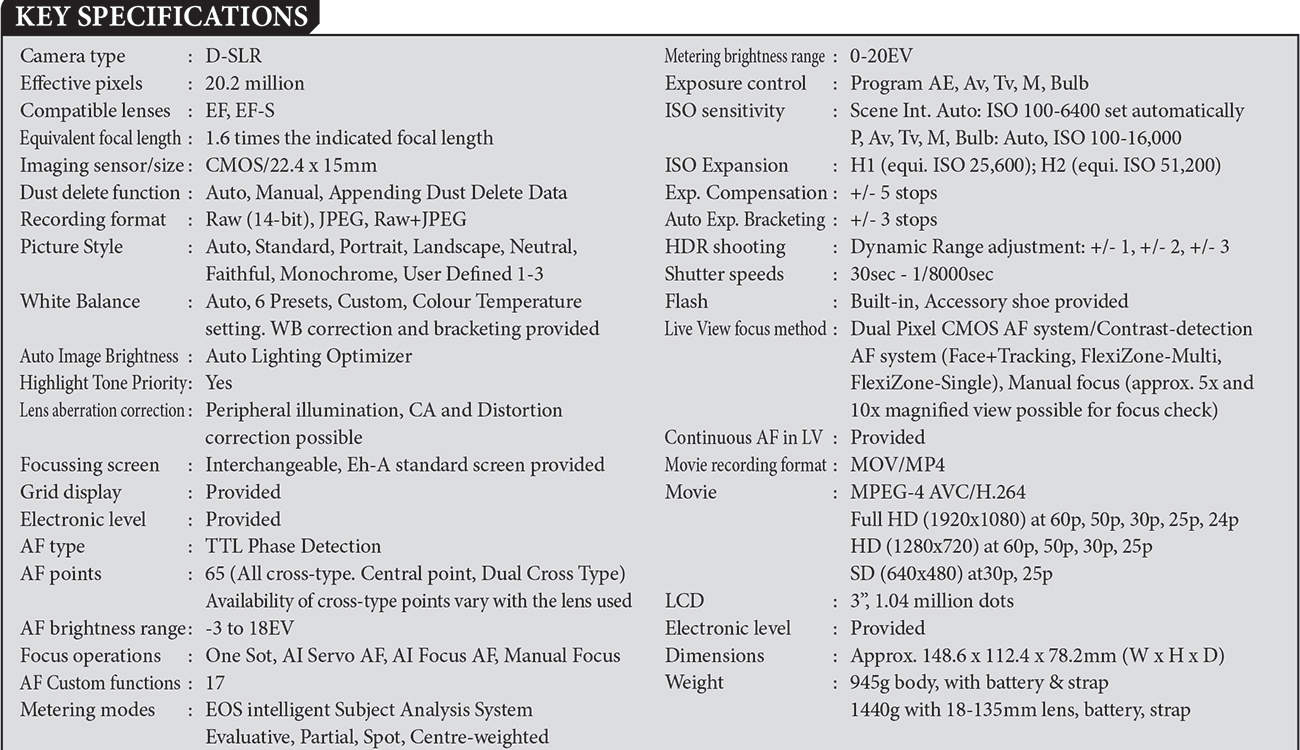 VERDICT
A shot in the arm for wildlife photographers using Canon equipment. A valuable upgrade for 7D users. Image quality has been improved on all counts. The 7D Mark II is suited for sports, wildlife, travel, nature and photojournalism. You will enjoy using the 7D Mark II, but in all fairness, don't compare its image quality from the likes of 5D Mark III and other fullframe Canons. Best Buy!
Rohinton Mehta