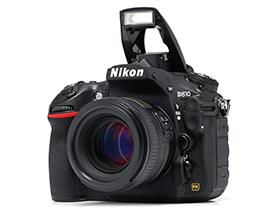 The Nikon D800E was the D810 in June 2014. While both are 36 megapixel, and both are without the anti-aliasing filter (the D800E does have a variation of optical low-pass fi lter), the D810 comes with a new imaging sensor and EXPEED 4 image processor (the D800E has the EXPEED 3). The autofocus system has also been improved; it now also has Contrast- Detection at the imaging sensor level. Various new/small changes have been made to improve the userexperience. So how does the new model work out and should you run to the nearest store to get one?
Design & Build Quality
The D810 is a pro-level D-SLR camera. Its body is made with magnesium alloy to withstand rough usage. It is also weather-and-dust sealed. It offers a more secure grip than its predecessors (the D800/E). The body is made in Thailand and weighs approximately 980g with battery and SD memory card.
Key Features
Note: Some features, found commonly in almost every Nikon model, may not be covered, just to keep the review compact. Let's start with the key similarities and diff erences between the D810 and D800E
Image sensor, shooting speeds Th e D810 has a newly designed image sensor that gathers more light information and is thus able to off er superior low-light sensitivity (ISO 64), without sacrifi cing on dynamic range. Th e sensor does not employ a Low-Pass Filter and in combination with the EXPEED 4 image processor (the same processor used in the D4S), delivers astonishingly sharp images – even superior to those from the tried and tested D800E. The processing speed is around 30% faster than on the D800/E. There are some diff erences in the buttons and features and some cosmetic  changes compared to the D800/E but nothing that you cannot get used to in a little while. Th e D810 delivers a continuous shooting speed of 5 frames per second (the D800/E is 4fps) at full resolution (FX); 6fps in 1.2x Crop Mode, and 7fps in DX format (when using the EH-5b AC Adapter or MB-D12 Multi-Power Battery Pack with batteries other than EN-EL15). The camera is very responsive – the start-up time is approx. 0.12 sec and the release time-lag is approx. 0.052 sec based on CIPA Guidelines.
Picture Control
A new Picture Control system (a dedicated button on the camera body takes you directly to this feature) lets the user fi ne-tune the images to his/ her liking – Sharpening, contrast, saturation and hue can be finely adjusted while image brightness can be adjusted in a wider range. A new addition in Picture Control – Clarity – can emphasise or reduce the crispness of images by adjusting the local contrast (similar to the Clarity slider used in Adobe Camera Raw). Using the new 'Flat' Picture Control can give you absolutely neutral images without any biases to colour, saturation etc while shooting video. Further, using a stand-alone dedicated application (Picture Control Utility 2), you can fine-tune the various items found in Picture Control and import them into the camera via the memory card.
Focussing system
The D810 uses an improved AF system with improved focussing algorithms, along with Advanced Multi-CAM 3500FX AF sensor module with 51 focus points (including 15 Cross-type sensors in the center with support up to f/5.6, while f/8 is supported by 11 sensors) to off er autofocus with unprecedented accuracy. The user can select between 51 or 11 focus points. But all the focussing accuracy is of little use if there are vibrations during the actual picture taking process (especially when using long telephoto lenses that magnify the image on the sensor). To take care of this problem, the Nikon 810 uses an electronic front-shutter function (can be used only in the Mirror-Up mode) to eliminate/reduce vibrations to a minimum. To further reduce vibrations, the D810's mirror and shutter release mechanism has also been re-designed – a new mirrorbalancer limits the mirror shocks. All these improvements add up to visibly sharper images.
In addition to the 4 AF modes that most Nikon D-SLRs have (Single Point, Dynamic Area, 3D-Tracking and Auto Area AF), the D810 has a new AF mode (similar to that in the D4S) – the Group-Area Autofocus. This mode uses 5 focus points all at the same time, thus ensuring quicker AF with greater AF accuracy (as a comparison, the Dynamic Area AF uses just one AF point for initial subject detection). The Group-Area AF is very useful when the subjects are comparatively small and surrounded by high-contrast or confusing backgrounds.
Image storage
Images can be recorded in JPEG (Fine/Normal/Basic), TIFF, Raw (12 or 14-bit lossless compressed, compressed, or uncompressed), Small Raw (12-bit uncompressed only), and Raw+JPEG. Images can be stored on SD and UHS-1 compliant SDHC/SDXC memory cards, and CF cards (UDMA compliant). Th e D810 has two memory card slots and either card can be used for primary or backup storage or for separate storage of Raw and JPEG images.
Sensitivity
Th e D810 has an ISO sensitivity range from ISO 64 to 12,800, which can be extended to equivalent of ISO 32 (Lo 1) and equivalent of ISO 51, 200 (Hi 2). As per Nikon, "Fine details are captured with a greater sense of dimensionality all the way up to ISO 12,800".
Shutter speeds
Shutter speeds range from 30 seconds to 1/8000 sec, plus Bulb and Time. The shutter is rated for 200,000 activations. Flash syncs up to 1/250 sec (can also sync at 1/320 sec but the fl ash range drops). Release modes on the D810 are: S (single frame), CL (continuous low), CH (continuous high), Q (quiet shutter release), QC (quiet continuous shutter release), Self Timer, and Mirror-up.
Exposure metering
Exposure metering is TTL, using 91,000-pixel RGB sensor. The metering modes available are Matrix, Center-weighted, Spot and Highlight-weighted. So, what's Highlight-weighted metering? In spite of taking care, highlights often get overexposed and its not always easy to regain the details during post-processing. To take care of this irritant, the D810 off ers a highlightweighted metering mode which gives priority to the brighter areas of a scene and thus avoid highlight clipping. Exposure modes on the D810 are Program (includes Flexible Program), Aperture Priority, Shutter Priority and Manual. Exposures can be compensated up to +/- 5EV in 1/3, 1/2 or 1 EV steps. Exposure can be bracketed up to 2-9 frames in 1/3, 1/2, 2/3 or 1 EV; 2-5 frames in steps of 2 or 3 EV. Active D-Lighting and Active D-Lighting Bracketing is on offer.
Though the D810 is a sophisticated camera, it offers easy solutions for those who are not technically minded. Take the Advanced Scene Recognition System for example; it uses a 91,000-pixel RGB sensor to recognize your scene's colour and brightness and then uses this information to automatically apply the correct exposure, White Balance, i-TTL flash and also set autofocus!
White Balance
The D810 offers a wide range of White Balance settings: Auto (2 types), Incandescent, Fluorescent (7 types), Direct Sunlight, Flash, Cloudy, Shade, Preset Manual (up to  6 values can be stored), and Colour Temperature setting (2500-10,000K). Each setting can be fine-tuned. It is also possible to bracket White Balance. Auto White Balance has been re-programmed using new algorithms that detect whites in the scene more accurately than before. Many photographers use an 18% grey card to calculate White Balance. But what if an 18% grey card is not available? Using a tiny white or offwhite area in the frame, a spot WB feature allows you to calculate the preset Manual White Balance via Live View, thus eliminating the need for a grey card.
Image formats
The camera offers multiple formats: FX (35.9 x 24mm), 5:4 (30 x 24mm), 1.2x (30 x 19.9mm) and DX (23.4 x 15.6mm). When a DX lens is attached, the D810 automatically reverts to the DX format. LCD/Playback During Playback, it is now possible to magnify the image approximately 46x to get a clear, crisp view and confirm the precise focus. The LCD screen is enhanced too; it uses scratch and shock-resistant reinforced glass on the surface and the screen's visibility in daylight is better than before. The  LCD is colour-corrected and the user can also adjust the colour balance to his/her preference. Another feature which may be very much appreciated by architectural photographers is the Split-screen Display – using the i button during Live View, the camera level can be monitored; two points on the same horizontal line are enlarged (and can be magnified too) and the user can check if they are perfectly in
level or not.
Built-in Flash
The D810 offers a built-in flash having a Guide Number of 12m (39ft) at ISO 100. Front curtain sync, slow sync, rear curtain sync, red-eye reduction, red-eye reduction with slow sync, slow rear curtain sync, off; Auto FP high-speed sync is supported. It also supports Nikon's Creative Lighting System. Flash can be compensated (-3 to +1 EV) and flash can be bracketed 2-9 frames.
Video
Now let's see what improvements have been made to the video capabilities. By using a new method of video signal processing, the D810 offers better video quality than the D800 with reduced moire and false colour. Video is recorded using IPB compression and H.264 codec which according to Nikon "ensures high image quality while retaining a compact file size". The D810 can record video in Full HD (1920 x 1080) at 60p and play it back at 24 frame rate for a smooth 2.5x slow motion. Nikon recommends memory cards with write speed of 30MB/s (200x) or higher for video recording. Slower cards may not allow the movies to play back smoothly.
Video is recorded in 16:9 aspect ratio, but with the D810, you can switch between FX and DX-based video formats. This allows you to have two different perspectives from the same lens. You can even create Time- Lapse videos (up to 8K resolution), right within the camera! Two new exposure metering modes for movies have been added to the D810's arsenal: Center-weighted metering offers you exposure readings that aren't prone to sudden changes in brightness, and Highlight-weighted metering ensures that highlights are not clipped in contrasty lighting situations like stage-lighting. If you want the highest in video quality, you can output the uncompressed video files to an external recorder via the HDMI socket in 8-bit 4:2:2 format and if
Rohinton Mehta
you need a backup of your videos, you can simultaneously record to the memory card. You can even let the D810 control the ISO sensitivity between ISO 200 to Hi 2 while keeping the aperture and shutter speed constant in varying lighting conditions. This allows you to maintain your required depth of field and the 'look' during the movie shoot. Another very useful feature is the Power Aperture. When panning the camera (during video recording), there is every likely-hood of brightness levels changing from very dark to very bright. The Power Aperture function lets you change the aperture smoothly and quietly, without rotating the Command Dial. To avoid overexposing the highlights, the D810 offers 'zebra-patterns' which can be monitored on the LCD and/or an HDMI connected monitor.
Ergonomics
Considering my limited association with the D810, there isn't much to write about the ergonomics since the D810 is very similar to the D800/E when it comes to the handling. Even then, for those who may not have used the D810 or the D800/E, I find the D810 even easier to use. The camera is very responsive under every perceivable situation, and with easy-to-use interface. However, a drawback that I felt is that the viewfi nder does not mask out the non-usable area in DX and 1.2xmodes (it only shows borders with thin lines, which I oft en ignored in the excitement of the shoot). Due to this, some of my framing went wrong. May be a firmware update could remedy this?
The images on the LCD appeared slightly sharper due to its higher resolution but in sunlight, I still had some diffi culty in viewing the images. The D810 is defi nitely quieter in operation when compared to the D800/E. I also appreciated the extra 1fps (5 fps instead of 4fps in D800/E) in CH shooting at full resolution. We were unable to achieve the 7fps in DX mode since that requires the use of EH-5b AC Adapter or MB-D12 Multi-Power Battery Pack which was not available with us. The i button helps you to directly access various important functions without going through the Menu..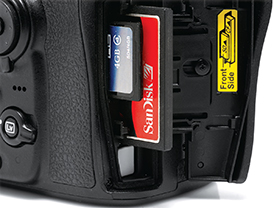 Performance
Note:
1) The User Manual is 500 pages. This is not mentioned here to scare you but to instil in you the importance of studying the manual if you want the most out of your camera. Thank you Nikon for giving us this detailed user manual in print instead of on a CD.
2) If you are a trigger-happy photographer indulging in wildlife, birds-in-fl ight photography or street photography, I recommend you get a 'fast' memory card. Even though the buff er is improved, a fast card will certainly aid your shooting experience.
3) If you are using a heavy/long focal length lens, I recommend using a fi rm tripod for optimum results. I shot many frames (hand-held) using a 80-400mm AF-S lens at 400mm and thereabouts, and many pictures were not as sharp as I would like. If this happens to you, blame yourself, not the camera.
4) Our tests were conducted with JPEG images, mainly using a AF-S Nikkor 50mm f/1.4G lens (though I did shoot quite a bit with a 80-400mm AF-S lens too). To get the best results from the D810, you need to spend time and get familiar with the various features, especially the AF system. It will take some time doing that, but once you get familiar with it, you'l love the way the D810 works. The overall results from the D810 is top-notch, but like any other high-megapixel model, the D810 is also unforgiving. You got to use the best glass and your shooting technique has to be of a high order. Autofocus was very fast and accurate, even in reasonably low light. I did not notice any 'hunting' for focus during my limited tests. All the metering modes performed to our satisfaction. The new Highlight-weighted metering was an added advantage as it better controlled highlight blow out (it does that by reducing the overall exposure). Images were sharp right out of the box. Control over  digital noise was good (for our test,  Noise Reduction was set to 'Normal') though we have not done a side-byside comparison with the D800/E.
Also note that our expectation for noise reduction has grown the same way technology has; we expect better overall results from all modern cameras. Th e native image size of the D810 image is 24.533 x 16.373" at 300ppi. At 16.7% and 25% screen size, there was no perceptible noise all the way up to ISO 12,800. At 50% screen size, some noise could be seen at ISO 12,800 but did not appear troublesome. At 100% screen size, there was some noise at ISO 3200 but I wouldn't hesitate using it up to ISO 6400 if necessary. Th e H 1 and H2 settings appeared noisy but the H 0.3 and H 0.7 settings could be used if the images are to remain small. We also observed that images shot at ISO 1600 and above exhibited 'soft ness'; may be some extra noise reduction is being applied automatically.
Auto White Balance was on the dot for all the available WB settings. The Preset WB was again accurate for all available settings except Shade where it gave a slight magenta cast. Do note however, that we did not test the Preset White Balance for Fluorescent 1-7 as we really do not know the type of fl uorescent fi xtures in our offce.  The Spot WB (in Live View) also performed satisfactorily.
Value for Money
The Nikon D810 body retails at an MRP of Rs.1,99,950. That is a lot of money, but I am sure the price will come down eventually. If you can afford it though, its worth the money!
KEY SPECIFICATIONS
Camera type                                                      : D-SLR
Effective pixels                                                  : 36.3 million
Image sensor                                                   : CMOS
Image sensor size                                          : Full-frame (35.9 x 24mm)
File format                                                         : Raw, 12 or 14-bit, lossless compressed, compressed
or uncompressed. Small size Raw available (12-bit
uncompressed only)
TIFF, JPEG Fine/Normal/Basic
Raw + JPEG
Picture Control System                                  : Standard, Neutral, Vivid, Monochrome, Portrait,
Landscape, Flat
Media : SD, SDHC, SDXC, CF cards
Dual card slots                                              : Either card can be used for primary or backup
storage or for separate storage of Raw and JPEG
images; Pictures can be copied between cards
Compatible lenses                                   : All Nikkor lenses except IX Nikkor lenses, lenses
for the F3AF and non-AI lenses (Some restrictions
apply to PC lenses)
Shutter speeds                                    : 30 sec – 1/8000 sec, X250
Release mode                                      : S, CL, CH, Q, QC, Self-timer, Mirror-up
Metering method                                : Matrix, Center-weighted, Spot, Highlight-weighted
Exposure mode                                  : P (includes Flexible P), A, S, M
Exposure compensation                   : +/- 5 EV
Exposure bracketing                          : 2-9 frames
Flash bracketing                                   : 2-9 frames
WB bracketing                                         : 2-9 frames
ISO sensitivity                                            : ISO 64-12,800. Can also be set to approx. 0.3, 0.5,
0.7 or 1 EV below ISO 64; or approx.
0.3, 0.5, 0.7 or 1 or 2 EV above ISO 12,800. Auto ISO available
Active D-Lighting                                : Auto, Extra-high, High, Normal, Low, Off
Lens servo : AF-S (Single servo AF), AF-F (Full-time servo AF).
Manual focus (M)
AF-area mode                                 : Face-priority AF, wide-area AF, normal-area AF,
subject-tracking AF
Built-in flash                                      : GN 12m/39ft at ISO 100
Flash control                                   : i-TTL
Flash compensation                       : -3 to +1 EV
CLS                                                       : Creative Lighting System is supported
White Balance                                : Auto (2 types), incandescent, fluorescent (7 types),
direct sunlight, flash, cloudy, shade, preset manual,
spot WB in Live View, Colour Temperature
Movie metering                  : TTL, using main image sensor
Movie metering method              : Matrix, Center-weighted, Highlight-weighted
Movie frame/rate                        : 1920×1080 60p, 50p, 30p, 25p, 24p
1280×720 60p, 50p
Movie file format                         : MOV
Battery                                       : EN-EL15
Weight, body only                       : 860g with battery and SD memory card
KEY SPECIFICATI
MINUS
• Somewhat expensive
• Heavy
• Does not mask the cropped area in the viewfinder
• No GPS
PLUS
• Superb image quality
• Very good build quality
• Accurate and quick autofocus
FINAL SCORE 86.5%
Design and Build Quality                                         17/20
Key Features                                                              18/20
Ergonomics                                                                17/20
Performance
Autofocus                                                                       4.5/5
Metering                                                                             4/5
Noise Control                                                                  4/5
Sharpness                                                                     4.5/5
LCD/EVF                                                                           5/5
Auto W/B                                                                            4.5/5
Sub-Total                                                                     26.5/30
Value for Money                                                              8/10
VERDICT
Whilst I had no real problems using the D800/E (except for getting used to the fact that the viewfinder does not mask the cropped areas in DX and 1.2x mode), using the D810 was a newer and better experience. The differences might not be too obvious to one and all, but all the same, they do exist and Nikon has tried (and succeeded) in improving an already very good D800/E.
Now the question is, should you replace your existing D800/E with the D810? This is a very difficult question to answer. The newer EXPEED 4 is definitely better, frame rate has improved, control over digital noise has improved at higher ISO sensitivities, autofocussing accuracy and speed has improved, the grip is better (marginally), the camera operation is now a bit quieter, LCD resolution has increased, ISO range is further expanded, the new Group AF Mode works well in most situations, battery life has improved, and many other minor improvements makes the D810 the new king in my opinion. If you have a big pocket, then yes, do consider changing your D800/E. If you want to upgrade from some other Nikon body and were considering to shift to the D800/E, then I suggest you certainly spend some more and get the D810. You will not regret your decision. Best Buy!
Rohinton Mehta