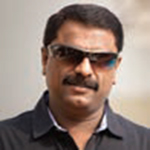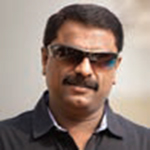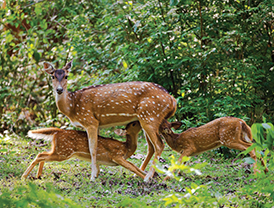 Praveen Siddannavar–a native of Belgaum, an engineer by profession and a natural history photographer by choice–loves travelling and exploring forests. He is particularly passionate about photographing tigers. Praveen is currently one of the founding members of the Indian Wildlife Conservation Trust (IWCT) and works in the capacity of Honorary General Secretary. His images and photo stories have been featured in several publications like 'Wild Maharashtra' ( a coffeetable book), Saevus Wildlife India Magazine, BBC Wildlife Magazine etc. Presently, Praveen works with KPIT (Bengaluru) as Center Head. To see more of his work, visit www.facebook.com/ PraveenSiddannavarPhotography
As told to Disha Khemchandani
What ignited your interest in wildlife photography?
Since my childhood, I have been more of an outdoor personality and a nature lover. My exploration of forests and understanding the importance of wildlife conservation happened after my return from the United Kingdom in 2004. However, I never imagined that I will get into serious nature and wildlife photography until I won some awards and was published in international and national magazines.
I always carried a small point and shoot camera and did some photography like everyone. I loved documenting my experiences of different destinations. I went to various forests like Bandipur, Nagarahole, Dandeli- Anshi Tiger Reserve, BR Hills, Ranthambore Tiger Reserve, Tadoba, Bandhavgarh Tiger Reserve and some more. These beautiful animals, especially the tigers fascinated me. However, the fact was that the count of these cats was dropping. Gradually during these frequent visits to the forests, I met a lot of wildlife photographers. They suggested that I should invest in a D-SLR camera and a suitable lens. My journey as a wildlife photographer began in 2009.
Initially I volunteered in wildlife conservation activities and participated in 'Save Our Tigers' campaign. I wanted to spread awareness and send a message across the world. I felt I should document tigers and share these images. It would be the best way to educate people about the importance of tigers in our ecosystem. With this, my passion for photography evolved on a whole new level, which involved conservation.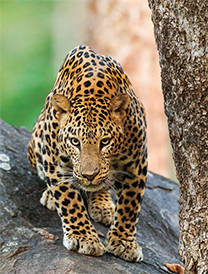 Have you had any formal training in photography?
Unfortunately, no. However, my suggestion is that one should undergo some training to get the best out of digital equipment. My learning has been on-field. I am also a registered member in some wildlife photography forums like IndiaWilds, India Nature Watch etc. Interactions in these forums have also taught me a lot about photography.
How do you ensure that your pictures stand out in the crowd?
I am a natural history photographer, who waits patiently for the right and rare moment to be captured. For instance, I captured Gaurs (Indian Bison) chasing a tiger at Nagarahole. We don't often see such situations. I was fortunate to capture the entire sequence. I was also able to photograph a leopard running away with black napped hare (Rabbit), wild dogs (Dholes) hunting a spotted deer in a water body; it was a rare moment when I managed to capture expressions of the deer and the wild dog, who looked directly into my lens. The eyes said it all—one was sure about death and the other about his victory. I was declared 'finalist' for this image during BBC Wildlife Photographer Year awards 2012. Such images not only stand out, but also have a story with natural emotions. I try and keep my images very simple. Many are surprised when I tell them that I have never used Photoshop. My post-processing of images is basic. I try and keep my images natural than make them look artistic. I also write a small description about my images that have been appreciated by wildlife lovers; these are some of my key unique points and strengths.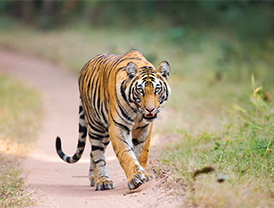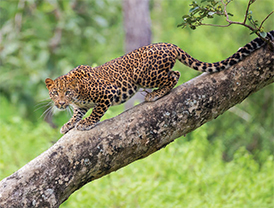 Tell us about your most memorable wildlife photography experience.
Wildlife photography is always filled with excitement. I have photographed and documented various behavioural traits of tigers. However, when I see a tiger, my excitement is such as if I am seeing this majestic cat for the first time. No wonder tigers are the most beautiful creations on this earth  There have been several memorable moments in the wild but spotting a Black Panther at Dandeli-Anshi Tiger Reserve in Karnataka, and being able  to capture a decent photograph under extreme low light conditions was by far the best moment ever.
Till date, which has been your most difficult subject? And why?
Subjects are not easy to find in the wild. Most cats are shy, but tigers, especially in South Indian forests are not so friendly with safari jeeps. To me, I find bird photography difficult. Birds are agile and quick, but studying their behavioural patterns can ease the pressure on a photographer to a certain extent. As it is rightly said, spot the bird before the bird spots you.