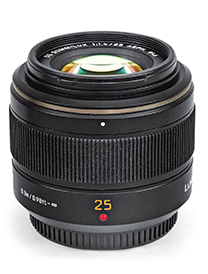 Leica Camera AG is one of the most venerable companies in the world of optics and photography. Leica generally names its f/1.4 lenses as "Summilux" (called "Lux" lenses by Leica afi cionados) and this lens follows that naming convention. This lens is the result of the collaboration between an equally well known Japanese firm, Panasonic. The literature of this lens states that "Leica DG lenses are manufactured using the measurement instruments and quality assurancesystems that have been certified by Leica Camera AG based on company's quality standards." In short, this lens is a Leica optical design, manufactured by Panasonic to the exacting standards of Leica. So, you need not have any doubts about its pedigree or optical quality!
This lens is specifi cally designed to be used on the Micro Four Thirds (MFT) cameras, made by both Olympus and Panasonic. Considering that the MFT format has a crop factor of two, the angle of view is same as that of a 50mm lens on a full frame D-SLR. This, as you might recall, is the classic "normal" lens, once the standard lens supplied with all SLRs, till the slow "kit lenses" took over! Fortunately, the normal lens has been undergoing a resurrection with many photographers realizing the virtues of the so called "nift y-fift y". This  is a rather apt description, considering that a normal lens can used for virtually any type of photography – portraits, landscapes, street, photo-journalism and what not. Another advantage is that normal lenses are generally the fastest available and are ideal for low light work and for getting shallow depth of field.
Design And Build
This lens is finished handsomely in typical Panasonic dark grey. It uses polycarbonate for most of the construction but the mount is machined nicely in metal. As with most modern lenses there is no aperture ring, the aperture being controlled from the camera body. There is a nice rubber-ribbed focusing ring, and that's about it. There is nothing else on the lens – sadly, no distance or depth of field (DOF) scales and no AF/MF switch. The lens uses an internal focusing design and hence its overall length does not change while focusing. There is a dull metallic coloured ring at the top, giving it a smart look. It is slightly large for an MFT lens. This, plus its solid build makes it tip the scales at a heft y 200 grams. The filter size is 46mm (diameter) which is standard for many MFT lenses.
Key Features
The Summilux lens has a fast aperture of f/1.4 and has a complex and modern tele-centric design with 9 elements in 7 groups. It also uses Ultra High Refractive index lens and glass molded aspherical elements (hence the word ASPH) to maintain edge to edge sharpness and to cut down aberrations. The lens also uses the sophisticated "nano surface" coating to reduce flare and ghosting. The diaphragm is made of seven rounded blades for a good bokeh. The front element does not rotate, making it easy to use polarizing and graduated neutral density filters.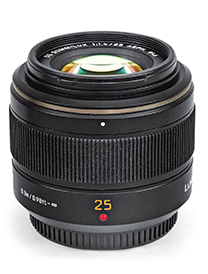 Ergonomics
This lens was tested on the popular Olympus OM-D E-M5 MFT body. The lens/body combination balances reasonably well but is a tad front heavy. The whole set up is very compact and is easy to handle – ideal for discrete candid or low light work.
The AF/MF switching is only through the camera menu which is a bit of a nuisance. The focusing ring is smooth but a little underdamped. There are no distance or DOF scales, so forget about setting this lens to hyper focal distance and do "from the hip" snapshot shooting in the true Leica style! There is a very visible red index mark which is raised and this is of great help when you are mounting the lens in low light. The lens comes with a solidly made "Leica-ish" square lens hood. Unfortunately, it can't be reversed on the lens for storing. This is one major drawback as the hood is very large  and occupies a great amount of space in your bag. The pouch included will accommodate the lens plus the hood though. We are really surprised how two very famous names together could design such a bad hood!
Performance
As you would expect from the Leica name (and the price) the Summilux 25mm lens is an excellent performer. Autofocusing is accurate and quiet. The lens' main plus point is its optical performance. True to its name it is sharp even wide open. Just by stopping by half a stop to f/1.8 makes it very sharp. Peak performance is around f/2.8. At this setting, the lens is exceedingly sharp right up to the edges. However, the performance starts getting degraded beyond this due to diffraction and it is best you don't use this lens at apertures narrower than f/5.6. Typical to MFT lenses, images show practically no distortion at all, this being partly achieved through software either in camera or external. Due to the same reason, vignetting is negligible even at the fairly wide aperture of f/2.0. There is no visible chromatic aberration.
The quality of bokeh is excellent as you would expect German designs. It is very smoothly rendered and is ideal for portraits.
Value For Money
The MRP of this lens is Rs. 41,990/-. Admittedly this is not a low price. It is a bit higher than the full frame normal lenses from major manufacturers. However, in all fairness, it outclasses them easily. It has a very sophisticated design and nano coatings. Also, glass molded aspheric elements (a Leica specialty) as opposed to resin based compound ones (used by most) are expensive. Being a tele-centric design it is optimized for digital sensors and this clearly shows up in its performance. So, to see this price in proper perspective, you need to consider the solid construction, fast aperture and superb performance.



FINAL SCORE                                          86%
Design and Build Quality                          19/20
Key Features                                          16/20
Ergonomics                                             16/20
Performance
Autofocus                                                5/5
Sharpness                                               5/5
Distortion Control                                      4/5
Aberrations                                               5/5
Darkening  of Corners                                5/5
Extra Features                                         4/5
Sub-Total                                               28/30
Value for Money                                        7/10
PLUS
• Vey sharp
• Low distortion and aberrations
• Excellent overall image quality.
• Solid build quality
MINUS
• A little big and heavy for an MFT lens
• Badly designed lens hood
VERDICT
This is a fast normal lens that is ideal for portraits, landscapes, street photography and photojournalism. It is excellent for low light work due to its fast aperture. The lens is solidly built, offers fast focus and is sharp even wide open. While the price is not low (but don't forget that a normal Summilux lens for a Leica full frame digital camera is a few lakhs of Rupees), considering its build quality and optical performance you can consider it to be fair.
Ashok Kandimalla