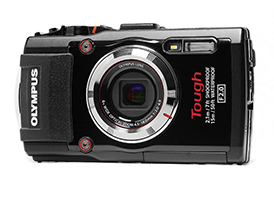 Tough or weather-proof cameras could be treated as specialist equipment, similar to various camping equipment. These cameras are constructed to survive in extreme conditions and 'safely' bring back precious images you shoot. The Olympus TG-3 is an upgrade to the TG-2 that we reviewed last year. The TG-2 thoroughly impressed us, and now it is time for the 16-megapixel TG-3 to prove its mettle.
Design and Build Quality
The 'Tough' designation of the TG-3 speaks volumes about the build quality of the camera. We have tested the TG-2 in the past, and have found it extremely resistant to rough handling (yes, we do actually drop, dip, and stamp on the camera to see if it lives up to the promises). The TG-3 is no diff erent. The camera has an engineering plastic exterior, but a metal plate is attached to the front to minimise impact. Similarly, the LCD is shielded with a thick transparent plastic layer. All slots are covered by double-locking mechanism that make them impermeable to liquids. The device is water-proof up to 15m (IPX8 standards). It is also dustproof (IPX6 standards), shockproof up to a drop from 2.1m height, crush-proof up to 100kgf, and freezeproof up to -10°C. The camera has a plastic tripod receptacle, but since it is not very heavy, we wouldn't complain.
Key Features
Olympus has not provided many details in the camera's 'detailed' specifi cations, but we will attempt to list down the most important ones here. The Tough TG-3 sports 16 million pixels, up from 12 million in the TG2. We believe that the sensor is a 1/2.3-inch (6.60 x 8.80 mm) one. All we know is that it is a back-lit CMOS sensor. The camera features mechanical (sensor-shift ) image stabilisation. The sensor is supported by a TruePic VII image processor.  The camera offers a focal length equivalent to 25-100 mm. The lens has a folded optics design, which allows it to maintain the same length while zooming and focussing. It includes DSA (Dual Super Aspherical), HR (High Refractive Index), and Aspherical lens elements. The aperture ranges from f/2 to 8 at the wide-angle end and f/4.9 to 18 at the telephoto end. In Normal mode, it focusses from 10 cm to infi nity, while in Super Macro mode, it can focus as close as 1cm. The TG-3 uses a 3.0-inch, approximately 460,000 dot LCD. ISO sensitivity ranges from ISO 100 to 6400. Shutter speed ranges from 4 to 1/2000 sec.
Shooting modes available are iAuto, P, Custom, Photo Story, Art, A (Aperture Priority), SCN, and Microscope. Th e Art Filters provides seven different types of fi lters for creative effects. In Photo Story, you can combine images with various fun templates. Microscope is the name for Super Macro mode, which allows you to focus very close to the subject. Scene modes include Portrait, The-Portrait (Smooth skin-tone to view on HDTV), Landscape, Interval Shooting, Hand-held Starlight, Night Scene, Night Portrait, Sport, Indoor, Self Portrait, Sunset, Fireworks, Cuisine, Documents, Beach and Snow, Underwater Snapshot, Underwater Wide 1, Underwater Wide 2, Underwater Macro, Snow, Panorama, and Back-lit HDR. The TG2 featured only selectable fixed apertures, and hence the inclusion of Aperture Priority mode is a good move. The camera features GPS and Electronic Compass along with built- -in Wi-Fi. The GPS function on the TG-3 is compatible with GLONASS (Russian satellite navigation system) and QZSS (Japanese regional satellite navigation system) for improved positioning accuracy.
The TG-3 can capture HD movies, High-Speed Movies, and Time Lapse Movies. High-speed movies can be captured at 120 fps, up to a top speed of 240 fps. This can be played back in normal speed to get detailed view of high-speed action. Please note that the movie size drops down to 640 x 480 at 120 fps and 320 x 240 at 240 fps. HD videos can be recorded at 1080p (1920 x 1080). Still images are recorded in JPEG format, while videos are recorded in MOV/H.264 or AVI/Motion JPEG standard. The camera has an internal memory of 36MB, and accepts an SD/SDHC/ SDXC card for external storage (UHS-I supported). The camera weighs 247g including battery and card, and has dimensions of 111.5 x 65.9 x 31.2mm.
Ergonomics
The Olympus TG-3 is comfortable to use. It has a rubber grip in the front and a textured plastic thumb rest. Though the controls are small, they are easy to use. The double locks make it a little slow to change the memory card or take out the battery, but these locks are very much needed in a waterproof camera. The menu is easily comprehensible and images appeared crisp on the LCD.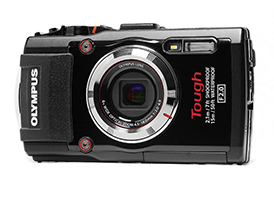 Performance
The Olympus TG-3 provided mixed results in our tests. If you consider its positioning as a tough all-weather camera that can withstand all harsh situations, the camera performs very well. We did not notice any water ingress after the camera was kept in a tank of about 5ft water for 15 min. It also withstood a drop from a few feet on to a hard surface.
Coming to the image quality, AF was fast and precise, and it did not have any problem locking on to the subject even under low light. Images appeared reasonably sharp, though we did not compare it to  any other camera. Metering worked as expected. The TG-3 produced slight barrel distortion up to about 50mm equivalent focal length. Slight darkening was observed at the corners at the wide-angle end with the lens wide open, though we wouldn't consider this a major problem. Auto White Balance performed well under natural light. Though it left distinct cast under artificial light, this could be corrected easily in post-processing.
The lens produced prominent flare and chromatic aberration in strong against-the-light images at the wideangle end with the lens wide open. Native image size was 15.36 x 11.52 inches at 300 ppi. At 25 percent of the screen size, images were free of noise up to ISO 1600, but all images were perfectly usable. Viewed at 50 percent, we observed noise from ISO 400 onwards, but the images were usable up to ISO 3200. At 100 percent, all images showed some noise, but we wouldn't hesitate to use it till to ISO 200.
Value for Money
The Olympus TG-3 retails at an MRP of Rs.27,990. The rugged construction and fool-proof weather-shielding makes it a competitive price.



PLUS
• Rugged construction
• Waterproof
• Freezeproof
• Crushproof
• Dust-proof
• Shockproof
MINUS
• Rather poor noisecontrol
• Optical performance needs improvement
FINAL SCORE                                                              80%
Design and Build Quality                                               19/20
Key Features                                                              17/20
Ergonomics                                                                 17/20
Performance
Autofocus                                                                        4/5
Metering                                                                          4/5
Noise Control                                                                 2.5/5
Sharpness                                                                     2.5/5
LCD/EVF                                                                       4/5
Auto W/B                                                                      3/5
Sub-Total                                                                    20/30
Value for Money                                                           7/10
VERDICT
The Olympus TG-3 is one of the most rugged compact cameras in the market today. This would be your perfect companion for adventure trips and casual outings with friends and family. The TG-3 may not provide you professional quality images, but will stand the test of time and last comparatively longer even when subjected to extreme conditions.
Sujith Gopinath