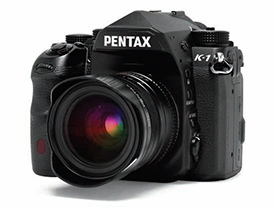 Ergonomics
The K1 (with the 31mm f/1.8 lens) was very easy to handle. The deep  hand grip was just perfect and the large, soft rubber eye cap prevented spectacles from getting scratched. The design of the camera is quite different from most other D-SLRs in that all the most-required features can be very easily changed without delving deep into the Menus.
Performance
We tested the K1 with the supplied 31mm lens. The K1 has many imageimproving features in the form of in-built corrections (many other cameras also do). So why not make good use of them? The following features were enabled during our tests: Highlight correction, Shadow correction, Slow shutter speed NR, High ISO NR, Distortion correction and Peripheral illumination correction. These features work very well as proved by our tests.
Darkening of corners: There was no darkening of corners worth mentioning, at any aperture. Great going indeed!
Barrel/Pin cushion distortion: Nil
Digital Noise: The Pentax K1 offers a native image size of 24.533 x 16.373 inches at 300ppi. At 16.7% screen size, images appeared noisefree up to ISO 12,800. At 25% screen size, images still appeared noise-free up to ISO 12,800. At 50% screen size, ISO 6400 had some noise but was usable. At 100% screen size, images appeared noise-free up to ISO 1600, though in an emergency, I would not hesitate using up to ISO 3200. Very good overall noise control!
Sharpness: JPEG images appeared a bit soft (could be due to a very active in-built noise reduction) but the Raw images could be sharpened to taste. Sides and corners appeared a bit softer compared to the centre at most apertures.
Flare and CA: Flare could be seen in against-the-light shots. There was heavy magenta fringing (surprisingly, there was also green fringing). Overall, the colours were pleasing.
Value for Money
The Pentax K1 body retails at an MRP of Rs.1,67,707. The SMC Pentax-FA 31mm f/1.8 AL Limited lens retails at an MRP of Rs.95,075. While the body price is in line with full-frame bodies from other manufacturers, we feel that the 31mm lens is way too expensive. |SP


FINAL SCORE                                                         83.5%
Design and Build Quality                             17/20
Key Features                                                        17/20
Ergonomics                                                           18/20
Performance
Autofocus                                                                     4/5
Metering                                                                   3.5/5
Noise Control                                                              4/5
(also depends on camera settings)
Sharpness                                                                      4/5
(also depends on the lens)
LCD/EVF                                                                        4/5
Auto WB                                                                          4/5
Sub-Total                                                          23.5/30
Value for Money                                           8/10(for body only)
PLUS
• Good build quality
• Easy-to-use user interface
• 5-axis image stabilisation
• Good image quality, especially from Raw/DNG
MINUS
• Magenta/green fringing
• Expensive 31mm lens
• No built-in flash
• No 4K video
• Buffer is too small
VERDICT
Overall, the Pentax K1 is a great camera. Though it has a few niggles, they are minor. The 5-axis image stabilisation worked very well and the camera was very easy to use. Control over digital noise was very good. We did miss the in-built flash though. The K1 does not offer 4K video, which, to some users, may be a deal-breaker, but to me, it didn't matter as I never shoot in 4K considering that I don't own a 4K TV. Though the buffer is too small  by today's standards, the overall performance more than makes up for it. Best Buy!
—By Rohinton Mehta