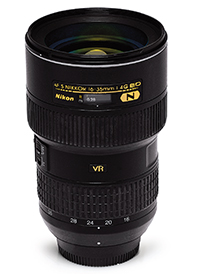 The AF-S Nikkor 16-35mm f/4G ED VR is the rst fullframe Nikon ultra-wide-angle zoom to o er Vibration Reduction (VR II). Introduced in early 2010, it is a less expensive alternative to the Nikon 17-35mm f/2.8 lens.
Design and Build Quality
The AF-S NIKKOR 16-35mm F/4G ED VR lens is a G-type lens (does not have an aperture ring; apertures are controlled from a compatible body). The lens is very well built and o ers some degree of protection against dust and moisture. The zoom ring is towards the body. Rubberised grips cover the zoom ring as well as the manual focussing ring. The lens is quite heavy at 680g and has 77mm size lter thread.
Key Features
The AF-S Nikkor 16-35mm f/4G ED VR is designed for full-frame Nikon cameras. It o ers a eld view of 107-63 degrees on full-frame and 83-44 degrees on DX (APS-C) size sensor cameras. On DX bodies, it o ers an equivalent focal length of 24-52mm. It's version II VR (Vibration Reduction) lets you use shutter speeds approximately 4-stops slower while still retaining acceptable image sharpness. The lens is constructed with 17 elements in 12 groups that includes 2 ED glass elements, 3 aspherical elements and Nano Crystal  Coat which helps to reduce are and ghosting. The lens has weather sealing and is equipped with a Silent Wave Motor (SWM) for quick and extremely quiet autofocussing. The lens is marked at 16, 20, 24, 28 and 35mm settings and has two focus modes – Autofocus with manual override (M/A) and Manual (M). The lens has internal focussing as well as zooming, which means that the overall length of the lens does not alter while focussing or zooming. The front element does not rotate, making it convenient ot use CPL or graduated ND lters.
Ergonomics
The lens is quite large in size and heavy too (for a wide-angle zoom), but it is lighter than Nikon's 14- 24mm f/2.8 and 17-35 f/2.8 zoom lenses and hence (comparatively) easier to lug around. The fact that you can conveniently use graduated ND lter or CPL lter is an added advantage. e manual override possibility during AF may not be that important to some users due to the extensive depth of eld provided by this lens.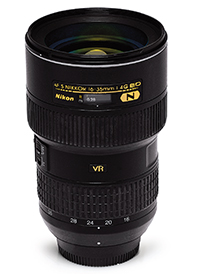 Performance
The AF-S Nikkor 16-35mm f/4G EDVR lens is very sharp in the center at all apertures but slightly 'so er' at the corners, especially at the wide settings. is can be easily taken care of in post-processing. We felt that the lens o ered the sharpest images at and around the 24mm focal length, whereas the 'sweet-spot' was between f/8-11. One would think that VR is not really necessary for such a wide-angle zoom lens but all th  same, it does help; you will notice the di erence (with and without VR) when you enlarge the images to 100%, especially those shot at slow shutter speeds. The Nano coat helps to control are and ghosting though are was visible in againstthe- light shots that included the sun. Chromatic aberrations could be seen while pixel-peeping but again this can be corrected in post-processing. Darkening of corners was observed at all apertures at the 16mm setting. Th e lens exhibited strong barrel distortion at the widest focal length setting of 16mm and continued to do so till 23mm, though the degree of distortion lessened gradually. Due to this the lens may not be ideal for architectural photography. The distortion will not be a problem if you primarily shoot landscapes or street scenes, or shoot architectural subjects between say, 24-35mm settings.

Value for Money
The AF-S Nikkor 16- 35mm f/4G ED VR is available at an MRP of Rs.1,03,600. Yes, it is expensive at this price but if image sharpness is your priority, this lens ts the bill.
PLUS
• Very sharp images
• Very good build quality
• Quick AF (but that would also depend on the body)
MINUS
• Barrel distortion between 16 – (approx) 23 mm
• Heavy
• Expensive
FINAL SCORE                                         81%
Design and Build Quality                        18/20
Key Features                                        17/20
Ergonomics                                      16.5/20
Performance
Autofocus                                           4/5
Sharpness                                         5/5
Distortion Control                            3.5/5
Aberrations                                  3.5/5
Darkening                                   3.5/5
of Corners
Extra Features                            3/5
Sub-Total                             22.5/30
Value for Money                  7/10
VERDICT
A less expensive alternative to the Nikon 17-35mm f/2.8 lens. e 16-35mm f/4.0 is ideal for those who do not need the low light capabilities of the 17-35mm f/2.8 lens. The 17-35mm is very sharp and will serve perfectly well.
Rohinton Mehta