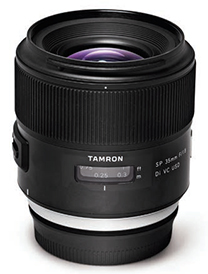 Ergonomics
We used a Canon 5D Mark III to test the lens, and the Tamron 35mm f/1.8 balanced well with the full frame body. With the straight barrel construction, the lens offers perfect grip. The textured rubber finish on the zoom ring makes it comfortable to operate. Though the Focus modes on the lens have only AF and MF options, the lens features full-time manual focus.
Performance
The Tamron 35mm lens performed well in our tests. Autofocus was reasonably fast with the 5D Mark III. However, the combination struggled to lock on to the subject in low light. We also felt that the autofocus was a little inaccurate, except in close focussing.
Images were quite sharp overall. The sharpest images were obtained from f/2.8 to 8, and the sweet spot was found to be f/5.6. We observed slight barrel distortion, but you may not observe this is normal everyday images.
The lens exhibited darkening of corners from f/1.8 to 2. Flare was well under control, though it was observed in strong against-the-light shots with the lens wide open. Strong purple fringing was observed in the images.
Vibration Compensation did not provide much advantage in the shutter speed.
Value for Money
The Tamron SP35mm f/1.8 Di VC USD retails at an MRP of Rs.47,500. At this price, the lens is attempting to compete with the Nikon 35mm f/1.8G ED and the Canon 35mm f/2. We would consider this price a little high for this lens. |SP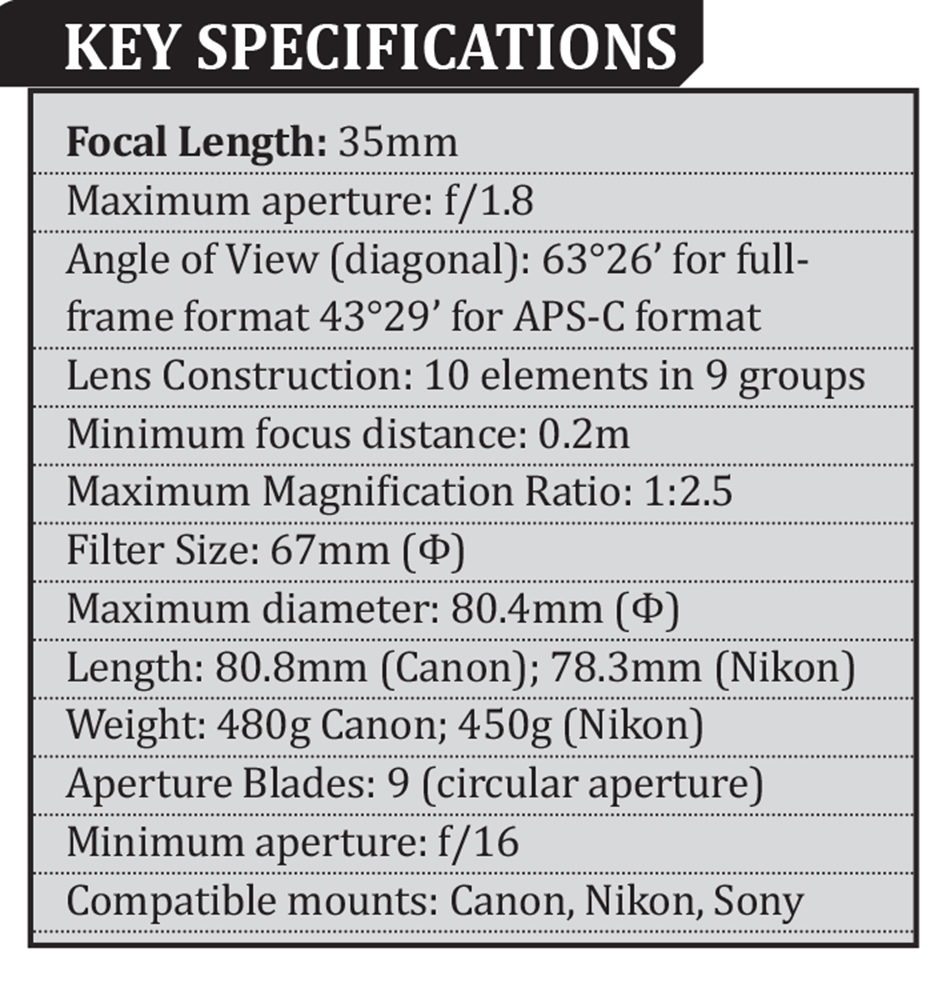 FINAL SCORE                                                                               79%
Design and Build Quality                                                          18/20
Key Features                                                                            16/20
Ergonomics                                                                               17/20
Performance
Autofocus                                                                                    3/5
Sharpness                                                                                   3/5
Distortion control                                                                   4.5/5
Aberrations                                                                            3.5/5
Darkening of corners                                                              4/5
Extra features                                                                         4/5
Sub-Total                                                                        22/30
Value for Money                                                              6/10
PLUS
• Sturdy build quality
• Useful weather sealing
• Vibration Correction
• Optimal weight
MINUS
• Autofocus slightly off the mark
• VC doesn't provide much advantage
VERDICT
The Tamron SP35mm f/1.8 lens has the advantage of being weather-sealed and comes with Vibration Correction, which are absent in most competitors. However, as we found out, VC does not seem to provide much advantage in shutter speed for this lens, probably because of the focal length and stability of the lens when hand-held. We would certainly recommend you this lens if you need a weather-sealed fast prime.
Sujith Gopinath