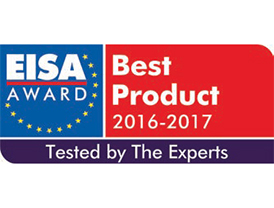 The European Imaging and Sound Association (EISA) recently announced the winners of their 2016- 17 European Awards. To provide a background about EISA, it is an association of 45 leading specialist magazines across 23 European countries. The categories include Audio and Home Theatre, In-Car Electronics, Photo, Video and Mobile Devices. The products go through intensive tests at the test facilities of EISA member magazines and out of these, the best products go through a democratic voting process to arrive at the best products.
Here we present a list of winners in the Photo category, which are also currently available or likely to be launched in the Indian market. The citations have been reproduced as published by EISA.
D-SLR Camera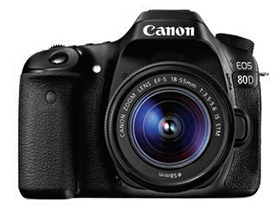 Canon EOS 80D
The Canon EOS 80D is more than just another SLR. Canon has brought a camera to the market that incorporates many innovative functions for photo and video. The key feature is Canon's Dual Pixel CMOS AF which enables fast focussing during live view and video, and which is also supported by the new Power Zoom Adapter PZ-E1 which works together with the new EF-S 18-135mm f/3.5-5.6 IS USM kit lens. The AF is also greatly improved and now sports 45 cross-type sensors, while the high resolution vari-angle LCD allows touchscreen operation. Last but not least the EOS 80D has a class leading image quality.
Professional D-SLR Lens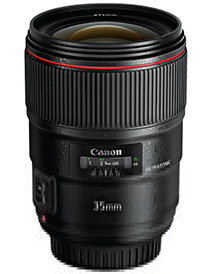 Canon EF 35mm f1.4L II USM
The Canon EF 35mm f/1.4L II USM gives exciting performance: it is the best 35mm lens on the market. Image sharpness is unbelievably high, both at the centre and at the edges, even at f/1.4. Canon uses key technologies as SubWavelength Structure Coating (SWC) to increase light  ransmission, reducing both flare and ghost images. In addition a Blue Spectrum Refractive (BR) lens, made of organic material, enables very efficient correction of axial chromatic aberration that's impossible to correct by software. The 9-bladed aperture diaphragm creates very attractive bokeh and a seal on the mount protects the camera from dust and moisture.
Professional D-SLR Camera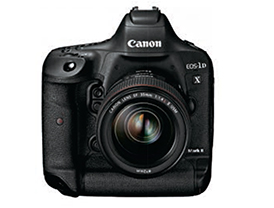 Canon EOS-1D X Mark II
The Canon EOS-1D X Mark II is the fastest DSLR ever, making it the best tool for the professional sports photographer. It can take 14 images per second of moving subjects, an impressive achievement that's particularly useful for action photography. Compared to the previous model Canon has increased the still image quality significantly, and improved the autofocus particularly when using lenses with extenders. The video function is also much more advanced with high quality 4K recording and fast autofocus in live view mode. All the improvements together with the rugged body make the Canon EOS-1D X Mark II an even better all-round camera than its predecessor.
Photo Printer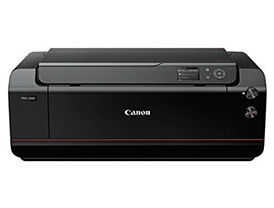 Canon imagePROGRAF PRO-1000
Canon's imagePROGRAF PRO-1000 is a dedicated A2 photo printer that uses pigment inks for the best possible print quality, including great light fastness (the resistance to colours fading) and print longevity. With a maximum print resolution of 2400x1200dpi, it uses 12 ink cartridges including separate matte black and photo black to prevent wastage of ink, money and time. It supports printing from a wide range of devices, with connection options including Hi Speed USB 2.0, Wi-Fi, Wi-Fi Pictbridge and Ethernet. The Canon imagePROGRAF PRO-1000's external design is reminiscent of Canon L lenses.
Photo Software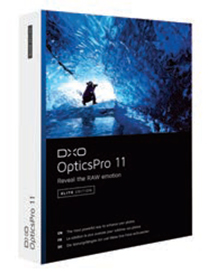 DxO OpticsPro 11
Among quality image processing software packages, DxO OpticsPro 11 stands out for its speed and several unique features. Based on actual performance measurements, the OpticsPro 11 is able to improve sharpness and correct lens flaws while delivering automatic image processing to very high standards. This new version further enhances the software's capabilities with the improved DxO PRIME denoising that differentiates between noise and fine details, intelligent tone mapping based on face detection, plus automatic micro contrast and red eye corrections. DxO OpticsPro 11 supports more than 30,000 camera/lens combinations and is continuously updated with new modules.
Professional Compact System Camera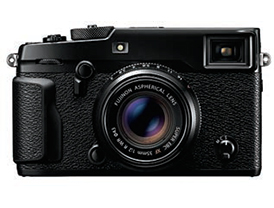 Fujifilm X-Pro2
The Fujifilm X-Pro2 is a professional documentary and street photographer's dream. With the new 24.3-million-pixel X-Trans CMOS III sensor the X-Pro2 delivers incredibly detailed pictures that can be further enhanced with Fujifilm's realistic film simulations. The unique hybrid multi viewfinder combines an electronic viewfinder with an optical viewfinder that includes an electronic rangefinder, while the well-built weather sealed body promises reliable shooting under all conditions. Last, but not least, the Fujifilm X-Pro2 is a speed demon with up to 8fps continuous shooting and electronic shutter speeds up to 1/32,000 of a second.
Compact System Zoom Lens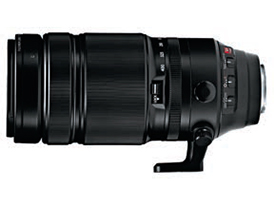 Fujinon XF100-400mm f4.5-5.6 R LM OIS WR
The Fujinon XF100-400mm F4.5-5.6 R LM OIS WR is a super telephoto zoom that gives a 150-600mm equivalent range when used on Fujifilm APS-C sensor cameras. It's a very good complement to the new X-T2 camera, giving X system users access to sport and wildlife photography. High-end technologies including ED glass deliver excellent image quality, even when the lens is used wide open, and autofocus is silent and very fast. The lens is very light for its range, yet the quality of construction is very high and the lens is weather sealed. With effective optical stabilisation, it's easy to use without a tripod.