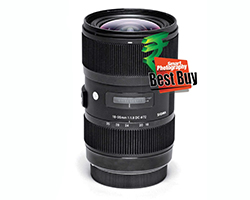 sigma, the independent lens manufacturer has, in the recent past, offered some of the best lenses available for 35mm full-frame and APS-C models. Their 70-200mm f/2.8, 180mm f/2.8 Macro, 35mm f/1.4 and the 120-300mm 'Sport' lenses have been greatly appreciated by amateurs and pros alike. Keeping up the tradition is the 18-35mm f/1.8 DC HSM lens (equivalent to approx. 29-56mm for Canon APS-C bodies), which is the subject of this review. The lens is designed for the smaller APS-C sensor cameras (denoted by the letters DC in the nomenclature). Controlling depth of field with APS-C sensors has always been a problem when compared with full-frame sensors, but this lens offsets at least some of that problem by offering a wide f/1.8 aperture, and also opening up the possibility to shoot in low light without increasing ISO sensitivity which invariably increases digital noise. Sigma considers this a perfect lens for travel, weddings & events, portraits and family photos. Let's see how the 18-35mm f/1.8 DC HSM lens performs in our tests.
Design and build Quality
Suave, handsome and at the same time, ruggedly built. That's how I would describe the 18-35mm f/1.8 DC HSM lens! Crafted with an exterior of metal and engineering plastic, the lens is heavy (810g) for its size, yet comfortable to hold. The manual focus ring as well as the zoom ring is well damped; the zoom ring is towards the camera body and is marked at 18, 20, 24, 28 and 35mm settings. A transparent plastic window covers the distance scale in feet and meters; the lettering for feet is in green and difficult to read even in good light. Filter size is 72mm.
Ergonomics
Though heavy, the lens balanced well on a Canon EOS 70D body. The combination was easy to use.
Key features
The lens is constructed with 17 elements in 12 groups. This includes 5 ELD (Extra Low Dispersion) glass elements and 4 aspherical glass elements to combat various optical flaws that could possibly degrade image quality. The lens incorporates a Hyper Sonic Motor (hence HSM) for silent and quick autofocus and autofocus can be manually overridden if required. Focussing is internal and the lens does not increase in length during focussing or zooming; neither does the front element rotate, making it convenient to use graduated ND and Polarizing filters. At the left of the lens is a convenient AF/MF switch. A white, raised plastic dot at the lens mount helps to align the lens to the camera body. A lens hood is included.
The USP of this lens is that it offers 'USB Dock Compatibility'. Using the Dock with Sigma's specially developed 'Optimization Pro' software, the user can update lens firmware, fine-tune focus, AF speed, and optical stabilization functionality. In keeping with the high standards laid down by Sigma, their lenses (as well as all Sigma camera bodies and flashguns) are manufactured in Japan in spite of the fact that this pushes up the manufacturing costs.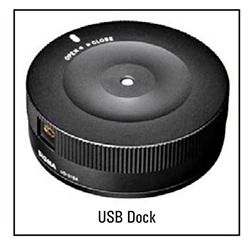 Performance
Full marks to this Sigma lens!
The tests were carried out using a Canon EOS 70D (APS-C) body. Wide-angle lenses (especially wide-angle zooms) often display lot of chromatic aberration. With this lens there was no visible trace of chromatic aberration. Fast lenses are more prone to corner darkening at wide-open aperture. Some darkening was observed at f/1.8 and f/2 but after that, the going was smooth – with corner darkening hardly being noticeable. Flare could be seen in shots with bright sun included, but then, in reality, how often do you include a bright sun in your pictures? The overall superb quality speaks of brilliant quality control at Sigma. Pictures shot with the Sigma 18-35mm f/1.8 DC HSM were crisp and without any colouration due to lens coatings.
Though we did not receive the USB Dock, this hardware, in combination with the supplied software, has great potential for fine-tuning focus. What is more, the operation can be performed by any computer-savvy user. We believe this is the better method to fine-tune autofocus compared to the built-in AF fine-tune feature found on some advanced D-SLR bodies.
Value for Money
The 18-35mm f/1.8 DC HSM lens is available at an MRP of Rs.66,900. Considering its low-light performance and the absence of CA, we say that the price is justified.
SPECIFICATIONS
Focal length : 18-35mm
Equivalent to : Approx. 29-56mm for Canon APS-C bodies
Lens elements : 17 elements in 12 groups
Special elements : 5 ELD (Extra Low Dispersion) glass elements; 4 glassmolded aspherical glass elements
Aperture range : F/1.8-16
Min. Focus distance : 28cm (0.92 feet)
Diaphragm blades : 9
Max. magnification ratio : 1:4.3
Filter size : 72mm
Dia. x Length : 78x121mm (3.07×4.76 inches)
Weight : 810g (Canon mount)
Corresponding mounts : Sigma, Nikon, Canon, Pentax, Sony
VERDICT
Though the lens offers a restricted focal range (approx. 29-56mm equivalent on Canon APS-C bodies), the superior image quality devoid of CA, along with a great build and the very useful USB Dock, makes this a must-have lens in your arsenal.
Rohinton Mehta