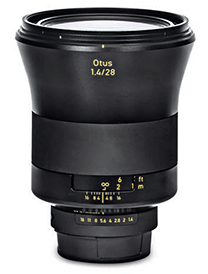 This new offering from Zeiss is the first wide-angle and the third overall in the Otus series of premium grade lenses. As with all Zeiss D-SLR lenses, this is a manual focus only lens but with electronic contacts. This particular model is available in Canon and Nikon mounts. Zeiss is one of the few manufacturers who deliver their lenses with a signed inspection card indicating that lenses have been inspected individually.
Design and Build Quality
The Zeiss 28mm f/1.4 Otus APO Distagon lens is built like a battleship. It has all metal construction (except for the rubber covered aperture and focussing rings) and is finished beautifully in satin black. The lens widens considerably in the front. The supplied metal lens hood is petal shaped and is very well built – strong, with good flocking. The shape of the hood has been designed to blend nicely with the lens body contours. While it is a MF lens, the electronic contacts make it behave in all other respects like an AF lens with focus confirmation. It retains full compatibility with all exposure modes and meter patterns.
The Otus is extraordinarily large and heavy for a wide-angle lens. It is monster-sized with a gigantic filter diameter of 95mm!
On the plus side, it is packaged in a beautiful white coloured box with a custom cut foam insert to hold the lens snugly and safely.
Key Features
The Zeiss 28mm f/1.4 Otus is based on an extremely complex design (with no less than 16 elements in 13 groups). It also uses Zeiss' famed T* multicoating to reduce reflections. This lens design is apochromatic, meaning that chromatic aberrations are virtually eliminated. This is achieved by using no less than eight Anomalous Partial Dispersion elements. Likewise the Distagon design (used on most Zeiss retro-focus wide-angle lenses) eliminates distortion for all practical purposes. All numbers and markings are engraved (not screen printed) in very legible bright yellow colour. However, both meters and feet on the distance scale are marked in the same yellow colour and this may lead to confusion.
Ergonomics
The lens supplied to us came with a Nikon mount and we tested it on the Nikon D750 and D3s bodies. The lens/body combination in the former case was a bit front heavy. It balanced much better on the heavier Nikon D3s. Due to its internal focussing system the length of the lens does not change when you focus and so the balance does not shift either. The front element does not rotate thus making it easy to use graduated and polarizing filters, both of which are used often by landscape photographers. Both the focussing and aperture rings are covered by very grippy softish rubber. Manual focussing was a delight. The damping was just right and movement of the focussing ring was silky smooth. There is a certain amount of tautness in the movement which is a bit difficult to describe but can be felt. You need to turn the focussing ring as much as 120º to focus from the closest focussing point to ininity. The aperture ring (only present for Nikon mount) engages at half stop intervals with very positive clicks (in both the directions) and is marked from f/1.4 to f/16. The most serious complaint we have is the weight. At nearly 1.4Kgs it is extraordinarily heavy for this sort of a lens. To put this in proper perspective it weighs almost as much as a typical 70-200 f/2.8 lens! Also, being very large (filter diameter is 95mm), people with small hands may have problem in gripping it firmly. Simply put, this is not exactly a "walk in the park" lens.