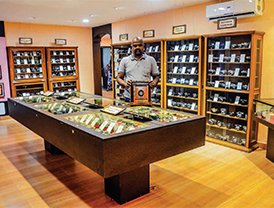 Many of us have a running love affair with cameras, old as well as new. A few of us (including yours truly) collect cameras. Most of  these collections – some of them are quite large – however, languish in the homes of collectors and hence are not accessible to the public. Add to that, our country has very few camera museums where camera lovers can feast their eyes. Bucking this trend is a camera museum called Dr. Arun's Photography and Vintage Camera Museum, in Chennai, which hosts a great number of cameras – 1500 in all! This museum grew out of Dr. A.V. Arun's personal collection.
Dr. Arun's passion for collecting cameras started in 1997 when he Picture 1: Dr. Arun in his museum came across two damaged Yashica TLR cameras in a flea market in Chennai. He bought both and dismantled one of them to understand the mechanism. Slowly this interest grew and he started to go through the history of cameras and found it to be interesting and fascinating. As time went by, he started picking up more and more cameras and slowly the collection started to grow. By 2000, his collection had about 300 vintage cameras.
Whenever Dr. Arun travelled out of the city or country, he made sure that he visited the flea markets, old camera dealers and camera collectors to purchase from them. Some of the cameras were bid and won at auctions. Plus, a lot of cameras were obtained from friends, relatives, his colleagues and others who had donated their old cameras for posterity. One camera, a rare grey colored Yashica Model was thus obtained when an old lady gifted it to Dr. Arun, which was in turn was a beloved gift to her from her late husband. She wanted to it be preserved forever.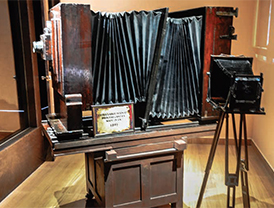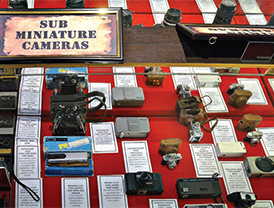 The collection grew steadily till on September 15th 2008, and received a fillip when the leading daily "The Hindu" covered it in detail. Thanks to this publicity, people became aware of his collection and this led it to be displayed at several photographic societies, institutions and exhibitions.
In 2013, the organizers of the World Camera Fair, which was held at the Chennai Trade Center, invited Dr. Arun to display around 500 vintage cameras and provided 800 square feet space free of cost for this purpose. The display was seen by more than 1,00,000 members of the public and photography enthusiasts. His collection which had grown to 1500 cameras by then was also displayed in the 2nd International Camera Fair in 2015 and more than 1,50,000 visitors saw it.
The idea of setting up a permanent museum was born in 2013 as there were many requests from photographers, college professors and also visual communication students to display the collection. Dr. Arun too felt that the collection should be kept not only for his personal pleasure at home, but for the general public to see and appreciate. Thus the idea of starting a museum was born.
He looked out for sponsors as the task was formidable, but unfortunately, was not able to find one. Finally, he resorted to a bank loan to fulfil his dream which he had pursued for decades. The museum was inaugurated on the 11th of January 2016 by the national award winning and popular cinematographer Mr. P. C. Sreeram.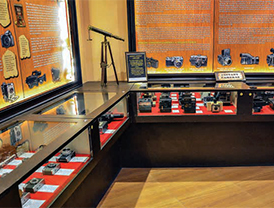 Among the camera displayed here are, box cameras from 1900 onwards, large format wooden box cameras from 1870 onwards, an 8 feet long and 5 feet tall extra-large format camera, three wooden cameras that are 5 to 6 feet long, folding cameras, TLR cameras, SLR cameras, instant cameras, rangefinder cameras, monorail cameras, etc. Other stuff includes rare aerial cameras used in World War II that were never sold to public, sub-miniature and spy cameras, 8mm and 16mm movie cameras, and so on.
Other than cameras, the collection also includes 8mm and 16 mm movie projectors, printing equipment, light meters, film rolls, glass plates etc. Dr. Arun also has a good collection of vintage photography books that date from 1930s including the rare Almanac of Photography, 1938.
Dr. Arun has extensive knowledge about the history of photography. He delivers many lectures on the subject and the museum itself has a lecture hall to facilitate this.
Professionally, Dr. Arun is an orthodontist, and a professor of Orthodontics at Saveetha Dental College in Chennai. He was also the Honorary Secretary and the Vice- President of the Indian Orthodontic Society. Dr. Arun is currently a Director of 'The Smile Center' a Multispecialty Dental Center in Chennai.
Dr. Arun, sincerely requests people to donate their old unused cameras to the museum. He can be reached at +91- 98840-42526. The museum is located on the East Coast Road in Chennai. The address is, No.3, East Coast Road, above K.K.R Restaurant, Kovalam, Chennai. |SP