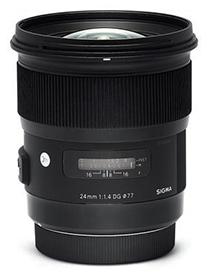 Sigma's series of Art lenses have stolen the thunder in the lens market with their exceptional performance and in some cases, have also excelled the proprietary lenses from big marks like Canon, Nikon, Sony, Zeiss etc.
The 24mm lens under review actually has a maximum aperture of f/1.4 thereby making it suitable not only for landscape photography but also other situations like interiors, videography and low illumination work. The lens is meant for full-frame cameras but can be used with APS-C sized sensors; the focal length, however, becomes 38mm in such cases (Canons) and 36mm (Nikons).
Design and Build Quality
One look at the Sigma lens gives an indication of its build quality. Solidly built, the Sigma comes with both 'F' low dispersion glass and special low dispersion glass. 15 elements in 11 groups have been arranged to minimize chromatic aberration. The Sigma accepts 77mm ilters, is inished in matt black and weighs 665gms. It balances best with semi-professional and professional cameras from the Canon and Nikon stables. The lens is impossible to fault either on design or on build quality.
Key Features
The Sigma lens is available in the Canon 'EF', Nikon 'F' and Sigma's 'SA' bayonet mounts. Maximum aperture is f/1.4 and minimum f/16. 9 diaphragm blades constitute the lens which has several SFLD and SLD elements and also has special coatings. Minimum focusing is at 0.25metres, focusing is internal and takes place via the ultrasonic motors in the lens. The lens lacks both image stabilization and an aperture ring.
Ergonomics
The lens feels both solid and heavy when fitted on a semi-professional or professional DSLR. The slightly heavy nature of the lens means that it should not be mounted on a light weight body. Like all Sigma lenses, this lens comes with lens-hood and a pouch.