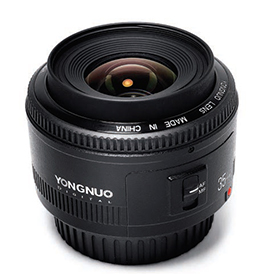 Fast prime lenses are usually costly, and most people struggle to get hold of one. Yongnuo photography equipment are products of ShenZhen YongNuo Photographic Equipment Co. Ltd., a Chinese manufacturer. Their most popular products are radio triggers and other such accessories. Here we are reviewing the Yongnuo YN35mm f/2 lens specially made for Canon fullframe cameras.
Design and Build Quality
The Yongnuo YN35mm f/2 lens is built to imitate a Canon lens in appearance, and if you do not notice the 'Yongnuo Digital' inscription on the lens barrel or the glossy finish on the rim, you can mistake this for a genuine Canon. A red mounting dot and an AF/MF switch on the lens barrel complete the similarities. Yongnuo has even managed to provide the lens with a matte exterior that is typically seen in Canon lenses. The exteriors and filter thread are all plastic, and these have the signature 'Chinese' quality. The lens mount is metal. The focus ring is in the front, and has a textured rubber grip. The YN35mm measures approximately 73 x 59mm and weighs 155g.
Key Features
The Yongnouo 35mm f/2 lens is primarily designed for full-frame D-SLRs, and is available in Canon EF mount only. It can also be used with Canon APS-C format bodies, on which, it will provide an equivalent focal length of 56mm. It provides a maximum aperture of f/2 and a minimum aperture of f/22. The lens provides an angle of view of 63 degrees. The 35mm f/2 focusses as close as 25 cm and provides a maximum magnification of 0.23x. The lens is constructed with 7 elements in 5 groups. The glass elements are multi-coated to eliminate flare and ghosting and improve the overall colour accuracy. The lens has a 7-bladed circular diaphragm. The filter thread is 52 mm. The YN35mm f/2 features a metal lens mount and goldplated contacts for fast data transfer.
Ergonomics
The YN35mm f/2 is quite lightweight and comfortable to use. The AF/MF switch on the lens barrel facilitates quick switching between the two modes. The rubber grip on the focus ring makes using it a pleasure.