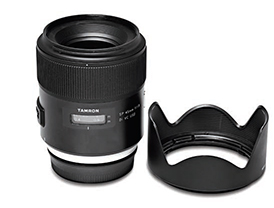 Third party lens manufacturers have been traditionally considered budget options for major camera brands. However, of late, these manufacturers have started bringing out premium lenses with superior optics, sturdy construction, and fast apertures, competing directly with the camera manufacturers. The new Tamron SP series prime lenses are manufactured with the same principles in mind.
Design and Build Quality
The Tamron SP45mm f/1.8 is a premium lens and it surely reflects in the look and feel. The outer body is made of metal and composites. It has a metal mount and a matte-finished metal ring that provides a classy look. The lens is weather-sealed with a rubber ring that keeps dust and water from reaching the lens flange or sensor. The distance scale is legibly marked with white lettering. The design of this lens and the build quality are significantly better than most other Tamron lenses. The lens has two buttons, one for Vibration Compensation (VC) and the second for Focus mode. VC provides only On/Off options and Focus modes are Autofocus (AF) and Manual Focus (MF). The lens has a filter size of 67mm and a maximum diameter of 80.4mm. It has a length of 91.7mm for the Canon and 89.2mm for the Nikon model. The lens weighs 540g and 520g for Canon and Nikon respectively.
Key Features
The Tamron 45mm f/1.8 lens is primarily designed for 35mm Full- Frame cameras, but can also be used with APS-C sensor cameras. The lens is constructed with 10 elements in 8 groups including two molded glass aspherical elements which help in achieving uniform sharpness and illumination throughout the ield. This also compensates for spherical and chromatic aberrations. In addition to this, the lens uses an LD (Low Dispersion) element. This element helps deliver crisp and clear images and eliminate colour fringing. The lens employs optical Vibration Compensation (VC) to deliver blur-free images even in low light.
The Tamron 45mm lens uses a 9-bladed diaphragm providing a circular aperture to reproduce a nice bokeh. The lens provides a minimum aperture of f/16. It is available in Canon, Nikon, and Sony mounts. The lens uses an Ultrasonic Silent Drive (USD) focus motor, which is believed to provide faster, more accurate, and silent autofocus. This provides full time manual override even in autofocus mode.
The 45mm lens is coated with eBAND (Extended Bandwidth and Angular- Dependency) and BBAR (Broad-Band Anti-Reflection) anti-reflection coatings that eliminate flare and ghosting. eBAND is a nano-structured coating that offers higher transmissivity and improves antire flection characteristics against angular incident rays. The lens has a minimum focussing distance of 0.29m, which is stated to be the best in this category of lenses. The 45mm lens provides a maximum magnification ratio of 1:3.4. The lens also has a Fluorine coating that provides long-lasting oil and water resistance. This makes it easier to wipe moisture and smudges away. The lens is constructed with weather sealing that prevents moisture from entering the internal mechanisms of the lens, allowing you to shoot outdoors in adverse conditions.
Ergonomics
We used a Canon EOS 600D to test the lens, and the Tamron 35mm f/1.8 balanced well with the Full-Frame body. With the straight barrel construction, the lens offers excellent grip. The textured rubber finish on the zoom ring makes it comfortable to operate. Though the Focus mode on the lens has only AF and MF options, the lens features full-time manual focus. The lack of any protective coating on the outer lens barrel makes it too cold and uncomfortable to hold, especially if you use the lens in cold climates.