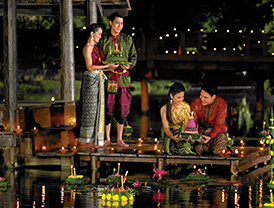 On 1st August 2017, Thailand and India will mark the 70th Anniversary of the establishment of diplomatic relations. Throughout the year, both countries agreed to organise year-long activities in Thailand and India under the themes "Sawasdee India Year" and "Namaste Thailand Year". Each year there are more than 1 million Indians travelling to Thailand for shopping and sightseeing in major cities such as Bangkok, Pattaya, Phuket, Chiang Mai and Samui.
The Buddhist sites in India, particularly in Bodh Gaya, are the prime destinations for the Thai tourists. Each year, around 100,000 Thai pilgrims visit the sites, attesting to the shared religious heritage between the two countries. Thailand is a kingdom of wonder, filled with spectacular natural, cultural, and historical attractions. Thailand is a wondrous kingdom, featuring Buddhist temples, exotic wildlife, and spectacular islands. Along with a fascinating history and a unique culture that includes delectable Thai food and Thai massage.
Loy Krathong
One of the most picturesque festivals in Bangkok is the evening of Loy Krathong, when people gather around lakes, rivers and canals to pay respects to the goddess of water by releasing beautiful lotus shaped rafts, decorated with candles, incense and flowers onto the water. These are candlelit floats, made from the stalk of banana plants. They are then floated out onto the water as a way of paying respect to the water spirits to thank them for their bounty as well as to apologise to rivers and streams for pollution and for their use of water over the year.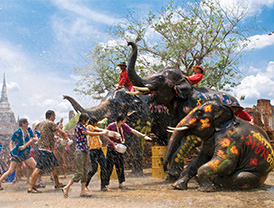 Songkran Festival
The Songkran Splendours Festival is celebrated in Thailand as the traditional New Year's Day from 13 to 15 April. Songkran (Thai new year) is a legendary multi-day water festival that happens all over Thailand. As Thailand's largest city, Bangkok naturally plays host to some exciting Songkran festivities.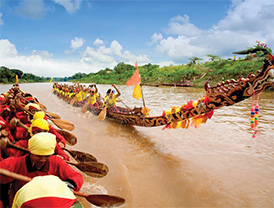 Long Boat-Racing
Long Boat festival, with usually around 200 boats competing from over 100 communities, is one of Thailand's oldest traditions and the events have been arranged continuously since the Ayutthaya time (approx. 600 years ago). The colourfully-painted boats made from whole tree trunks and adorned with an elaborately-crafted naga head at the prow, are once again united with the Nan River in this annual event, that is touched by the history of the once ancient Northern Kingdom of Lanna and makes for a fun filled, gloriously colourful, spectacle.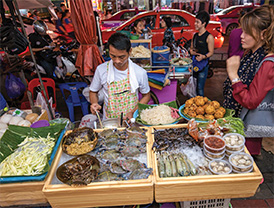 Bangkok's Biggest Street Food Attraction – Central World Stalls (And Some Great Roasted Fish)
Located in one of the busiest locations for foot traffic in all of Bangkok, the series of Thai street food restaurants just outside of Central World shopping center. Everyday, thousands upon thousands of tourists and locals as well make the trek from Siam to Pratunam market area, passing, taking photos, and admiring the jaw dropping grills on display. Like any business, it's all about location, and they perhaps have the best Bangkok street food location.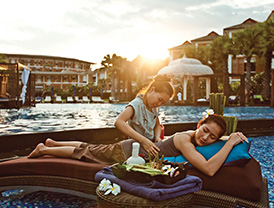 Thai Traditional Massage
The Thai massage is perhaps the most well-known and celebrated pampering services of Bangkok.
Thai massage draws significant influence from India's ancient Ayurvedic traditions of medical practice. Ayurvedic medicine, also a holistic form of healing, plays an integral role in the practice of both Hinduism and Therevada Buddhism. Monks and similar practitioners of healing transmitted Ayurvedic techniques to Thailand some 2,500 years ago, thus giving birth to the wonderful phenomenon that is Thai massage.
Traditional Thai healing practices suggest that when the 'Sen' is blocked, energy grows stagnant and the body loses its balance, leading to a range of ailments. Thai massage acts as an external stimulant to produce specific internal effects within the body, both freeing energy from obstruction and preserving health and harmony. Modern yoga practice often includes traditional elements intrinsic in Eastern religion, including spiritual philosophy, postures designed to keep the body fit, and varying facets of meditation. |SP