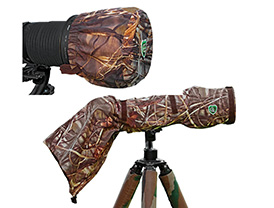 A lens cover is an essential accessory for your lens, especially when heading out on photography tours. Safari ridesin dusty wildlife parks or in the vast expanses of a desert, boat rides on rivers or lakes, photographing shore birds on the beaches or a Pelagic trip off the coast, a walk through dense forests, or snow-covered peaks in search of the elusive snow leopard – all these excursions and many more, expose your precious equipment to elements like grime, dust, water splashes, rain, sand, snow and seaspray.
The CAMOLINE Lens Cover & Lens Cap, together provide a complete protection to your equipment in all these scenarios. They greatly reduce the chances of foreign matter coming in direct contact with your equipment and thus adversely affecting its performance. This simple precauti on reduces the chances of equipment failure and also keeps the equipment look like new!
CAMOLINE Lens Cover is India's first Lens Cover with Multi-point strapping and Hood Gripper.
• Single piece lens cover
• Anti-slip Hood Gripper
• Multi-point strapping – snug fit and multiple lens fit
• Tapered design with largest rear access diameter @ 8.9"
• Velcro -closure – easy install and lens access
• Adjustable rear access with cord lock
• Imported polyester fabric – 100% waterproof and lightweight
• Waterproofed seams
• Includes a smart storage-cum-carry pouch
CAMOLINE Lens Covers are available in two sizes – M & XL M is 27" and XL is 36" in length C
AMOLINE Lens Cap is a matching accessory for the CAMOLINE Lens Cover.
• Protects the front element of the lens from rain, dust, sand, snow and sea spray.
• Imported polyester fabric – 100% waterproof and lightweight.
CAMOLINE Lens Caps are available in three sizes – S, XL & XXL Sizes vary from 4.75" – 8.75" in diameter. Please visit www.camoline.in to find the right size for your camera/lens combination. |SP
Buying Options and Price
CAMOLINE Lens Cover: M, XL – INR 2,150/- and 2,300 respectively
CAMOLINE Lens Cap: S, XL, XXL – INR 550/-, 700/-, and 800 respectively
CAMOLINE Lens Cap: XL – INR 750/-
CAMOLINE Lens Cap: XXL – INR
875/-