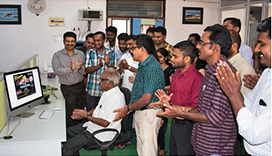 Plenty of good news is in store for photography enthusiasts. Photostop photo contest, which is an initiative by Honeycomb Creative support [P] & Bengaluru School of Arts and Photography (BSOAP) was announced on 25th March by professional wildlife photographer, T.N.A Perumal. He has been a life time acheivement awardee by the Government of India.
The two categories for this time's contest are Nature and Culture. The registration fee for the contest is Rs.500. 40 entries from each category will be shortlisted and will be printed and framed followed by an exhibition and sale at the Karnataka Chithra Kala Parishath, Bengaluru on 5th, 6th & 7th June 2015. A part of the proceeds will be given as royalty to the respective photographer and the rest will be donated.
The winners will be declared on 7th June 2015 at the exhibition venue. The first prize winners from both the categories will be rewarded with Rs.25000 each. The runner up will be rewarded with Rs.15000.
Entries will be accepted till 10th May on the website www.photostop.in.