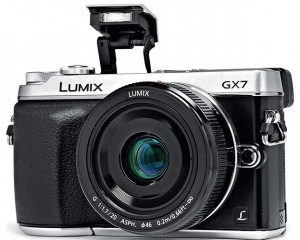 Panasonic has carved itself a niche amongst mirrorless camera brands with highperforming bodies and superior optics in lenses. The LUMIX GX7 joins the bandwagon with a 16 megapixel sensor and a new tilting Electronic Viewfinder. Here is our take on this retro-styled camera. Design and Build Quality The Panasonic GX7 is designed with a retro style. The outer body is made of metal and feels very sturdy. It has a thick rubberised grip along with a rubberised thumb rest. The highlight of this camera is the EVF that can be tilted 90 degree upwards. The camera has two command dials. The built-in flash springs up with a hard jerk, which appears a bad idea, considering that the individual segments in the flash are plastic. Buttons and dials are of good quality. Both the lens mount as well as the tripod receptacle are metal.
Key features
The 16-megapixel Panasonic GX7 uses a 17.3 x 13.0 mm (Four-Thirds) Live MOS sensor for imaging. The sensor unit makes uses a primary colour filter array and has an integrated  dust reduction system aided by a supersonic wave filter. The camera uses an image sensor shift type image stabilisation system, which extends the advantage of image stabilisation even to non- OIS lenses. The camera employs Contrast-detect autofocus system and the focus modes available are AFS (Single), AFF (Flexible), AFC  (Continuous), and Manual Focus. The AF methods used are Face Detection, AF Tracking, 23-area focussing, 1-area focussing, and Pinpoint focussing. The GX7 uses 1728-zone multi-pattern metering system and provides the usual three metering modes—Multiple, Centre-weighted, and Spot. The GX7 uses a focal plane shutter, providing shutter speeds from 60 to 1/8000 sec along with a Bulb (maximum 2min) option. Self-timer can be set for 10 sec for 3 images, 2 sec, or 10 sec. Still images can be recorded in Raw, JPEG, or MPO (with a 3D lens) format with the maximum size of 4592 x 3448 pixels, while videos are recorded in MP4 format with the best quality of 1920 x 1080 at 60fps. The camera can shoot continuously at 5 frames per second for a maximum of 9 frames at the highest quality. ISO sensitivity options are Auto, Intelligent ISO and Manual from ISO 125(extended) to 25,600. Exposure can be compensated up to +/-5EV in 1/3-EV steps. White Balance options are Auto, Daylight, Cloudy, Shade, Incandescent, Flash, White Set 1, 2, and Colour temperature. White Balance can be adjusted on Blue/ Amber and Magenta/Green axes. Shooting modes available are Intelligent Auto, Program, Aperture priority, Shutter priority, Manual, Movie, Custom, Scene, and Creative Control. For still images, the Scene Guide mode provides options of Clear Portrait, Silky Skin, Backlit Softness, Clear in Backlight, Relaxing Tone, Sweet Child's Face, Distinct Scenery, Bright Blue Sky, Romantic Sunset Glow, Vivid Sunset Glow, Glistening Water, Clear Nightscape, and Cool Night Sky. Creative Control provides option of Expressive, Retro, Old Days, High Key, Low Key, Sepia, Monochrome, Dynamic Monochrome, Rough Monochrome, Silky Monochrome, and Impressive Art. For videos, the mode provides the options of Expressive, Retro, Old Days, High Key, Low Key, Sepia, Monochrome, Dynamic Monochrome, Impressive Art, High Dynamic, Cross Process, Toy Effect, Toy POP, Bleach Bypass, Miniature Effect, Fantasy, and One Point Colour. You can choose Photo Styles from Standard, Vivid, Natural, Monochrome, Scenery, Portrait, and Custom.
The GX7 features a built-in popup flash with TTL control. It has a Guide Number of 5m at ISO 100. Flash modes available are Auto, Auto/Red-eye Reduction, Forced On, Forced On/Red-eye Reduction, Slow Sync., Slow Sync./Red-eye Reduction, and Forced Off along with First and Sync. It synchronises with the shutter at 1/320sec or slower shutter speeds. The camera has a tilting  EVF with 2,764,800 dots. It provides eye power adjustment from approximately -4 to +3.0 Dioptres and has an eye-sensor to switch between the EVF and the LCD. The GX7 features a Tiltable static 3.0- inch, approximately 1,040,000-dot LCD with Touch Monitor. The monitor features grid lines, level gauge, and direction detection function. The camera features Wi-Fi and Viera Link that can connect with compatible Panasonic Viera television. The GX7 is powered by a 7.2V, 1025mAh rechargeable Liion battery pack (included). It has dimensions of 122.60 x 70.7 x 54.6 mm and weighs approximately 402g with SD card and battery (without lens).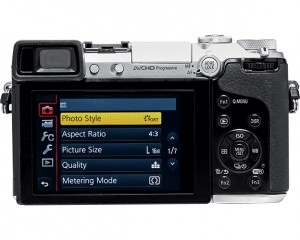 Ergonomics
The Lumix GX7 has a thick and rubberised grip, which makes it comfortable to hold and operate. The device is easy to use with a simple and intuitive interface. The tilting viewfinder is helpful if you are in the habit of using the viewfinder to compose images at a low angle. The LCD can be tilted 90 degree upwards and about 45  degree downward. The buttons are small, but are easy to access. The camera has nine function buttons of which five are touch points on the screen. The multitude of function buttons enable you to customise the controls, saving lot of time.
Performance
We received the along with the LUMIX 20mm f/1.7 II ASPH lens. We received the unit without the body cap, lens cap and the lens back cap, and this might possibly  have an effect on the image quality during testing. AF was fast and precise, and could latch on to the subject even under low light. The lens did not produce any distortion. Mild darkening was observed at wide-open aperture, but you will detect this only if you deliberately look for it. The darkening vanished completely at f/4. The lens produced prominent flare along with purple fringing. Images appeared reasonably sharp and f/4 produced the sharpest images. The metering modes worked as expected. Images appeared sharp on both the LCD and the EVF. It was quite comfortable to compose images through the EVF.
Auto White Balance produces desirable results in natural light. Though it produces distinct cast under artificial light sources, it could be easily eliminated in post-processing. Native image size was 11.49 x 15.30 inches at 300 ppi. At 25 percent screen size, the images were noise-free up to ISO 6400. Even ISO 12,800 and 25,600 were perfectly usable at this size. We observed progressive loss in detail from ISO 1600 onwards, probably due to the aggressive noise reduction. Observed at 50 percent, the images were noise-free up to ISO 1600. Slight noise was observed from ISO 3200. At 100 percent, there was no change in noise characteristics and the images were perfectly usable up to ISO 6400, except for the loss in detail.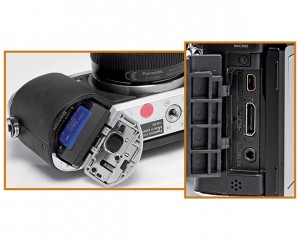 Value for Money
The Panasonic GX7 with the 20mm kit lens retails at an MRP of Rs.86,990. Panasonic did not provide the MRP of the body separately. At this price, the combination seems reasonably priced.
PLUS
• Tilting viewfi nder
• Nine Function buttons
• Good performance
MINUS
• Flare and Chromatic aberration
• Lack of detail in high-ISO shots
FinaL ScoRe 83.5%
Design and Build Quality                        18/20
Key features                                         17/20
ergonomics                                          18/20
performance
Autofocus                                                4/5
Sharpness                                                4/5
Distortion Control                                    4.5/5
Aberrations                                             3.5/5
Darkening                                                4/5
of Corners                                             7.5/10
Extra Features                                         3.5/5
Sub-total                                               23.5/30
Value for Money
VERDICT
The Panasonic Lumix GX7 is a good performer with a retro design. The camera is built sturdy and the vast range of Panasonic lenses make it a good choice.
Sujith Gopinath