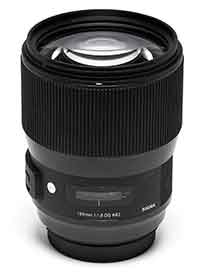 The 135mm, being an Art-series lens, certainly has a reputation to keep. 135mm can rightly be considered an essential focal length in the 'true' telephoto range. This telephoto range produces just the right amount of compression effect for portraits and still life. Combined with a wide aperture, this Art lens is believed to deliver shallow depth-of-field along with pleasing bokeh.
Design and Build Quality
Sigma Art series lenses are ruggedly constructed with dust and splash proof design. The outer shell is made of metal, complete with a tough matte-finished engineering plastic neck housing the focus and focus limiter switches. The mount is made dust and splash-proof by the use of a rubber ring that tightly seals the interface. The mount is made of brass and is treated for enhanced strength and durability. The lens has a focus distance window. The 135mm Art lens has threading for an 82mm filter. The lens measures 91.4mm (dia) × 114.9mm (length) and weighs 1,130g. Sigma supplies a rugged and well-made hood with the lens.
Key Features
The 135mm Art lens is constructed with 13 elements in 10 groups including two SLD (Super Low Dispersion) and two FLD ('F' Low Dispersion, slated to be equivalent in performance to Fluorite glass) elements. These special elements minimise chromatic aberration and thereby improve sharpness and clarity. The lens uses Sigma's Super Multi- Layer Coating to reduce flare and ghosting further.
Sigma claims that this lens provides the high resolution (resolving power) required for ultra-high megapixel D-SLRs of today's standards. With an internal focussing system employing floating elements, the lens focusses fast and offers full-time manual override for that extra-fine control you might require at times. A large hypersonic motor (indicated as HSM) allows the autofocus system to be highly responsive by providing high amount of torque for the elements to move. Autofocus speed is further enhanced by an optimised AF algorithm. The lens is claimed to offer superior edge-toedge sharpness along with minimal distortion.
The 135mm lens features a focus limited switch with three positions—Full, 1.5m to infinity and 0.875 to 1.5m. It has an aperture range from f/1.8 to 16 and a minimum focussing distance of 87.5cm. A 9-bladed rounded diaphragm ensures pleasing bokeh.
This lens is compatible with MC-11 mount converter to use it with Sony E-mount bodies. It is also compatible with Sigma USB Dock.
Ergonomics
Sigma Art lenses are made rugged and hence are quite heavy. The 135mm Art lens is no exception, understandably since it is an f/1.8 lens. At over a kilogram, some people can find it difficult to hold the lens for a long time, mounted on a heavy full-frame D-SLR. The autofocus ring provides excellent grip and has just the right amount of damping. The focus distance scale has markings in feet and metres. While the metre scale is marked legibly in white, the feet scale is marked in grey, which makes it difficult to read against the black background.