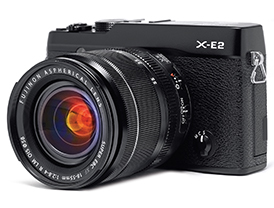 Many Fujifi lm cameras are styled in the 'retro' fashion, and the 16.3-megapixel X-E2 is no exception. Screaming retro all though the body, this 'modern oldie' comes with an f/2.8-4 kit lens that is sturdy like all Fujifi lm lenses. A faux leather finish completes the classic look, while neatly hidden beneath the old shell are modern features such as Wi-Fi and Geotagging.
Design and Build Quality
Th e Fujifi lm X-E2 sports a retro styling with straight, boxy features and manual ISO and Exposure Compensation dials. Th e body is lined with a faux leather skin. The front section of the body is made of metal while the rear section is polycarbonate. It has a fl at, but rubberised grip. The built-in flash springs out with much impulse, which can put unnecessary strain on the hinges. Th e shutter release button is threaded to attach a cable release, but we are not sure about the utility of this at this time of wireless triggers. Th e tripod receptacle and lens mount are all metal.
Key features
Th e 16.3-megapixel Fujifi lm X-E2 uses a 23.6 x 15.6mm (APS-C) X-Trans CMOS II sensor with primary colour fi lter array. It uses ultrasonic vibrations to shake off dust from the sensor. It accepts Fujifi lm X-mount lenses. Fujifi lm uses optical image stabilisation, and hence this feature depends on the lens used. Th e camera features a focal plane shutter, providing shutter speeds of 30 to 1/4000 sec along with Bulb setting (maximum 60 min.). It synchronises with the fl ash at 1/180  sec or lower speeds. Exposure is controlled by 256-zone TTL metering and the metering modes include Multi, Spot, and Average. Exposure can be compensated up to +/-3EV in 1/3-EV steps.
Th e X-E2's sensitivity ranges from ISO 200 to 6400, which is expandable up to ISO 100 to 25,600. Focus modes available are Single AF, Continuous AF, and Manual Focus. Th e camera uses Intelligent Hybrid AF that makes use of TTL Contrast Detection and TTL Phase Detection AF. AF frame options are Area (49 areas with 7×7 grid) and Multi. Shooting modes include Program, Shutter Priority, Aperture Priority, and Manual. White Balance options are Auto, Preset: Fine, Shade, Fluorescent (Daylight), Fluorescent (Warm White), Fluorescent (Cool White), Incandescent, and Underwater.
The X-E2 captures still images at a maximum size of 4896 x 3264 pixels in JPEG or Raw (RAF) formats with an option to record both simultaneously, while videos are recorded in MOV format (H.264, Linear PCM Stereo) with the best quality of 1920 x 1080 at 60p or 30p frame rate. The maximum continuous movie footage possible is approximately 14 min. The camera can shoot still images continuously at approximately 7 frames per second at full resolution (Raw, Raw+JPEG Fine, or JPEG Fine) with a Class 10 SD card. You can shoot a maximum of 28 JPEG images or 8 Raw images at this speed. The camera accepts an SD/SDHC/SDXC memory card as external storage.
The X-E2 houses a manual pop-up type built-in flash with a Guide Number of approximately 5m at ISO 100. The flash modes available are Red-eye removal, Auto, Forced Flash, Slow Synchro, Suppressed Flash, Rear-curtain Synchro, and Commander. The camera also features a dedicated TTL-compatible accessory shoe (Hot-shoe). The X-E2's self-timer can be set to either 10 or 2 sec delay. Dynamic Range can be set at Auto, 100, 200, or 400 percent. Advanced filter options include Toy camera, Miniature, Pop colour, High-key, Low-key, Dynamic tone, Soft focus, and Partial Colour. The camera also features bracketing options for Auto Exposure, Film Simulation, Dynamic Range, and ISO Sensitivity.
The X-E2 uses a 0.5-inch, approximately 2360K-dot OLED viewfinder and a 3.0-inch, approximately 1040K-dot LCD screen. The camera features Wi- Fi, which can be used to transfer images from the camera to a computer or Smartphone wirelessly The camera is powered by an NPW126 rechargeable Li-ion battery (supplied). The X-E2 weighs approximately 350g including battery and memory card, and has dimensions of 129mm x 74.9mm x 37.2mm (W x H x D).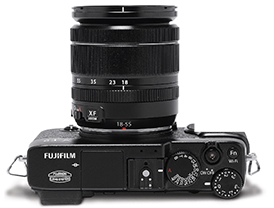 Ergonomics
Fujifilm has two different categories of interchangeable lens cameras, and correspondingly, two different types of lenses. The very compact cameras such as the X-A1, which have standard (P, S, A, M) mode dials, are compatible with XC-series lenses that do not have aperture rings. The X-E2 and some other models that have a shutter speed dial on top are compatible with the XF-series lenses featuring an aperture ring. The shutter speed dial has a red 'A' (auto) marking and correspondingly, the lens has a switch marked with 'A' on one side and a diaphragm (Aperture) mark on the other side. If both are on 'A', then the camera is on Auto exposure. Setting the shutter speed dial to 'A' and toggling the switch on the lens to the Aperture mark will shift it to Aperture Priority. If the lens switch is on 'A' and the shutter speed is selected from the shutter speed dial, then the camera is on Shutter Priority mode. If both the controls are not on A, then Manual mode is activated. Though Fujifilm must have done this to be different from others, we feel the deviation from convention was quite unnecessary.
The menu is easy to access and is intuitive. Images in the viewfinder appeared crisp, and so were those on the LCD. Buttons were easily accessible, except the AF mode switch, which is on the front panel.
Performance
We received the X-E2 with the Fujinon Super EBC XF 18-55mm f/2.8-4 R LM OIS Aspherical kit lens. Th e combination was fast to autofocus, and latched on to the subject even under low light. The images appeared sharp and the lens had its sweet spot around f/5.6. Metering was perfect with all the modes working as expected. We observed slight darkening at extreme corners at the wide-angle end, which persisted in traces throughout the aperture range. But practically this will not cause any concern. Th e lens produced slight barrel distortion up to f/5.6. Flare was observed along with chromatic aberration with the lens wide open at the wide-angle end. Th e camera produced moire patterns when photographing very closely spaced patterns.
Images from the X-E2 had a native size of 16.32 x 10.88 inches at 300 ppi. At 25 percent of the screen size, images were free of noise up to ISO 12,800. Even ISO 25,600 was perfectly usable. At 50 percent screen size, traces of noise were observed from ISO 1600 onwards, though all images remained usable. Viewed at 100 percent, images remained noise-free up to ISO 400. Slight noise was observed at ISO 800 and the pictures were usable up to ISO 3200. This is good control of noise for a camera with an APS-C sensor. White Balance was rather off the mark, producing distinct casts under all  lighting conditions. But these were easy to correct while post-processing.
Value for Money
Th e Fujifi lm X-E2 retails at an MRP of Rs.76,999 (body only) and Rs.109,999 along with the kit lens. Th is price seems rather high for this camera. finaL ScoRE 78% Design and Build Quality 17/20 Key features 16/20 Ergonomics  17/20 performance Autofocus 4/5 Metering 4/5 Noise Control 4/5 Sharpness 4/5 LCD/EVF 3/5 Auto W/B 2.5/5 Sub-total 22/30 Value for Money 6/10
PLUs
• Good build quality
• Better kit lens
• Excellent noise control MiNUs
• No articulated
LCD
• Confusing priority modes
• Auto White Balance performance
• Steep Price
Th e Fujifi lm X-E1 boasts a retro look and sturdy body. Combined with the 18-55mm kit lens, it  off ers reasonably good performance. Th e camera off ers good control over noise at high ISOs. But the price will keep it out of most potential customers' reach. Certainly recommended.
VERDict
Th e Fujifi lm X-E1 boasts
a retro look and sturdy
body. Combined with
the 18-55mm kit lens, it
off ers reasonably good
performance. Th e camera
off ers good control over
noise at high ISOs. But
the price will keep it
out of most potential
customers' reach. Certainly
recommended.