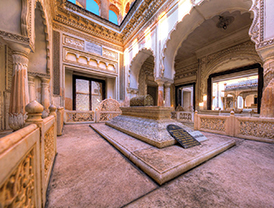 Dhritiman Lahiri is a professional photographer. He specialises in architectural, travel, landscape & wedding photography. His love for photography began when his father gifted him a Kodak KB10 film camera while in junior college, back in 1998. He has worked in the corporate sector for 18 years before making the critical decision of turning his hobby into his profession. He founded iClickWeddings which provides wedding photography services across India. His love for travelling made him start OneLifeFewClicks where he actively conducts workshops & photography tours for aspiring photographers. To view more of his work, visit his websites: www.iclickweddings.com and www.  OneLifeFewClicks.com
Paigah Tombs or Maqhbara Shams al-Umara are one of the most famous monuments of Hyderabad, known for their excellent architectural beauty. Paigah Tombs were constructed by the Paigah family, who were very close and extreme loyals of the Nizams of Hyderabad. Their loyalty towards Nizams and later matrimonial alliances with them made the Paigahs very influential during the eighteenth century. 'Shams al-Umara' was a title which was given to the Paigahs by the Nizams which means 'the sun amongst the masses'. Abdul Fateh Khan Tegh Jung was the first person to be buried in 1786 at the place which later became their family Maqbara. There are 27 tombs in the main complex; rest of the tombs of the family is just outside it.
Paigah and their love for Art & Architecture: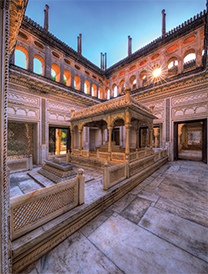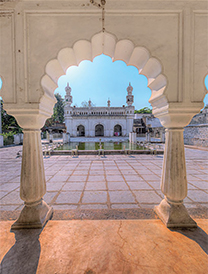 The Paigahs were the great patrons of art and have made several palaces including Falaknuma Palace. Their love for art is seen even in their exquisite tombs. The Paigah tombs are an example of Indo-Islamic architecture, with a mix of both – the Asaf Jahi and the Rajputana – styles of architecture. The décor in fabulous stucco work, represents the Mughal, Persian and Deccan style too. The tombs are in the shape of 'Chaukhandis' or a dome with four pillars, with latticed panels with open roofs. The crypts are made of lime and mortar and have intricate marble inlay work and stucco. The surrounding beautiful structure of walls has latticed panels with geometrical and floral design. The geometrical designs in the Paigah Tombs are unique and are perforated with screens with great craftsmanship. The Tomb of Asman Jah and Begum Khurshid Jah attract maximum number of tourists. The structures are made of marble and were once adorned with precious and semi-precious stones which changed colours with the change of seasons over the centuries. The Tombs are enclosed by a wall which is ornamented with lattice work and exotic floral and geometric designs. Each wall is done up differently with fruits, drums, serpents, flowers, vases, etc. The mausoleums have exemplary  craftsmanship, utilizing elaborate canopies and marble fences done in trellis-work that are made up of geometric and floral designs. Arches fringed by smaller semi-circular arches–a feature unique to India–are also employed. |SP
Note to travellers: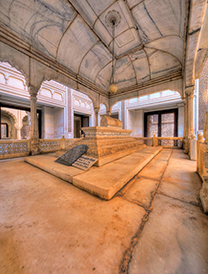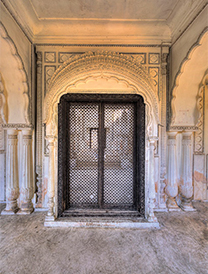 • The architectural beauty of the place makes it a must-see place for tourists. The serene and peaceful place will compel you to slow down, pause and reflect on the grandeur of the bygone times.
• The magnificent tombs and its intricate designs are a delight for photographers. Student and people involved in architecture may find this place very interesting and inspiring, in terms of design.
• At first sight, the place looks deserted and somewhat ignored. Although there is a family staying there. They are the caretakers of this monument. But this architectural wonder is now more than 200 years old and demanding a better care and some restoration work from our side.
• You can visit these tombs on all days, except on Fridays. To visit Paigah tombs, the timings are from 10 am to 5 pm. There is no entry fee to this place, but the caretaker is also a very warm person and guides you around and shares some info, in  expectation of some fees – this is open to your discretion.
• The pointer on the Google maps is accurate, so do not be confused by the unassuming entrance. There is a small signboard too, that should help identify the place.
• Footwear is to be left outside the elevated platform of the tombs, so if it's mid-day when you reach a pair of socks should be useful in summers as the stones get quite warm.
• You would ideally need about 45 to 60 minutes to soak in this place, photographers and architecture students may need more based on their levels of interest.