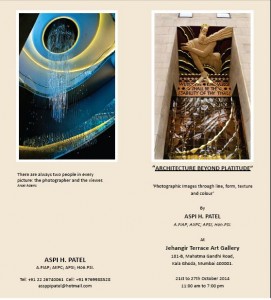 A solo photo exhibition by Aspi H. Patel (A.FIAP; AIIPC; APSI; Hon.PSI.) will be held at Jehangir Terrace Art Gallery, Mumbai, from October 21-27, 2014 from 11:00 am to 07:00 pm.
Mr. Patel is a prolific salon exhibitor and has over 700 Acceptances and various Awards and Certificates of Merit in National and International exhibitions of photography, including an Asian Cultural Centre for UNESCO prize in 1989. He has also served on the Panel of Jury for many National and International Salons Exhibitions.
He has been conferred with the following Honours:
(I) 'Associateship' of The Photographic Society of India, Mumbai, (APSI) in the year 1985.
(ii) 'Associateship' of India International Photographic Council, New Delhi, (AIIPC) in the year 1986.
(iii) He is also recognized and conferred Honours as 'Artist. FIAP' (A.FIAP) by The Federation Internationale De La Art Photographique, Belgium, for his excellence in pictorial colour Transparencies, in the year 1996.
(iv) Recently he was conferred Honorary membership of The Photographic Society of India, Mumbai, in January 2012.
He held his first Show 'Gorgeous Trappings' at the prestigious Jehangir Art Gallery, Mumbai in 1990. He has worked on the managing committee of The Photographic Society of India, Mumbai, for 15 years in various capacities including that of a Treasurer, Jt. Hon. Secretary and Vice President. He has also given slide shows and lectured at the above institute, which is one of the oldest and largest societies of its kind in India. Some of his articles have also been published in various club newsletters. He has occasionally also conducted Basic Comprehensive Course in Photography. Currently he is a freelance photographer.