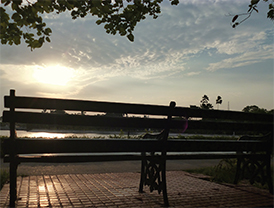 Our Imaging Expert No one can take a picture that everyone likes. But, almost every picture can have scope of improvement. Often, we are not our best critics, while others can immediately point out the faults. In If I were you, our expert comments on how your pictures could be taken to another lev
Rohinton Mehta,
Technical Editor, Smart Photography
Before the Dawn
This picture has been sent to us by Arnab Adhikary via email. He says "Since my childhood I have been fascinated by photography. Now I am 16, and have started capturing every single thing I get my eyes on to. I want to be a photographer and that's all I want in my life. I don't have any D-SLR. I just have a Panasonic Lumix FH6. I don't have enough money to buy one. This is a picture I have shot. Please let me know how to improve it".
I am happy that you are interested in photography at this young age. Keep in mind that a camera – any camera – is just a tool and it is the person behind the camera that creates the picture. Photography is a wonderful hobby but you must pay attention to your studies as well. Once you complete your studies, you can get a good job and then buy any D-SLR that you want. When you buy with your own hard-earned money, you'll take greater care of your camera and you will be proud of yourself.
When you take a picture, first ask yourself 'why am I taking this shot? What is it that I want to show to the viewers'? Once you answer that, focus the lens on that most important element in the frame. Eliminate everything else that does not add to the picture.
You have titled your picture "Before the Dawn". Hence I take it that the sky was your principal element. Then why have you blocked its view by having the bench in the foreground? If it is possible, re-shoot the picture; but place the camera at a height so that the bench is lower down in the frame and acts as a foreground interest. Your picture is sharp and crisp. You must thank the Lumix FH6 for that!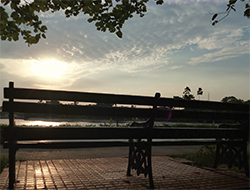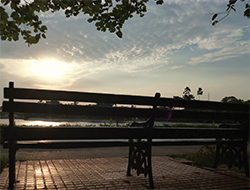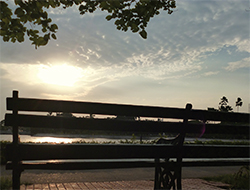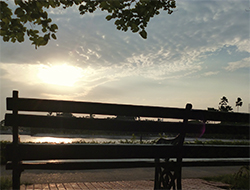 Sandakphu Mountain Range
This picture of Sandakphu mountain range, sent to us via email, is from Sarasij Roy, who is a Consultant Optometrist by profession. The picture was shot using a tripod on a cold foggy morning. He asks "How could I have improved this photograph? Any scope of digital postprocessing to improve it ?
Yes Sarasij, there is a scope to improve almost any picture! The very fact that you travelled to Sandakphu in the Himalayas and took the shot on a cold foggy morning tells me that you are really interested in pursuing your hobby. This is a good effort but let's see what is wrong and what can be done to improve the picture.
Your original shot divides the picture horizontally in almost two equal halves; this should be avoided as far as possible. The foreground has very little detail (possibly due to the fog) and hence could be cropped.
I have shown two versions of the edited image. Edited copy 1 tries to create a late evening feel (even though the original is a morning shot), while edited copy 2 is more or less neutral. You will also notice that the edited pictures appear to be shot using a wide-angle lens (which is not really the case).
Using Levels in Photoshop, I have adjusted the contrast (which seems to have taken away the fog) and applied a warming filter to edited copy 1, just to give it that late evening look. I also stretched both the edited pictures (in Image > Image Size, disable Constrain Proportions and increase only the width). Finally, I sharpened the edited images.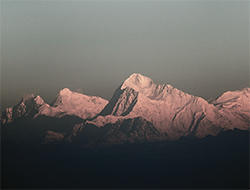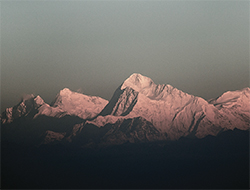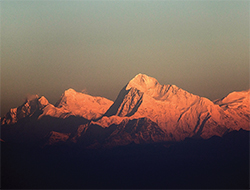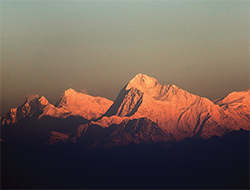 .
The Duck
This picture of a duck is sent to us by Manish Sitlani, via email. He wants to know how the picture could be improved.
(Note to readers: Manish's picture is very low in resolution and also does not have the required EXIF data which provides information about the make and model of the camera, the shutter speed and aperture used to take the shot. Please note that such images will not be accepted for critique in future. Please do not copy the original photo and paste it as a new document. Doing so will delete the EXIF data).
The edited image shows how the composition could have been. I have re-positioned the bird using Content-Aware Move Tool in Photoshop and retouched the give-away areas. The disturbing red element has been cloned out using the Clone Tool. The overexposed white areas on the chest have been toned down using the Shadows/Highlights Tool, though not as much as I would have liked (if an area is badly overexposed, Photoshop cannot bring back the required tones). Finally, I also toned down the water behind the duck as the light areas were somewhat disturbing.