Hridgandha Mistry, wife of renowned Indian photographer— Girish Mistry, is a photographer, a mentor as well as a wedding planner. (Girish Mistry is the founder of Shari Academy of Professional Photography and Digital Imaging, which has now completed 25 years of imparting quality education in the field of photography) Hrid, a faculty at Shari Academy, provides a one-point-source for wedding photography and videography.
Capturing the ordinary moments on the most extraordinary day of a person's life is what wedding photography is all about. Traditional wedding photography represents the order and structure of the day. However, a modern day wedding is photographed in a much more distinct way. It has more of a journalistic style of documenting the lovely unscripted moments of a couple's life, making their day special. From the classic studio portraits to pre-wedding documentaries, we see great evolution in the genre of wedding photography with the lapse in time. In the 'Insta Age' that we live in today, visual storytelling holds a very special place. Each couple has a unique story to tell. And a wedding photographer's job is to narrate this story through his lens. And for making the memories of their 'Big Day' special, couples are willing to go that extra mile.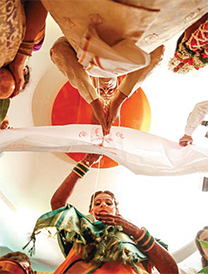 Other than the classic wedding photography and videography, the couples opt for pre-wedding photo shoots, save-the-ate invites with the photo shoots and much more for making their wedding one-of-a-kind. The industry for wedding photography has been blooming since the last couple of years. Photographers need to constantly be updated with the latest trends and newest technologies. To give you an insight on the subject of wedding photography, we spoke to industry expert, Hrid Mistry. A person maybe a skilled photographer, but planning a wedding shoot involves a lot more. The following conversation with Hrid will explain, in depth, the process of planning, conceptualizing and executing a wedding shoot.
How do you plan a wedding shoot?
First of all, you need to be familiar with the different styles and themes that are available for wedding photography. It can be either a classic or a traditional theme, you can select illustrative or photojournalistic style for covering the wedding. You can make it look glamorous or dramatic. The scope is wide and dynamic. The client picks a theme of their choice in the initial discussions and once the theme is finalised, we move on to what comes next – deciding the location for the shoot. This again depends majorly upon the client. However, the location of the wedding plays a major role in wedding photography. The team can work in conjunction with the event management team in case there are any special arrangements needed to be done.
We understand that couples today are ready to go that extra mile to make their wedding day unique and one-of-a-kind. Tell us about what sort of a budget are the couples looking at?
The budget entirely depends on the couple's requirement. It depends on what kind of work they are looking at. The budget varies depending upon the number of photographers involved in covering the event. Filming of video is another cost factor. Some clients request for cranes, use of photography drones, live screening and live mixing etc. Sometimes clients also demand for a camera person to be with the bride or the groom 24 x 7. These are a few  factors that determine the budget for a wedding shoot.
Ideally, how many photographers/ videographers cover a typical wedding?
The number of photographers depends on what scale is the wedding taking place. Ideally for about 500 guests, we would have 3 photographers and 2 videographers. This helps us in covering the entire wedding comfortably without missing out on anything. The number of photographers can also vary according to the client's requirement.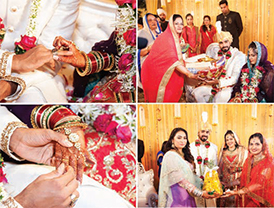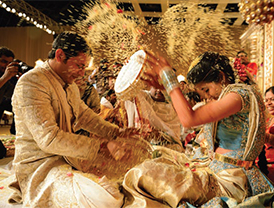 Being a 'one-point-source' for providing the necessary services for wedding shoots, what other services do you provided?
Since we have been in the field for such a long time, we can get our clients in touch with some of the best event managers, florists, decorators, caterers, gifting solutions, so on and so forth. This helps our clients get all their needs fulfilled under one roof.
Can you tell us something about the different styles of pre-wedding photo shoots that are currently in vogue? From planning and conceptualizing to executing a prewedding shoot, what are the various things that a photographer needs to keep in mind?
Every couple is looking forward to make unique pre-wedding photos. For a photographer, it becomes very important to understand the needs of the client. Here are some basic tips for pre-wedding photography:
Discussions: Have discussions with the couple before planning a photo shoot. Ask them questions. Talk to them about different styles and themes that are available. Give them unique pre-wedding photo theme ideas. This Q & A session will give you meaningful inputs.