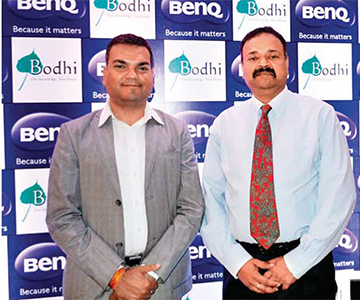 On 4th June, BenQ, a leader in digital lifestyle devices announced the launch of the Pro Graphics Series in Colour Management Monitors. Th e company also announced the beginning of a partnership with Bodhi Professional Solutions Pvt Ltd, an organization that plays a major role in the standardization of Graphic Arts Segment and Printing fraternity in India. Keeping the most versatile industry like Photography and Printing, BenQ understood the key requirements and designed this product. BenQ launched the PG2401PT for colour management with Bodhi as distributor, and BL2710PT and BL3200PT for CAD/ CAM applications. The PG240IPT is designed to meet the expectation of the prepress and photographers with features like 100% CMYK, 99% Adobe RGB Colour Space, 14 Bit 3D Look Up table, Delta E below 2, Uniform Brighntess Support X Rite's pallete master etc.
Speaking on the alliance Mr. Rajeev Singh, Country Head, BenQ said "We chose Bodhi because it has a rich market strength and also the ability to customize the solutions and a team of engineers well equipped with instruments and presence across India."
"Our association with BenQ will facilitate our endeavor to bring the latest trends and technologies from throughout the world to the print scenario of India. Th ese monitors deliver very powerful solutions that tackle the industry's challenges faced by these professionals," commented Satish Nayak, MD & Co-founder, Bodhi Professional Solutions Pvt. Ltd.
Image: L-R Rajeev Singh, Country Head, BenQ, with Satish Nayak, MD, Bodhi Professional Solutions