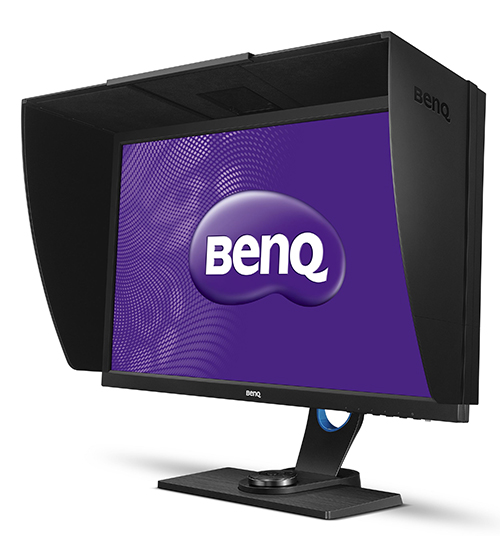 BenQ launched a new color management monitor for photographers. The monitor SW2700PT comes feature-packed with a 27"QHD (2560×1440) display, 99% Adobe RGB color space, IPS technology, hardware calibration,14bit 3D Look Up Table (LUT), Palette Master calibration software, ambient light-blocking shading hood, OSD controller and Black-and-White Mode. These features have been specially provided keeping the professional photographer's requirements in mind.
The SW2700PT brings together an array of high-end features for color accuracy, fidelity, consistency and seamless compatibility with D-SLR cameras. The Adobe RGB color space enables the SW2700PT to display a larger range in shades of blue and green, reproducing more precise color representations for nature photography. The 14bit 3D Look Up Table (LUT) improves RGB color blending accuracy for exceptional color reproduction. Hardware calibration allows users to adjust the SW2700PT's 14bit 3D Look Up Table (LUT) directly without altering graphics card output data, ensuring that the photo is smoothly and consistently displayed just as it was taken. The SW2700PT comes with BenQ's proprietary Palette Master Calibration software, which can be used with a calibrator to optimize the color performance of the display. The monitor is compatible with X-rite and Datacolor professional color calibration utilities.
The monitor is intelligently designed to give users complete convenience when viewing and editing photos. The monitor's detachable shading hood blocks ambient light that can often distort a user's color perception. The OSD controller puts management of the display setting in the users' hands with three preset buttons, allowing customization of display settings for various applications, such as Adobe RGB, sRGB and Black-and-White mode. Users can simply switch between the presets with a click of a button instead of going through complicated settings. The button on the OSD controller offers quick navigation of OSD function settings. Last but not least, Black-and-White Mode allows users to review and edit black-and-white photos without losing any detail or tone. By previewing color photos in black and white before editing, users can save significant time lost to guesswork and trial-and-error. The price for this monitor is yet to be announced.