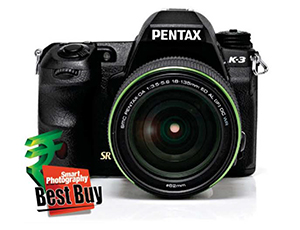 Asemi-professional D-SLR from Pentax has been rumoured for quite some time. That rumour has been converted into reality with Pentax announcing the K-3 D-SLR camera. The K-3, Pentax's flagship D-SLR, features a 24 megapixel CMOS image sensor with an anti-aliasing filter and is clearly aimed at the higher end of the D-SLR market. SP had the K-3 with us on our test bench; read on for our detailed impressions.
Design & Build Quality
The K-3 feels rock-solid when you pick it up. The chassis is made from very high rigidity, corrosion resistant stainless steel and the top, bottom and side panels are made from magnesium alloy. The camera is designed to be both dustproof and weather resistant. Pentax has incorporated 92 special seals to assure an airtight body. Complimenting the airtight body is an optional D-BG5 battery grip which is also dustproof and weather resistant. Pentax now offer an extensive line up of weather resistant or dustproof lenses. So confident are Pentax about the K-3 that they guarantee performance right down to -100C. The K-3's shutter unit is designed to withstand more than 200,000 shutter releases. The K-3 body weighs 715 g. All in all, on the design and build quality front, this Pentax camera scores an ace.
Key features
As mentioned earlier, the K-3's CMOS image sensor with 24 effective MP is designed with an AA simulator which reproduces the effects created by an opitcal anti-aliasing filter, thereby minimizing false color and moire. Three different settings are made available including an 'OFF' mode. Pentax claim that this has improved the total resolving power of the sensor whilst faithfully recreating depth and texture in the images.
Like in all Pentax D-SLRs, the K-3 features a body-integral image sensor shift type shake reduction mechanism. Since the shake reduction system is incorporated in the body, it works with all tele-photo, wide- angle and compact pancake lenses.
Pentax has developed a new PRIME III image engine for the K-3 to assure high efficiency and high speed processing of image data. The 27-point autofocus system with 25 cross-shaped sensors assure accurate and quick focus even in low light. This is thanks to a new SAFOX 11 autofocus module incorporated into the camera. Autofocus points can be selected or shifted according to your needs.
The K-3 features a 9-mode exposure system including Green, Program, Sensitivity Priority, Shutter speed Priority, Aperture Priority, Shutter speed or Aperture Priority combined, Manual, Bulb and flash sync modes. Exposure compensation upto ・}5EV is also available.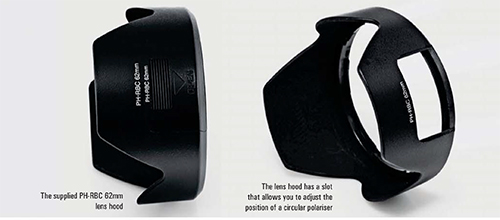 A high speed high precision shutter unit has been incorporated into the camera with a top speed of 1/8000 sec.
Metering can be done through three distinctive modes – Multi-pattern, Centre-weighted and Spot. High speed continuous shooting can be done at 8.3 images per sec upto a maximum of 60 images in JPEG and 23 in RAW. ISO speeds extend upto ISO 51,200 to enable the camera to capture quality noise-free images even in the dark. Other featues include high definition movie recording, multiple exposure shooting, a high dynamic range function, a 100% optical finder, dual SD card slots, dust removable mechanism, Live View and a 3.2-inch LCD monitor having 103K dots. The camera also comes with a built-in popup TTL flash with a Guide Number of 13m at ISO 100. This flash also offers slow-speed sync, high-speed sync and flash exposure compensation. Available optionally is a GPS unit as also a Flucard to provide wireless LAN functions. Particularly useful are the electronic levels (both horizontal and vertical) displayed on the LCD monitor. Very rare these days, is the choice of 4 optional focusing screens that the K-3 offers. All in all, the K-3 offers all the features that an enthusiast or semi professional would demand.
We reviewed the Pentax K-3 with the K-series smc PENTAX-DA 18-135mm f/3.5-5.6 ED AL (IF) DC WR lens. The smc PENTAX-DA 18-135mm F/3.5- 5.6 ED AL [IF] DC WR lens is designed exclusively for use with Pentax D-SLRs and is equivalent to approximately 27–207mm in the 35mm format. It incorporates a DC (Direct Current) motor that ensures quick and silent autofocus. The lens is constructed with 13 elements in 11 groups and has an aspherical lens element to minimize spherical aberrations. The lens is compact (73mm length x 68mm max. outside diameter), lightweight (429g with hood) and weather resistant. It further has Pentax SP (Super Protect) coating that helps to repel dust, water and hand-grease, making the lens easier to clean. The minimum focusing distance is 0.4 m (1.31 ft). Filter tread is 62mm.
Ergonomics The Pentax K-3 is considerably smaller than a normal D-SLR. However, this is not at the cost of its handling abililties. The camera is contoured correctly and offers a very comfortable hand grip. The dials and buttons are all of good quality and react instantly. Considerably improving handling are the vertical and horizontal electronic levels and the 100% optical viewfinder. Apart from the audible whirr of the autofocus motor, we have no issues on the ergonomics front. The PH-RBC 62mm lens hood that is supplied with the 18-135mm lens has a slot (you need to pull out a section of the hood) to facilitate rotation of a CPL filter – a strong plus point.
Performance
The overall performance of the camera was excellent. Images out of the box were punchy; White Balance was top-notch. Auto White Balance as well as the Presets performed to our full satisfaction, except for AWB in Incandescent light, which gave a red cast. It should be noted that AWB (in any camera) is designed to work between approximately 3200 Kelvin and 6500 Kelvin and if the Kelvin rating of your light falls outside the rated value, AWB cannot correct for the colour cast.
Noise control was very good. The native image size at 300ppi was 20.053 x 13.333 inches. At 16.7% screen size, it was difficult to notice any noise up to ISO 12,800; ISO 25,600 had noise like ISO 100 film grain; ISO 51,200 showed noise equivalent to about ISO 400 film grain. At 33.3% screen size, noise control was good up to ISO 3200, but was usable up to ISO 12,800. At 100% screen size, though some softness started creeping in, it was okay upto ISO 3200. ISO 25,600 and 51,200 were noisy and best avoided.
Flare was very well controlled and we did not notice any chromatic aberration. Darkening of corners at the widest focal length (18mm, equivalent to 27mm in the 35mm format) was noticeable at f/3.5, f/4 and a bit at f/5.6. Slight barrel distortion was seen at all indicated focal length settings except at 100mm and 135mm.
The Pentax K-3 was supplied to us with the smc PENTAX-DA 18-135mm f/3.5-5.6 ED AL (IF) DC WR lens. We recommend that the K-3 body be used with a corresponding weather-resistant lens. The 18-135mm lens performed adequately with some softness at the corners at full aperture. Autofocus was reasonably fast in sunlight but we felt it should have been faster. Best results were expectedly obtained between f/8 and f/11.
Value for Money
The Pentax K3 body retails at an MRP of Rs. 89,995, while the kit (body + 18- 135mm lens) is available at an MRP of Rs.119,595. The body may seem to be slightly on the expensive side but don't forget that it has features and build quality as good as (or even better) than the competition along with magnesium alloy body and stainless steel chassis.
VERDICT
The Pentax K-3 is a good camera, with friendly user interface, great build quality and pro features. If Ricoh (owners of the Pentax brand) play their cards well, guarantee top-quality lenses, ensure enough stock and offer proper service facilities, Canon and Nikon will have to watch out!
H. S. Billimoria