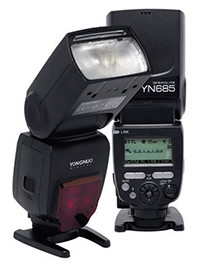 D-SLR speedlite units are premium accessories that professional portrait and wedding photographers cannot live without. Though many photographers swear by using natural light, a dedicated flash unit, whether cameramounted or remotely triggered, can be a very useful tool when you need absolute control over the lighting. The Yongnuo YN685 is a high-power speedlite dedicated to Canon ETTL system.
Design and Build Quality
The Yongnuo YN685 speedlite is built sturdy. The outer body is made of tough polycarbonate. The flashgun has a large flash head, similar to Nikon's SB900. The flash has four multifunctional buttons and a control dial, along with the power switch, Mode button and test flash button. The device has a built-in wide diffuser and bounce card. The ports have good quality rubber laps and the battery chamber door feels quite sturdy. We observed slight play after mounting the flash on a Canon 6D.
Key Features
The Yongnuo YN685 is a full size speedlite compatible with Canon ETTL system. The flashgun has a guide number of 60m at ISO 100 when the zoom position is at 200mm. Exposure control options are E-TTL, E-TTL II and Manual. Power can be precisely controlled between 1 to 1/128th of full power. The flash can be bounced up to 90 degrees, and swivelled up to 360 degrees. The speedlite provides a coverage equivalent of 20 to 200mm in full frame format.
The YN685 has a flash-ready indicator and test flash button and provides a recycling time of approximately 3 seconds. Flash exposure can be compensated up to +/-3EV in 1/3- EV steps. The speedlite is capable of wireless off-camera flash with the help of a built-in transceiver. This can be triggered within a 100m range. It provides complete radio slave functionality with the YN-622C and RF-603/YN-560 radio systems that are popular in the market.
The flashgun offers high-speed sync (syncs at up to 1/8000 second), 1st and 2nd curtain sync, sound prompt, overheat protection, power saving mode and custom function settings. Flash duration is between 1/200 and 1/20000 sec, and the colour is balanced to 5600k. The YN685 has HV power port for battery packs, PC sync port and USB port for firmware updates.
The YN685 is powered by four AA batteries. The speedlite weighs 426g and has dimensions of 67 x 77 x 210mm.
Ergonomics
The YN685 is quite user-friendly, once you get used to the shortcuts and controls. Yongnuo has included an exhaustive user manual with the lash, which is quite rare but necessary. The head is quite smooth to rotate and  swivel. The wide panel and bounce card are well built and easy to use. The flash is light-weight compared to other similar large flash units.