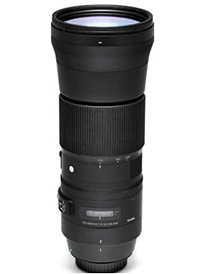 Ergonomics
The Sigma 150-600mm Contemporary is not the lens you would usually like to hand-hold for more than a few seconds while shooting. Though it is bulky and heavy, you can get a couple of shots hand-held in an emergency. The control switches on the body make the lens even more user-friendly. The lens has a rotary zoom ring, which has focal lengths marked at 150, 180, 200, 250, 300, 400, 500 and 600mm. There is also a focus distance window on the lens barrel. If you feel that the full focal range is slowing you down, you have the option of limiting the focal range, which is great. Focus options on the lens include AF (Autofocus), MF (Manual Focus), and MO (Manual Override). The lens protrudes quite a bit during zooming, but we cannot really complain.
Performance
We tested the the Sigma 150-600 lens on a Canon 6D body. The lens performed very well in our tests. Autofocus was fast enough for an relatively slow superzoom lens, though it cannot be compared to professional prime models. It struggled a bit to lock on to the subjects in low-light situations indoors. But please note that this lens is primarily aimed at outdoor photographers.
Flare was controlled very well, though observed along with slight ghosting in strong against-the-light shots. We observed mild pincushion distortion throughout the zoom range, though you might not be able to spot it in normal outdoor images. The lens produced sharp images, and the Optical Stabilisation performed really well. In fact, at 600mm I could get sharp images at 1/60 sec with the lens hand-held, and the images remained reasonably sharp even at 1/30 sec. We did our regular sharpness test with the lens mounted on a firm tripod. At 150m , the lens produced good sharpness from f/5 to 11. At 300mm, the zone of good sharpness was from f/5.6 to 11, while at 600mm, it ranged from f/6.3 to 11. The lens maintained the sweet spot at f/8 throughout the zoom range.
Prominent darkening of corners was observed at f/5 and f/5.6 at 150mm, which vanished around f/8. Overall, we would consider this excellent performance for a lens in this category.
Value for Money
The Sigma 150-600mm f/5-6.3 DG OS HSM | C lens retails at an MRP of Rs.87,000. This is excellent value for money, considering the performance of the lens. |SP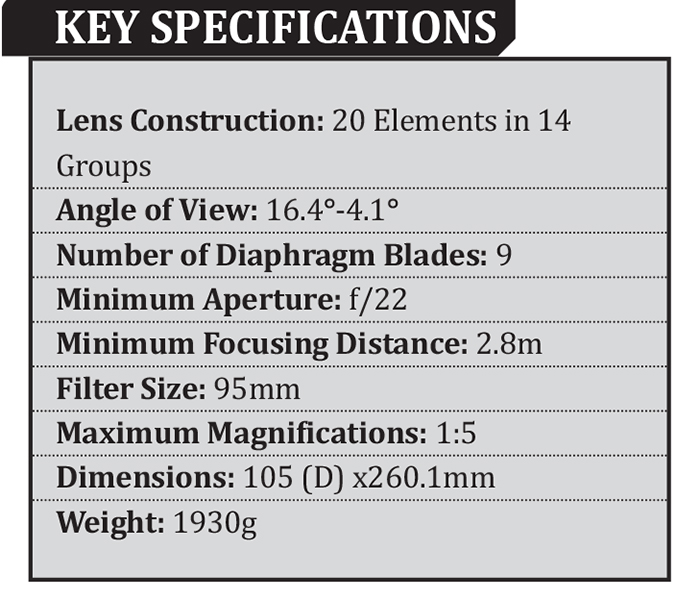 FINAL SCORE                                                                         84%
Design and Build Quality                                                      17/20
Key Features                                                                          18/20
Ergonomics                                                                             18/20
Performance
Autofocus                                                                                   4/5
Sharpness                                                                                   4/5
Distortion control                                                                   3.5/5
Aberrations                                                                                  4/5
Darkening of corners                                                               3.5/5
Extra features                                                                             4/5
Sub-Total                                                                            23/30
Value for Money                                                                8/10
PLUS
• Excellent OS
• Focus Limiter switch
• Can be customised
• Superb sharpness
• Above average optics
MINUS
• None observed
Verdict
The Sigma 150-600mm f/5-6.3 DG OS HSM Contemporary lens is a budget alternative to the more premium Sport designated lens with the same prefix in the name. The Sport lens has a completely weather sealed body along with additional special elements used in construction. But this comes at double the price of the Contemporary model. At the declared price tag, the Contemporary lens is certainly a great buy, and you are not likely to complain even a bit.
Sujith Gopinath