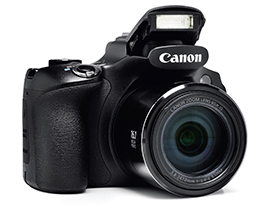 The Canon PowerShot SX60 HS is a 16.1 megapixel high-zoom bridge camera that replaces the SX50 HS. Canon claim that the 65x optical zoom is the highest in the world at present. Let us find out what other advanced features Canon has incorporated in this super-zoom model.
Design and Build Quality
The Canon SX60 HS is built like its predecessors — sturdy, ergonomic, and comfortable to handle. The outer shell in made of polycarbonate. The camera has a fully articulated LCD. The overall shape and the LCD has stayed on from the S1 IS, launched about a decade earlier. The camera features a microphone terminal and a Mobile Device Connect button to easily pair with mobile devices. It also has a standard accessory shoe.
Key Features
The 16.1-megapixel Canon Power uses a 1/2.3-inch Type (4.62 x 6.16mm) sensor and a DIGIC 6 processor. The lens has a 35mm equivalent focal length of 21 – 1365mm and features Optical Image Stabilisation (OIS). In Normal mode, the lens focusses from 0 cm to infi nity at the wide-angle end and 1.8m to infi nity at the telephoto end. Focus modes available are Continuous AF, Servo AF, and Manual Focus, and the AF frame options are Face Detect, Tracking AF, Centre, and FlexiZone. The camera features the usual three metering modes—Evaluative, Centre-weighted average, and Spot. Shutter speed ranges from 15 to 1/2000 sec. Aperture varies from f/3.4 to 8.0 at the wide-angle and f/6.5 – 8.0 at the telephoto end. Sensitivity ranges from ISO 100 to 3200 with an Auto option.
The SX60 sports a 3.0-inch, approx. 922,000-dot TFT colour LCD with wide viewing angle. Th e LCD is fully articulated. Th e camera's Electronic Viewfi nder has approximately 922,000 dots.
The SX60's built-in fl ash has a range of 50cm to 5.5m at the wide-angle end and 1.8 to 3.0m at the telephoto end. Flash modes available are Auto, On, Slow Synchro, and Off . The camera has a standard accessory shoe (hot-shoe).
Shooting modes available are Custom (C1, C2), Manual (M) , Aperture Priority (Av), Shutter Priority (Tv), Program (P), Hybrid Auto, Auto, Creative Shot, Sports, SCN (Scene), Creative Filters, and Movie. Scene Modes provide options of Portrait, Smart Shutter, Handheld Night Scene, Low Light, Snow, and Fireworks. Creative Filters available are High Dynamic Range, Fish-eye Effect, Miniature Effect, Toy Camera Effect, Soft Focus, Monochrome, Super Vivid, and Poster Effect. Movie Modes include Standard, Manual (Movie), iFrame Movie, and Super Slow Motion Movie. Smart Shutter modes available are Smile, Wink Self-timer, and Face Self-timer.
The SX60 can shoot continuously at 6.4 frames per second. Still images are recorded with maximum dimensions of 4608 x 3456 pixels in Raw or JPEG format with an option to capture both Raw and JPEG simultaneously. Videos are captured in MP4 format with a highest quality option of 1920 x 1080 (FHD format) at 60 or 30 fps. The camera features Wi-Fi and NFC. The SX60 HS accepts an SD/SDHC/SDXC memory card (compatible with UHS-I) for storage. The camera is powered by an NB-10L Battery Pack. The SX60 has dimensions of 127.6 x 92.6 x 114.3mm and weighs approximately 650 g (including battery and memory card).
Ergonomics
The SX60 HS is ergonomically designed, like all bridge cameras in the series so far. It has a deep, textured rubber grip that is comfortable to hold. The thumb rest is also designed for comfort. Buttons and dials are well designed and easily accessible. The swivel-and-rotate LCD is the best design amongst movable monitors. However, both the EVF and the LCD requires lot of improvement in terms of the quality of display. It gives a feeling that Canon is stuck in time with their screen technology, while the competitors are advancing fast to the extent of challenging even optical viewfinders.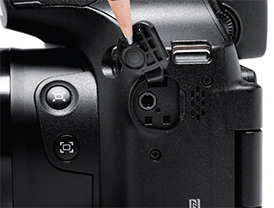 Performance
The SX60 HS produced mixed results in our tests. It controlled darkening of corners very well. We did not observe any darkening at the wideangle end with the lens wide open. All metering modes worked perfectly. Autofocus was fast-enough, but not certainly amongst the best we have seen. Native print size was 11.52 x 15.36 inches at 300 ppi. The SX60 impressed us with its noise-control. In fact, Canon has 'negative-proofed' this camera (avoided negative comments from reviewers) by keeping the maximum sensitivity to ISO 3200 and not claiming to have the highest sensitivity amongst peers. At 25 percent screen size, we did not observe any noise at all. However, ISO 1600 and 3200 were slightly soft due to noise reduction.  Observed at 50 percent, traces of noise were seen from ISO 1600. Viewed at 100 percent, we observed noise from ISO 400 onwards, but still the images were perfectly usable throughout the ISO range. This is excellent noise-control.
The camera was not entirely without imperfections. The camera produced prominent flare and purple fringing in strong againstthe light shots at the wide-angle end with the lens wide open. Images appeared reasonably sharp out of the box, but the sharpness decreased at higher focal lengths. Slight barrel distortion was observed up to 100mm equivalent.
The camera produced a distinct reddish cast under most lighting conditions including daylight. Of course, this could be easily removed in post-processing.
Value for Money
The Canon SX60 HS retails at an MRP of Rs.35,995. At this price, the camera is slightly towards the expensive side. 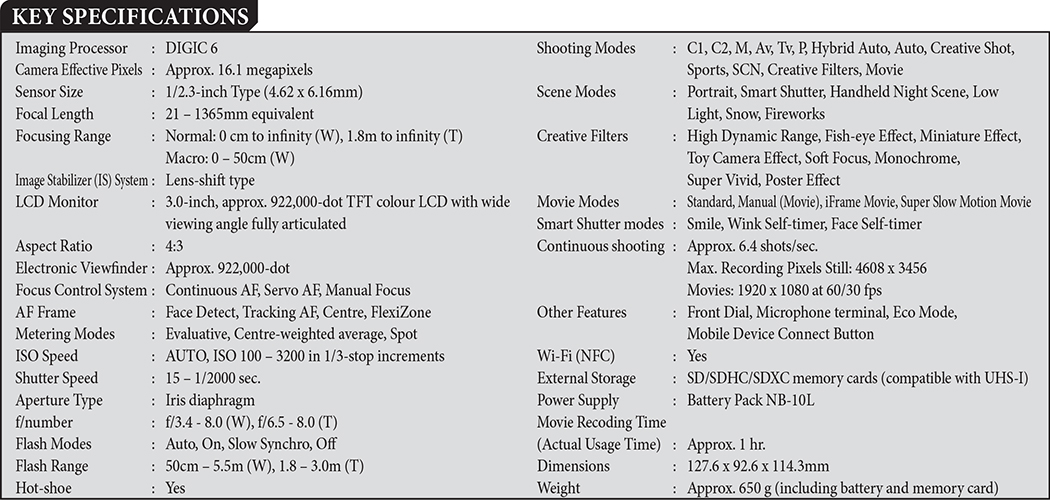 PLUS
• 65x optical zoom
• Good build quality
• Excellent noise control
MINUS
• EVF and LCD quality need improvement
• Colur cast under most lighting conditions
• No shortcut buttons
• Little  improvement over preceding models
FINAL SCORE                                         77%
Design and Build Quality                         17/20
Key Features                                          16/20
Ergonomics                                             17/20
Performance
Autofocus                                                   3/5
Metering                                                     4/5
Noise Control                                               5/5
Sharpness                                                   3/5
LCD/EVF                                                      3/5
Auto W/B                                                      3/5
Sub-Total                                                    21/30
Value for Money                                            6/10
VERDICT
The Canon SX60 HS boasts a very high zoom and a D-SLR-like grip. But except the noise-control, most features in this camera look dated. We would like Canon to take note of this feedback and improve upon it.
Sujith Gopinath