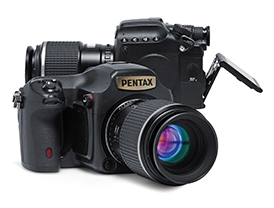 It is not very often that we get medium format cameras for review, and let me start with a confession that I haven't had the chance to review one till date. So I was excited, like most of you would be, when I got my hands on the Pentax 645Z medium format D-SLR. The 645Z is a 51.4 megapixel camera which, like all D-SLRs, comes in one piece, unlike modular systems that allow you to attach a digital back of your choice.
Design and Build Quality
The Pentax 645Z is a compact medium format system and is well designed to suit people upgrading from a D-SLR. The controls are designed much the same way as that of Pentax D-SLRs. It has a weather-sealed magnesium alloy chassis, which makes it very rugged and suitable even for outdoor use. Pentax has utilised the extra space on the body very well by incorporating shortcut buttons.
Key Features
The 51.4 megapixel Pentax 645Z uses a 43.8 x 32.8 mm CMOS sensor with a primary colour filter. To keep dust off the sensor, the camera uses a DR II image sensor cleaning system using ultrasonic vibrations with a dust alert function. The 645 Z features a Pentax 645AF2 mount with AF coupler, lens information contacts, and power contacts. This mount can accept Pentax 645AF2, 645AF and 645A type lenses. The system uses an optical lens shift type shake reduction (SR) system. The 645Z uses a Keplerian telescopic trapezoid prism type viewfinder, providing approximately 98 percent field-of-view. The finder provides dioptre adjustment from -3.5m to + 2.0m-1. The camera uses an interchangeable Natural- Bright-Matte focussing screen (this can be replaced by the user, without taking the camera to the service centre). It uses TTL phasematching autofocus system with SAFOX AF sensor that provides 11 or 27 AF points including 25 cross-type focus points at the centre. AF modes available are Single (AF.S), Continuous (AF.C), and Focus customisation. Focus area modes include Spot, Select, Expanded Area (S, M, L), Zone Select, and Auto (27 AF Points).
The 645 Z uses a 3.2-inch, approximately 1,037,000 dot tiltable TFT colour LCD monitor featuring an air-gapless structure with an anti-reflective (AR) coated tempered-glass front panel. The Live View system uses TTL method using CMOS image sensor. Live View uses contrast detection autofocus  method, providing options for Face Detection, Tracking, Multiple AF Points, Select, and Spot along with Focus Peaking. Still images are recorded in Raw (PEF/DNG) or JPEG format, with an option to shoot both simultaneously. Raw images are recorded in 14 bits. Maximum recorded pixels is 8256 x 6192, and the camera provides three JPEG quality options—*** (Best), ** (Better), and * (Good). Videos are recorded in MPEG-4 AVC/H.264(MOV), or Motion JPEG(AVI) format with the best quality of 1920×1080 (60i/50i/30p/25p/24p). The camera has built-in stereo microphones and provision for external microphone (stereo recording compatible).
Sensitivity ranges from ISO 100 to 204,800 with an Auto option. It can be changed in 1, 1/2, or 1/3EV steps. White Balance options are Auto, Multi Auto, Daylight, Shade, Cloudy, Fluorescent (D: Daylight Colour, N: Daylight White, W: Cool White, L: Warm White), Tungsten, Flash, CTE (Colour Temperature Enhancement), Manual, and Colour Temperature. In Manual and Colour temperature, you can save up to three settings each. You can also copy the White Balance settings of a captured image. White Balance fine adjustment is available up to +/-7 steps on A-B (Amber-Blue) axis or G-M (Green-Magenta) axis.
Exposure is controlled by TTL open aperture metering using 86K pixel RGB sensor and metering modes include Multi-segment, Centreweighted, and Spot. Exposure can be compensated up to ±5 EV in 1/3 or 1/2 EV steps. Bracketing can be set for 2, 3 or 5 frames. The 645Z uses an electronically controlled vertical-run focal plane shutter providing shutter speeds of 30 to 1/4000 sec along with Bulb. Shooting modes available are Program, Sensitivity Priority, Shutter Priority, Aperture Priority, Shutter & Aperture Priority, Manual, Bulb, Flash X-sync Speed, User1, 2, and 3.
Drive modes include Single, Continuous (H, L), Self-timer (12 sec., 2sec.), Remote Control (immediately, 3 sec., continuous), Multi-exposure (available with Continuous, Self-timer or Remote Control), Interval Shooting, and Interval Composite. Mirror lockup is available with Continuous, Self-timer, Remote Control, and Multi-exposure options. In Continuous Shooting, the camera can shoot at up to 3 fps. It can shoot up to approximately 30 JPEG ( L, ★★★) or up to 10 RAW images in one burst. Multiple exposure is available with options of Additive, Average, and Bright. Flash synchronises with the shutter at up to 1/125 sec. Flash Exposure can be compensated up to -2.0 to + 1.0 EV. The camera also provides options for Lens correction, HDR, and Electronic level.
The 645Z has dual memory slots and can accept SD/SDHC/SDXC memory card, Eye-Fi card, or Flucard (UHS-I compatible). Dual slot recording can be customised with options such  as Sequential save, Save to Both Dual save, and Separate Raw/JPG. You can even copy images between the two slots. The camera is powered by a rechargeable Lithium-ion Battery D-LI90 (supplied). The camera has dimensions of approximately 156mm x 117mm x 123mm (W x H x D) (excluding protrusions). The 845Z weighs approximately 1550g (including dedicated battery and an SD memory card).
Ergonomics
The Pentax 645Z is certainly heavier and bulkier than a Full Frame D-SLR, but lighter and compact than most other medium format cameras. With the 120mm Macro lens (including lens hood), it has a combined weight of 2.43 kg. I could comfortably carry the camera along with three lenses in a Lowepro Micro Trekker camera bag. The camera has a very deep rubberised grip, which makes it easy to hold. In fact, you can comfortably hand-hold the camera, though it is not recommended for professional work.
Unlike modular medium format systems with interchangeable backs, this D-SLR has been designed to keep all controls within reach. To suppress the mirror slap, there is a prominent dial to set the camera to mirror lock-up. There are plenty of shortcut buttons that make it easy to change the settings. Menu is simple and intuitive. The tiltable LCD makes shooting very flexible. Pentax has incorporated a second tripod mount to the 645Z that allows mounting on tripod in vertical orientation. Both the LCD and viewfinder displayed images well.
Performance
We received three lenses from Pentax along with the camera. We did our tests using the SMC Pentax – FA645 Macro 120mm f/4 lens and the SMC Pentax – DFA645 55mm f/2.8AL(IF)SDM AW.
Going by the popular logic that a larger sensor produces lesser noise, one would expect a Medium Format D-SLR to outperform a Full Frame D-SLR in the noise front. But by approximations, we can see that this camera has 1.3 times the pixel pitch (or photo diode density) that of a 24 megapixel Full Frame sensor (or approximately 30 percent more photo diodes in the same area). But if you compare it with a 24 megapixel APS-C type D-SLR, this camera has approximately 80 percent less photo diodes on the sensor. So we expect the 645Z to have better noise control over a 24 megapixel APS-C type D-SLR, but produce slightly more noise than a 24 megapixel Full Frame D-SLR in Raw images. Native print size was 20.64 x 27.52 inches at 300ppi. At 25 percent of screen size, the images were noise-free up to ISO 6400. Though we observed slight noise from ISO 12,800, the images were perfectly usable up to ISO 25,600. ISO 102,400 was very noisy. At 50 percent view, we observed slight noise from ISO 3200 and the images remained usable up to ISO 12,800. Viewed at 100 percent, the camera produced very slight noise from ISO 800, but still remaining usable up to ISO 3200.
Both Auto and Preset White Balance performed very well in most lighting conditions. A couple of lighting conditions produced slight cast, but the results can be tweaked to suit your preferred lights or later removed in post-processing. All metering modes performed very well.
Many test results depend on the lens used, and hence could be different for different lenses. With the 120mm Macro lens, autofocus was very sluggish as expected of a slow lens, particularly so in Live View. Hence we do not recommend using this camera-lens combination for action shots. The phase detection system focussed accurately while focussing through the viewfinder, but the contrast detect system hunted for focus during Live View. The lens did not produce any darkening of corners. It produced heavy flare and purple fringing in strong against-the-light shots. The lens produced sharp images, from centre to peripheries and the sweet spot was found to be f/11.
The 55mm f/2.8 lens has internal focussing and houses a Sonic Direct-Drive motor (SDM) and was fast in focussing, even during` Live View. The AF system did not have any problem locking on the subject. This is an all-weather lens with a rubber sealing to prevent water ingress into the body. The lens did not produce any distortion, or darkening of corners. JPEG images out of the box were sharp. The 55mm had its sweet spot at f/11. F/22 was soft as expected, because of diffraction. F/2.8 was also slightly soft. It produced the best sharpness from f/8 to f/16, though all apertures were perfectly usable except f/22. The lens produced heavy flare and purple fringing at f/2.8 in strong against-the-light shots.
Few of our tests might seem unnecessary for a camera-lens combination that is designed for studios and controlled environment. While this is  generally true, we cannot prevent someone from using the combination for landscapes or action photography and hence it is our responsibility to put any equipment through strict scrutiny.
Value for Money
The Pentax 645Z retails at an MRP of Rs.629,695 (body only). In fact, this is the lowest price for a 50-plus megapixel medium format system, and hence competitive. 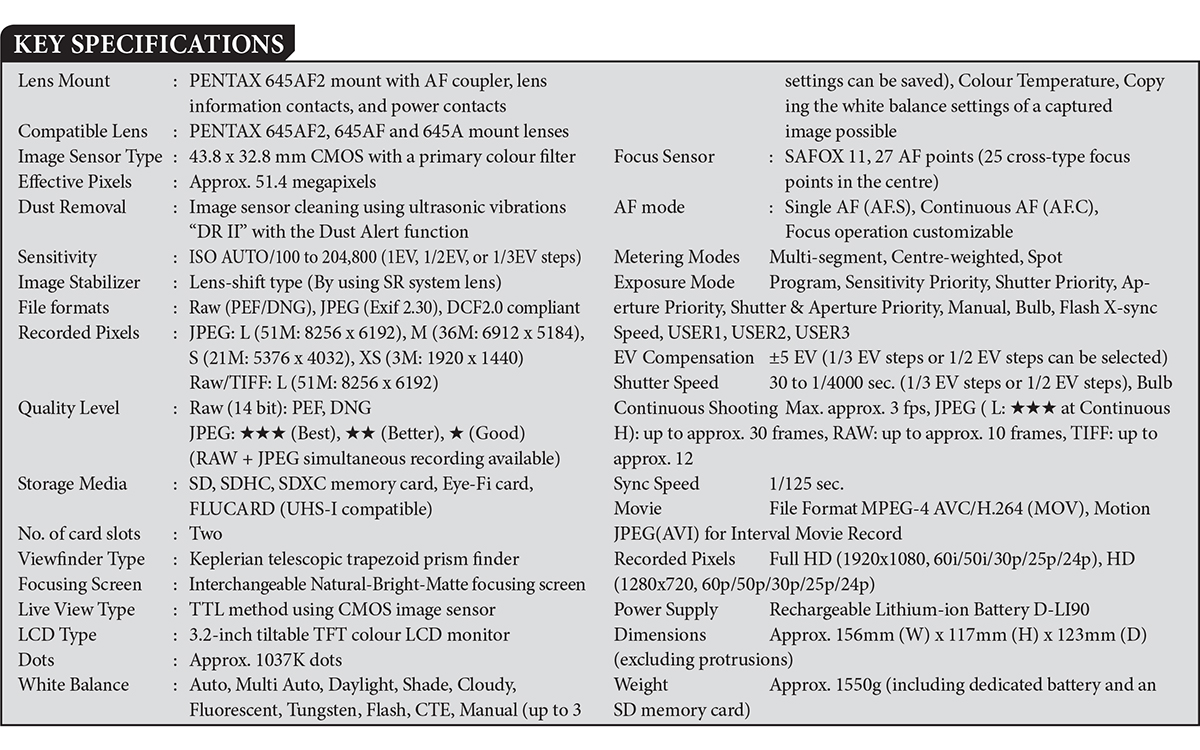 PLUS
• Compact and Lightweight
• D-SLR like design
• Deep and comfortable grip
• Weathersealed body
• 51.4 megapixels
• Good performance
• Competitive pricing
MINUS
• Slow focussing with most available lenses
• Both lenses tested exhibited flare and chromatic aberration
INAL SCORE                                                           85%
Design and Build Quality                                        18/20
Key Features                                                        18/20
Ergonomics                                                          17/20
Performance
Autofocus                                                             3.5/5
Metering                                                                 5/5
Noise Control                                                          4/5
Sharpness                                                               4/5
LCD/EVF                                                                 4/5
Auto W/B                                                             4.5/5
Sub-Tota                                                            l 25/30
Value for Money 7/10
VERDICT
A medium format system might not fit in the budget of most of our readers, but the Pentax 645Z is not aimed at most of us. Well, if you plan to upgrade from a Full Frame or APS-C D-SLR to medium format, the 654Z will make the transition absolutely smooth for you. Though it is not as portable as a 35mm or smaller D-SLR it will certainly save the weight where it is crucial, say, in your check-in baggage. This is certainly worth a look if you are planning to migrate to this format.
Sujith Gopinath