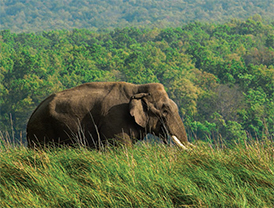 Home to wildlife with about 500 sanctuaries and 80 national parks, India is a nature lover's paradise.
R Srinivasan
Walking through tall dewlapped elephant grass in the early morning, riding a Jeep as it makes its way through golden hued dense vegetation or perched on the swaying back of an elephant – these are all merely the means to achieve an adrenaline rush of seeing animals in their natural habitat and enjoying  moments whose memories will last a lifetime. For those who want to get away from the hustle and bustle of the city, a visit to any of the 500 wildlife sanctuaries or the 80 national parks, which attract tourists from across the world, suits the purpose. Let's take a look at some of these.
Ranthambore National Park is considered to be a Tigers' Paradise. It is ranked as one of the largest and most reputed national parks in North India and is situated in Rajasthan. Considered to be one of the best spots to view the Royal Bengal tiger and spotted deer (Chital), it is also home to leopards, Indian stag (Sambar), blue bull (Nilgai), Indian gazelle (Chinkara), jackals and many more. Tigers have been photographed against a backdrop of the impressive 10th Century Ranthambore Fort's old crumbling walls. As a prime example of Project Tiger's conservation efforts in Rajasthan and a world record of sorts, some tigers have been successfully relocated to the nearby Sariska reserve, which is also one of the most frequented sanctuaries in India. Almost every tiger here has a certain reputation such as the most photographed tigress Machli (T-16) or 'Lady of the Lake' whose encounter with Pic courtesy: Gujarat Tourism a 14-foot-long crocodile was filmed for the first time. We also have 9-feet-long and the oldest male Jhumroo (T-20) or 'Lord of the Lake' who fathered around 18 descendants and the aggressive 'Dollar' (T-25), who was so named because of the $ shape on his right flank.
Jim Corbett National Park: It is said to be India's most beautiful wildlife sanctuary and is located at the foothills of the Himalayas in Uttarakhand. It is home to Asiatic elephants, leopards, tigers, a wide variety of deer, Indian bison (Gaur), swamp deer (Barasingha), Indian wild dogs (Dhole), etc.
Bandhavgarh National Park in Madhya Pradesh is home to tigers, panthers, several species of deer, four-horned antelope (Chausingha), Gaur, etc. One of India's finest tiger reserves, the Kanha National Park in Madhya Pradesh also has leopards, a variety of deer, sloth bears, wild dogs, jackals and foxes.
Pench National Park in Madhya Pradesh is known for its tiger and gaur population. Also seen here are a variety of deer, nilgai, leopards, dhole, wolves, jackals, gaur, wild boar, langur, etc. The reserve has introduced a night safari to attract more visitors.
Panna National Park in Madhya Pradesh – one of the most famous tiger reserves in the country, is also popular amongst tourists due to its proximity (57 km) to Khajuraho. One can also see leopards, Dhole, wolves, and a wide variety of deer.
Tadoba Andhari in Chandrapur district is Maharashtra's oldest and largest national park. It is also one of India's 'Project Tiger' reserves. There are about 43 tigers (as per the 2010 national census on tigers) in the reserve, one of the highest in India. The reserve is also home to leopards, gaur, nilgai, Dhole, jungle cats, and a variety of deer.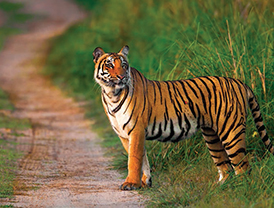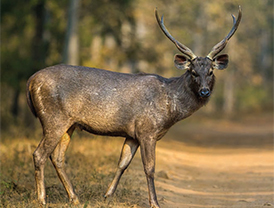 Nagarhole National Park in Karnataka, with a large elephant and Gaur population, also has tigers, leopards, Dhole, sloth bears, jackals, etc. The numerous streams in this park meander through many areas of the dry deciduous forests accentuating the national park's overall experience.
Dandeli, the second-largest wildlife sanctuary in Karnataka, is a tiger reserve and even black panthers have been sighted here.
Kerala's Periyar Wildlife Sanctuary reservoir provides water for local wildlife and also adds a nip to the air of the dense deciduous forest. Apart from elephants, other animals here are gaur, a wide variety of deer, leopards, langurs,  macaques, wild boar, nilgiri tahr and sloth bears.
The main wildlife attractions in Tamil Nadu's Annamalai National Park are elephants, gaur, tigers, panthers, sloth bears, crocodiles, a variety of deer, Nilgiri langurs and lion-tailed macaques. |SP
Special sanctuaries
Some sanctuaries and national parks are home to many endangered species but are famous for some particular ones. For example, Kaziranga in Assam for the rhinoceros, Periyar in Kerala for its elephants, Dudhwa in Uttar Pradesh for barasingha, Gir for Asiatic lions, the Blackbuck national park in Velavadhar (in Gujarat), Sunderbans in West Bengal is the largest tiger reserve in the country, Kanha in Madhya Pradesh for tigers, Mrugavani and KBR National Parks in Andhra Pradesh for chital and peacock, Sariska in Rajasthan for tigers, peacock and sambar, Madumalai in Tamil Nadu for gaur, National Chambal sanctuary in Rajasthan for Indian wolves, Valley of Flowers national park in Uttarakhand for elusive snow leopards, Dachigam in Jammu and Kashmir for Himalayan black bears and Kashmir stags (Hangul) and Eravikulam for endangered Nilgiri tahrs.

Most of these sanctuaries are best avoided during the monsoon season when rivers cut off road links and make movement difficult. Visitors to the parks should set aside about half an hour to complete formalities for entry into the park. They should preferably wear dullcoloured clothes, cotton socks and use a comfortable pair of shoes.