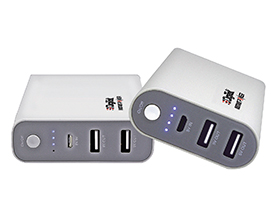 It's needless to say that cameras cannot function without batteries and chargers. Alkaline batteries, Lithium batteries and rechargeable batteries are usually used in cameras. Rechargeable batteries can be Nickel Metal-Hydride (NiMH) or Lithium Ion (Li-Ion). It is also important to see whether you have the right charger. For example, it is not advisable to use NiMH batteries using a charger designed for Nickel Cadmium (NiCd). Picking a charger that does not overheat the batteries is also important.
Digitek Instant Power (DIP-7800B)
Features:
Compact size and high capacity of 7800mAh. Can charge iPad, iPhone, Smartphone, Mobile, MP3/MP4 etc. Multiple safety protection system to ensure device safety. Works for at least 500 cycles. Retains full charge  for a month when not in use.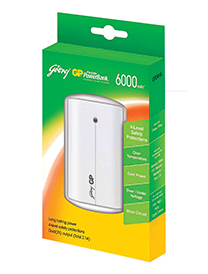 Digitek Instant Power (DIP-10400A)
Features:
Compact and high capacity of 10400mAh. The hidden LED displays status for remaining power. Can charge iPad, iPhone, Smartphone, Mobile, MP3/MP4 etc. Multiple safety protection system to ensure device safety. Works for at least 500 cycles.
Available at: IMS Mercantiles Pvt. Ltd.
Contact: +91-11-47074444
Mail id: info@imsmercantiles.in
Website: www.imsmercantiles.in
Godrej 6000mAh Powerbank
Features:
Sleek in design, compact and easy to carry. A button to prevent auto discharge of Powerbank. Noncompromising safety standards including over-heat protection, overcharge and over-discharge protection, short-circuit protection & overpower protection.
Available at : Godrej & Boyce Mfg. Co.ltd
Contact: +91 22 67962692 / 93
Website: www.godrejbatteries.com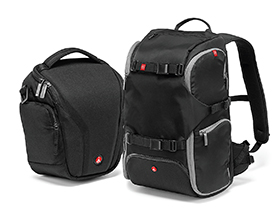 CAMERA BAGS
After buying the right equipment, the next step is to find a suitable camera bag. Many photographers, expecially beginners, understimate the importance of a good camera bag. A bag that is sturdy enough to hold the camera and all the lenses, flash guns, memory cards, etc. in well-cushioned compartments is very important. Some bags also let the photographer modify the compartments within as required. These are modular bags. Water-proof bags are an added advantage. These bags are available as backpacks, shoulder bags, sling bags and even pouches. It is important to choose the bag according to one's equipment.
Travel Backpack
Features:
The travel backpack has been specifically designed for carrying your BeFree tripod. Everything can fit perfectly in a single compact bag which is easy and comfortable to bring everywhere.
Holster Plus 20 MB MP-H-20BB
Features
The Holster Plus 20 is the perfect solution to carry minimal gear, D-SLR with attached standard lens, extra lens or flash and accessories. It features CPS – Camera Protection System- an Exo-tough multi-layered construction to give maximum protection. The top opening gives fast, easy access to the camera.

Available at : All leading photographic stores
Mail id: Indiainfo@manfrotto.com
Website: http://www.manfrotto.in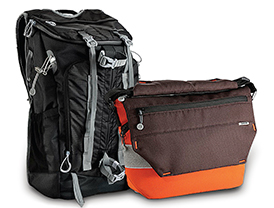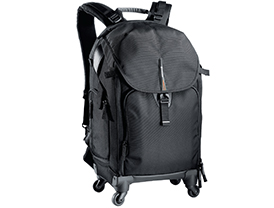 SEDONA 51 Bag
Features:
Available in black and blue, for all activities such as backpack, daypack or everyday bag. It carries holding system for tripod, monopod or walking stick with security back access and has breathable suspension system as well as multiple accessory pockets.
Sydney II 22BR Bag and 27 Bag
Features:
Available in three colours – blue, brown and grey, with 2 in 1 facilities such as photobag or everyday bag. It has ergonomic shoulder strap with accessory pockets and quick top access.
 Heralder 51T
Features:
The Heralder 51T has a fairly complete set of straps. Aside from contoured shoulder straps, the bag has a buckling waist strap for more support. The shoulder straps are quite impressive, featuring tension adjustments to raise or lower them for a more custom fit. It is equipped with four caster-based roller wheels so it can be tilted and pulled or set on the ground and pushed like a trolley.

Available at: Nikita Distributors
Contact Person : Mr. Raman Agrawal
Contact No: + 91- 20- 30500614
Mail id: raman.jpa@gmail.com
Website: www.imaginext.co.in
Lowepro Pro Runner 450 AW
Features:
It provides you comfort where you need it. A thickly padded mesh backpack brings support to the lumbar region and adjustable and padded shoulder straps let you create  a custom fit. This feature-filled design fits up to a pro D-SLR with attached lens, laptop, tripod and multiple accessories, plus a few personal items, in a highly organized pack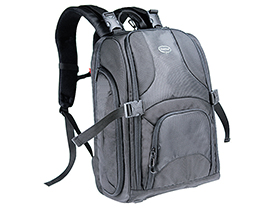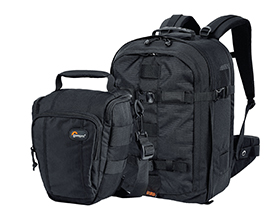 Toploader Zoom 50 AW
Features:
Lightweight and slim, its holster-style design provides an ideal fit and easyto carry option for most standard D-SLRs with their attached zoom
lenses
Available at: J.J.Mehta
Contact: 022 2430 6356
Mail id: info@jjmehta.com
Website: www.jjmehta.com
JEALIOT CAMERA BAG-0702
Features:
It has an elegant & artistic look with high quality protection, ergonomics and innovation.
Available at: Jagdamba Enterprises
Contact: 9810258202 / 011-23211774
Mail id: vijay@jagdambadelhi.com