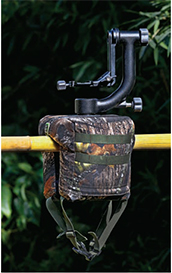 The most common cause for unsharp images, especially when using long focal length/ heavy lenses, is, camera shake during exposure. No one appreciates a fuzzy image, unless it's done for a particular effect. To counteract this problem, one can use a sturdy tripod, but unfortunately, there are times when a tripod is just not practical. Tripods, though useful, can  often be a pain to carry and set-up.
Enter CAMOLINE Lens Stabiliser!
CAMOLINE Lens Stabiliser is India's first lens support bean bag with an anti-skid abrasion-resistant base and a Head Mounting Plate. The Lens Stabiliser can be used with any lens/camera combination from 70-200mm to 800mm. It is a musthave accessory, especially if you own lenses above 300mm. Its anti-skid base provides exceptional stability on both smooth and rough surfaces or when shooting from vehicles; it just won't slip! It's designed so that it will stay put on railings or bars of a safari vehicle!
Using the Head Mounting Plate (an optional accessory), you can attach a Gimbal, Ball or Pan-Head to the Lens Stabiliser and easily track moving subjects without having to worry about losing focus! The plate is made from aerospace aluminium alloy (6061 series), known for its strength and excellent corrosion resistance.
It has a stainless steel 3/8-16 screw attachment which is a standard fit for most head types. The plate is anodized for good surface protection and aesthetic appeal. Smooth edges avoid any injury while handling.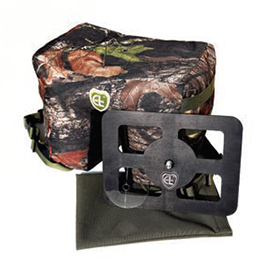 The bag is made from heavy-duty imported polyester fabric that is water-repellent and lightweight. Its dual zippers enables faster filling and emptying – saving you time and trouble! It also has a storage pocket that can be used to keep small accessories like – an allenkey or equipment-related tools. In addition, a PALS (Pouch Attachment Ladder System) is given to attach small pouches and accessories such a Tele-Converter or a pancake lens. The carry straps are made from nylon; the buckles are from ITW Nexus, USA, and the zippers and runners are from YKK, Japan.
The lens stabilizer can be filled with a variety of seeds or grain, available locally. Plastic beads are highly recommend (~6kgs) as a filler; this will provide a good sturdy support and also prevent insect infestation, mould and fungus formation which could otherwise be an issue with food grains.
The Lens Stabiliser is 10 (L) x 7 (B) x 9"(H) and weighs 320g when empty. The Mounting Plate is 7 x 9" and weighs 185g without the spacer-disc and pouch. |SP
For orders and queries, please write to sales@camoline.in
Contact No.: +91 98861 67367
Facebook: www.facebook.com/CamolineIndia
Instagram: CamolineIndia
WWW: www.camoline.in
CAMOLINE Lens Stabilizer + Mounting
Plate – INR 5,750/- (For Smart Photography readers – INR 4,000/-) CAMOLINE Lens Stabilizer – INR 5,000/- (For Smart Photography readers – INR 3,250/-)
CAMOLINE™ Head Mounting Plate – INR 1,500/- (For Smart Photography readers – INR 1,400/-)
*All above prices are specially for Smart Photography readers until 31 Jan 2017 & FREE SHIPPING via IPS Speed Post*