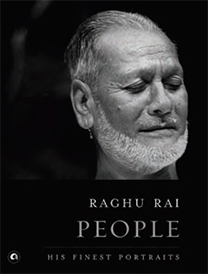 The man who has documented and frozen innumerable significant moments and faces, and has been adored as the country's most influential photojournalist— Padma Shri Raghu Rai, has reached a new milestone. Being one of the most renowned Indian photographer, Raghu Rai has completed 50 glorious years in the field of photography. His journey with cameras began early in 1965, and since then has captured countless emotions and expressions, of known as well as anonymous people through his lenses. Raghu Rai celebrated 50 years in photography by publishing his work of portraiture, in his newest book which is aptly titled— PEOPLE.
The book consists of portraits of celebrities and ordinary people photographed by him. From stalwarts of Indian film industry  to the nation's musical maestros; from famous writers and social activists, to political and religious leaders. The book comprises of numerous faces photographed by him, each with a story of its own. The book begins with a preface wherein the photographer narrates how he perceives the art of portraiture. More than a person's face, it is the person's aura that he tries to capture, and it is evident in each of his pictures.
The front cover of the book is a portrait of late Indian shehnai maestro, Ustad Bismillah Khan. And on the back cover, we see a striking image of the empress of India, Indira Gandhi. Raghu Rai has also photographed religious icons like Dalai Lama and Mother Teresa. He has time and again, in various interviews, mentioned them to be one of his favorite subjects for photography. This shows the photographer's proximity to religion and spirituality. In the preface, Raghu Rai shares certain interesting details about different portraits including the pictures of Satyajit Ray and Aparna Sen.
According to him, photography is a matter of instincts and experience. And this is true. If we trace back to the era bygone, prior to the advent of digital photography, the pictures were clicked first and then reviewed after developing them in the darkroom. Photographers had to rely not on the screens of their D-SLRs, but on their instincts and judgement, and believe that they have achieved the shot they wanted. The preface is followed by a plethora of finest stills by Raghu Rai, depicting emotions of the people. Some of the most interesting images are those of the Indian musicians. These powerful candid shots reflect spontaneity and depth. The portraits of anonymous children are innocent and chaste.
To conclude, Raghu Rai's 'People' is a book that narrates many tales in b & w. It is a beautiful and distortion-free perception of PEOPLE straight from the photographer's lens. |SP
— Unnati Sagar