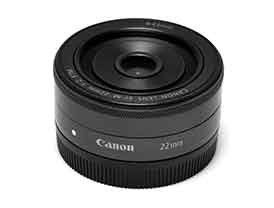 Canon has been working enthusiastically on the EOS M series APS-C mirrorless cameras for quite some time. These cameras have the advantage of having the largest sensors in the 'truly compact' mirrorless cameras. The 22mm f/2.0 STM 'pancake' lens takes pride in fast and quiet autofocus enabled by the stepper motor.
Design and Build Quality
The 22mm f/2 STM is an ultra-slim and lightweight 'pancake' lens, constructed with a combination of metal and engineering plastic. The lens feels sturdy with both the mount and the focus ring made of metal. It  accepts a 43mm filter.
Key Features
The EF-M 22mm f/2 lens provides an full frame-equivalent focal length of 35mm. The lens has an aperture range of f/2 to 22. The lens has inner focussing, which achieves focus by moving groups of elements inside the lens. It uses a stepper motor (STM) to drive the AF mechanism. STM provides smooth and near-silent continuous autofocus when shooting video so that the operating sound does not spoil your video clips.
The lens has one aspheric element that helps reproduce images with high resolution and high contrast. A 7-bladed diaphragm with circular aperture produces pleasing bokeh. The lens provides a maximum magnification of 0.21x. It does not provide manual override in autofocus mode.
The EF-M 22mm has a minimum focussing distance of 0.15m, allowing you to get close to your subject and render the images with shallower depth-of-field than usual.
The lens measures 60.9 (maximum diameter) x 23.7mm (length) and weighs 105g.
Ergonomics
The 22mm STM lens complements the small EOS M bodies, being light and compact. The lens does not have any controls and hence is quite simple to use. The focus ring appeared adequately damped. Mounting and removing the lens required considerable effort on our part, not helped by the slippery barrel and lack of enough room for a firm grip.