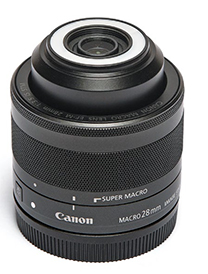 Photographers who shoot macro subjects face numerous challenges, not limited to camera shake, extremely shallow Depth-of- Field, shutter speed inadequate to compensate for a light breeze, lens casting a shadow on the subject, and sub-optimal lighting. Canon has now come up with an innovative idea. The EF-M 28mm f/3.5 Macro IS STM features an in-built ring light that addresses most of these issues.
Design and Build Quality
Made for the compact mirrorless EOS M cameras, the 28mm Macro lens is light and compact. In fact, Canon claims that it is the world's lightest Macro lens to date. The housing and outer barrel are made of engineering plastic. The lens has a built-in light to illuminate macro subjects. Canon has provided a screwin hood with a 43mm filter thread. This attachment covers the delicate lights when not in use. The lens barrel has markings for Lock, Normal and Super Macro modes along with the light on/ off button.
The 28mm has a central protruding barrel that is significantly smaller than the outer barrels. This reduces the chance of shadow falling on the subject. The lens has a plastic mount, which is adequate for this lightweight lens, however, the thought of long term wear and tear gets us a bit worried. A sevenbladed diaphragm makes the aperture circular. The lens has dimensions of 60.9 (Φ) x 45.5mm (Max. Diameter x Length) and weighs 130g.
Key Features
The EF-M 28mm Macro lens is, according to Canon, the world's first macro lens with a built-in Macro Lite. The lens offers a Super Macro mode, providing magnification up to 1.2x.