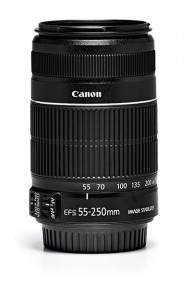 All-purpose lenses are budget options for amateur photographers who cannot afford to spend big bucks on premium lenses, but want to have a long-range option for portraits to wildlife. Th e Canon 55-250mm has been a popular choice, being an ideal extension to the 18-55mm kit lens. This lens has recently been upgraded with a second generation Image Stabiliser.
Design & Build Quality
The Canon EF-S 55-250mm f/4-5.6 IS II lens is constructed with tough polycarbonate material. The lens has the same dimensions of its predecessor and features an AF/MF switch and Image Stabiliser switch on its outer barrel. It has a wider zoom ring and narrower focus ring, both featuring rubber grips. The mount is also made of plastic. Though we do not consider a plastic mount to be fragile, we have seen worn out and scratched mounts, which could compromise weather sealing.
Key Features
Th e EF-S 55-250mm f/4-5.6 IS II lens is specially designed for APS-C bodies and provides an equivalent focal length of 88-400mm. It cannot be used with Full Frame cameras. This is an upgrade to the earlier version of the same focal length lens, with an optical image stabiliser added to it. Canon claims an advantage of 4 stops in the shutter speed with the image stabiliser. Aperture ranges from f/4 to 22 at 55mm and f/5.6 to 32 at 250mm. It features a 7-bladed diaphragm and features Super Spectra coating. The lens is constructed with 12 elements in 10 groups including a UD (Ultra-low Dispersion) glass element to minimise chromatic aberration. It off ers a maximum magnifi cation of 0.31x. The lens provides a diagonal angle of view of 27° 50'- 6° 15'. It focusses as close as 1.1m.
The markings on the lens are not etched into the material, but printed in white. This can possibly fade with constant rough use. Th e lens has dimensions of 70 (dia.) x 108mm and weighs approximately 390g.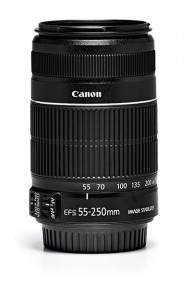 Ergonomics
The 55-250mm IS II lens is lightweight and comfortable to use. The smooth zoom ring makes zooming eff ortless. The lens does not have internal focussing or zooming, and hence the barrel extends while zooming and focussing. The front element also rotates while focussing, which makes it diffi cult to use CPL and graduated fi lters.
Performance
We tested the lens on a Canon EOS 600D body. It produced sharp images and the sweet spot was consistent at f/5.6 at all focal lengths. Autofocus was slow and loud, compared to Canon's premium lenses, but since this is a budget super zoom, this is expected. The AF system latched on to the subject without any problem even under low light. The lens produced slight pincushion distortion from 100mm (approximately 160mm equivalent) onwards, but you will notice it only if you deliberately look for it. Darkening was observed at the corners at 55mm with the lens wide open. The lens produced flare with prominent purple fringing when it was subjected deliberately to extremely strong againstthe-light situations. The above 'flaws' were not noticeable in everyday situations.
Optical Image Stabilisation performed well, as claimed by Canon. The lens coatings did not introduce any unwanted cast in the images.
Value for Money
The Canon 55-250mm IS II lens retails at an MRP of Rs.17,995. At this price, the lens is good value for money.
+ Great value for money
+ Excellent zoom range
– Plastic lens mount
– Barrel extends while zooming
– Front element rotates while focussing
– Slow and loud AF
FINAL SCORE
Design and Build Quality                                      15/20
Key Features                                                      16/20
Ergonomics                                                         17/20
Performance
Autofocus                                                               4/5
Sharpness                                                              4/5
Distortion Control                                                     4/5
Aberrations                                                              3/5
Darkening of Corners                                                 4/5
Extra Features                                                           4/5
Sub-Total                                                                 23/30
Value for Money                                                         8/10
Grand Total                                                            79/100
Verdict
The Canon EF-S 55-250mm f/4-5.6 IS II lens provides an affordable option to those looking for an all-purpose lens to complement the standard kit lens. Certainly recommended.
Sujith Gopinath