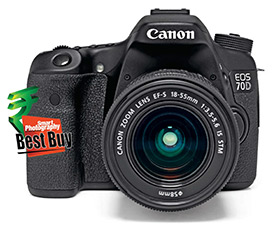 After a rather quiet 2012, Canon has been on a launching spree in 2013. The latest announcement is the replacement of the EOS 60D with the EOS 70D. The EOS 60D is a past winner (2010) of the Smart Photography Camera of the Year Award. Obviously, the 70D had to be significantly better and Canon's trump card with the 70D is 'dual pixel CMOS autofocus technology' which is a sensor based phase detection autofocus system that delivers fast and smooth autofocus both in still and video photography. SP had the 70D on its test bench for a full-fledged test:
Design and Build Quality
The Canon EOS 70D has a sturdy polycarbonate body. The camera is more or less like the the 60D in design, apart from subtle differences in controls and placement of buttons. The LCD can swivel out and can be rotated upto 270 degree so that high and low-level shooting becomes a breeze. Also, since the LCD can be rotated and swivelled inward, the screen is less prone to scratches. Both the lens mount and the tripod receptacle are metal (but the kit lens has a plastic mount).
Key Features
The 20.2 megapixel 70D uses an APS-C size (22.5 x 15.0mm) CMOS sensor, a 2-megapixel improvement over its predecessor, the 60D. Though this might sound like a minor advancement, there is more to it than meets the eye. Each pixel on the 70D's sensor is made up of two photo diodes, unlike its predecessors that had one photo diode per pixel. Each of the photodiodes in a pair are capable of capturing light from the same point. The difference in the readouts between the pixels allows the onboard system to determine the exact amount of shift needed in the lens elements so as to achieve critical focus. This allows for faster and more accurate autofocussing during live view and movie recording. This might provide a much-awaited relief for those who felt crippled by the dragging autofocus during Live View. The 70D uses the latest DIGIC 5+ image processor, claimed to perform 17 times faster than the DIGIC 4 processor, with better noise reduction capability at higher ISOs. According to Canon, this processor allows a continuous shooting rate up to 12 frames per second for Raw images, though the 70D's continuous rate is limited to approximately 7 frames per second. Another improvement in the 70D over its predecessor is the capacitive touch screen interface on its fully articulated LCD. The screen is a 3.0- inch, approximately 140,000-dot TFT and features an electronic level gauge to keep the camera level.
The 70D uses the Canon EF mount and is compatible with all Canon EF and EF-S lenses, with the exception of EF-M lenses. The camera incorporates some key features carried over from the 7D. It features 19 AF points (against 9 on the 60D), all of which are cross-type. Though this is good, to take advantage of the cross-type sensors, you have to use lenses that are f/2.8 or faster. Another feature that has trickled down from the 7D is the 'intelligent viewfinder', which uses a transparent LCD to superimpose the selected data (such as combination of focus point, image data, gridlines, and spot metering area). Then there are certain features that have been part of the 5D Mark III and 6D, such as Silent and Low-Vibration modes, Multiple Exposure Control, HDR, and HDR Backlight Control. If the Silent and Low-Vibration mode is activated, the shutter and mirror reflex action are slowed down and muted so that the operation is silent and there is less vibration. Multiple Exposure mode can be set for 2 to 9 exposures and has two methods of capture—Additive and Average. In Additive method, exposures have to be compensated manually for each frame to obtain a correct exposure for the composite image. In Average method, the camera automatically compensates for the exposure based on the number of component frames. You also have the option to do a multiple exposure with an image that is already in your memory card.
The 70D incorporates the EOS Integrated Cleaning System that uses ultrasonic vibrations to shake off dust from the low-pass filter, combined with Dust Delete Data appending to keep off dust bunnies from the images. The camera uses an electronically controlled focal plane shutter, which provides 30 to 1/8000 sec shutter speed and up to 1/250 sec X-sync speed. Still images are recorded in 14-bit Raw and JPEG formats with an option of recording Raw and JPEG simultaneously. The maximum recorded pixels is 5472 x 3648. Drive modes available are Single, High-speed continuous, Lowspeed continuous, Silent single, Silent continuous, 10-sec. self-timer/remote control, and 2-sec. self-timer/remote control. In the High-speed mode, the 70D can shoot at a maximum rate of 7.0 frames per second with a maximum burst of approximately 40 images at JPEG Large and Fine, approximately 15 Raw, and approximately 8 Raw+JPEG Large and Fine images. Videos are recorded in MOV format with the best quality of 1920 x 1080 at 30, 25, or 24 frames per second. Live View metering modes are Centre-weighted average and Evaluative. The camera has a built-in stereo microphone with an additional terminal for external stereo mic. The 70D offers in-camera Raw processing, which provides options for Brightness correction, White Balance, Picture Style, Auto Lighting Optimiser, High ISO speed Noise Reduction, JPEG image-recording quality, Colour space, Peripheral illumination correction, Distortion correction, and Chromatic aberration correction. Other functions include Highlight Tone Priority and Lens correction.
The 70D's sensitivity ranges from ISO 100 to 12,800. It can be boosted up to 'H', which is equivalent to ISO 25,600. Exposure can be compensated up to +/-5 stops in 1/3 or 1/2 EV steps. In HDR, you can avail of dynamic range adjustment options of Auto, +/-1EV, +/-2EV, and +/-3 EV. The 70D uses 63-zone TTL full-aperture metering, and the metering modes available are Evaluative (linked to all AF points), Partial (approx 7.7% at the centre), Spot (approx. 3% at the centre), and Centre-weighted average. Shooting modes are Program (including Scene Intelligent Auto, Flash Off, Creative Auto, and Special Scene), Shutterpriority, Aperture-priority, Manual, and Bulb. Portrait, Landscape, Close-up, Sports, Night Portrait, Handheld Night Scene, and HDR Backlight Control. The camera features the regular White Balance modes—Daylight, Shade, Cloudy, Tungsten, White Fluorescent, Flash, Custom, and Colour Temperature. Picture Style options are Auto, Standard, Portrait, Landscape, Neutral, Faithful, Monochrome, and User Defined. Autofocus through the optical viewfinder is by TTL secondary image-registration and phase difference detection with dedicated autofocus sensor. Focus options are One-shot AF, AI Servo AF, AI Focus AF, and Manual Focussing. The retractable auto pop-up flash has a Guide Number of approximately 12m at ISO 100 and covers an angle of view equivalent to that of a 17mm lens. It recycles in approximately 3 sec. Flash exposure can be compensated up to +/-3 EV in 1/3 or 1/2-stop increments. The built-in flash can work as a master unit with Canon Speedlites with wireless slave function via optical transmission and wirelessly trigger the speedlite(s). To use multiple slave units, the Speedlites can be grouped into two, A and B. This allows you to set different flash outputs for each group. The 70D is compatible with EX-series Speedlites and the flash metering is through E-TTL II auto flash.