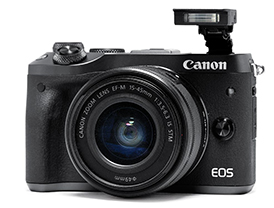 Canon M-series cameras have gone through many ups and downs right from its launch, but mirrorless is indeed the road forward for any camera company. The flagship M5 is quite a capable camera, though the small inventory of lenses may not make it quite attractive. The EOS M6 is a replacement to the EOS M3 and is characterised by the lack of an EVF, which makes it more compact than the M5.
Design and Build Quality
The EOS M6 is quite compact and ergonomically designed. The camera is predominantly made of polycarbonate. The main difference from the M5 is that it does not feature an electronic viewfinder. The M6 has two command dials on top along with an exposure compensation dial and a mode dial. The top right portion is a little cluttered, because of the popup flash on the right side leaving no space for dials. You can easily miss the flash lever, which is right below the left side strap ear. The Wi-Fi button is on the left side along with the HDMI and remote control ports. The back of the camera is largely occupied by the LCD with the remaining area featuring the multi-controller, control dial and four buttons. The lens mount is metal and so is the tripod receptacle.
Key Features
The EOS M6 uses an APS-C size (22.3 x 14.9mm) CMOS imaging sensor with 24.2 effective megapixels. The camera accepts Canon EF-M lenses. The camera features Dual pixel CMOS AF, providing options of 1-point AF, Smooth zone AF and face + tracking priority AF. It uses 49 autofocus points and AF operation can be selected from One-shot, Servo and Continuous AF. You can select from three focus modes — AF, MF, and AF+MF. The M6 uses the image sensor for real-time metering.