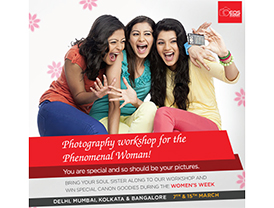 Canon India celebrated the International Women's Day with various programmes. To celebrate the spirit of womanhood, Canon conducted photography workshops exclusively for women across major metros. Canon's corporate philosophy of Kyosei, which means working together for common good, has found resonance in its continued commitment to engage fruitfully with communities of women creating mutually rewarding opportunities and celebrating their achievements.
The vision, the effort and the endeavour to provide the most enjoyable yet productive environment, Canon has strived to honour the emergence of women power at work. From the current 12%, the company plans to increase the percentage of women workforce, clearly, emphasizing on the importance of gender equality when it comes to recruitment or promotion of staff.
"We, at Canon have a deep understanding of how facilitating opportunities can make women take the lead to innovate," said Mr Kazutada Kobayashi, President and CEO of Canon India. "We are committed to empowering women from all walks of life and with the desire to create a perfect work-life balance, our corporate policies amply reflect this outlook," he added.