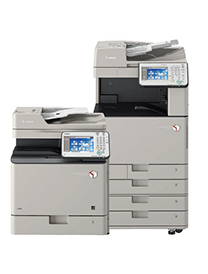 Canon India has released a new range of A3 and A4 colour multifunction devices (MFDs) to further strengthen the Indian colour printing market. The A3 segment comprises of the imageRunnerAdvance (iRADV) C3300 series that consists of iR-ADV C3320/C3325/C3330 and imageRunnerAdvance C350i in the A4 segment. With these products, Canon endeavours to expand into the commercial space, especially photocopy shops. These machines have also been targeted at small and  medium businesses.
Kazutada Kobayashi, President and CEO, Canon India Pvt. Ltd. said, "Innovation has always been a driving force at Canon and our new series of colour MFDs reflect our commitment towards offering worldclass technology, ease of use and high quality to meet customer expectations. India is a land of rising entrepreneurs and we would like to play an active role in increasing the opportunities for them in the colour printing domain.
Our newly launched products shall add value to SME's and government sector's demand for cost efficient, secure and high quality printing solutions."
Accessible printing as well as quick execution of printing tasks can be attributed to this new range of products from Canon India. Mobile printing is also one of the features. Users can also benefit from the synchronisation with an onscreen walk-through video that provides detailed instructions to users regarding consumables replacement.